Make the most of your trip with Travel Companion
Easy access to travel essentials direct from the home screen of your mobile banking app
Make overseas travel simple
With Westpac's Travel Companion feature, calculate the estimated cost of your souvenirs before you buy with a handy currency converter1. Enjoy a personalised experience tailored to the country you're visiting, and find your nearest partner ATM with ease.

Calculate the estimated cost of your purchases
With a currency converter, simply enter the cost of your items in the currency of the country you're visiting, and the app will convert the price into AUD for you1.
Find your nearest ATM
The handy ATM locator tool will find your nearest partner ATM for you, saving you time, withdrawal fees and aimless wandering around.
Contact us and get help
Everything is more complicated when you're away, but Westpac's Travel Companion makes it easy for you to contact us and get help when you need it.
Who can use the Travel Companion?
All customers traveling overseas can use the feature, and we currently offer personalised in-app experiences for 15 countries (including China, Canada, France, Germany, Hong Kong, UK and USA)1.
Travel Companion offers a seamless travel experience by displaying the most popular travel features on the home screen of your mobile banking app, including a currency converter, an ATM locator for partner ATMs, and a 'Contact Us' information.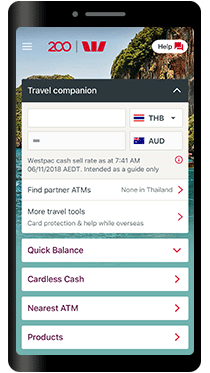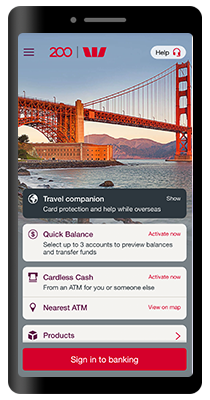 Things you should know
1Current as at 29 August 2018.
A Westpac Debit Mastercard® lets you access your own money to make purchases, wherever Mastercard is accepted. You can also use your Debit Mastercard to withdraw local currency from ATMs.
You can use your Handycard to withdraw local currency from selected ATMS where Cirrus is accepted.
For Credit Cardholders who currently withdraw money in Australia from linked Savings or Cheque account, it is important to know that this functionality may not be available when using overseas ATMs, including Global ATM Alliance ATMs. To ensure access to a Savings and/or Cheque account when overseas please speak to us about obtaining a Debit Mastercard for these accounts.
A 3% Foreign Transaction Fee applies to overseas debit or credit card withdrawals. A 2% cash advance fee applies to credit card withdrawals where the "Credit" option is selected.
Some overseas banks may charge a fee for withdrawals. This will be brought to your attention before you proceed with the transaction and can be avoided by using one of our Global ATM Alliance network ATMs.
The daily withdrawal limit for a Debit Mastercard and Handycard is A$1,000. This limit can be increased to a maximum of $2,000 by visiting a Westpac branch or calling Telephone Banking on 132 032.
The rates shown are of an indicative price only, this is dependent on transaction and amounts.