Savings Goals
Westpac Life makes it easy to manage long and short term savings goals with just the one account
Savings Goals1 is a feature of Westpac Life designed to help make your dreams a reality. Here's how.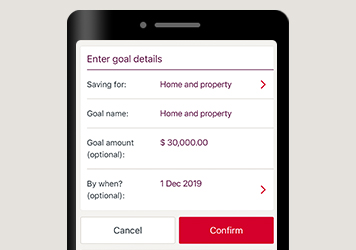 Set up your goals and a regular transfer
Put your savings into autopilot by setting up an automatic transfer into your account. You can name your different goals, set the amount you'd like to save and when you'd like to save it by.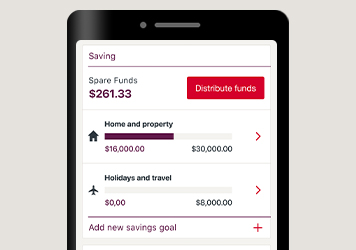 Make budgeting a breeze by bucketing your savings
Saving for a holiday and a rainy day? Set up savings goals for both within your Westpac Life account – no need to open multiple accounts.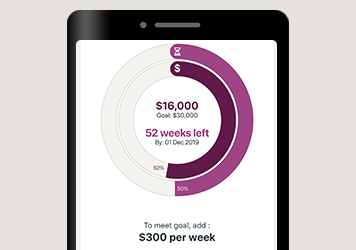 Want to see how you're tracking?
You can check in Online Banking and see how you're doing. If your situation changes, you can edit and change your goals at any time.
Wait - did you say 3%?
18-29? You could earn up to 3% p.a. variable interest on your savings when you save and spend with a Westpac Life savings account and a Westpac Choice bank account.
Spend&Save bonus interest only applies on balances up to $30,000 in your Westpac Life savings account. Find out more
How can Savings Goals help?
Savings Goals can help you:
Establish good savings habits
Know how much you need to put away regularly to reach your goals
Work towards a shared goal with your partner
Organise and view your savings in an easy visual way
You can set up to six goals within the one account. Got more than six goals you're saving for? Don't worry, you can always open more than one Westpac Life account.
You can choose from six different categories:
Home and property
Lifestyle
Holidays and travel
Car
Other.
Your interest is calculated on the total balance held in the account, and this interest will be paid to the 'Spare Funds' bucket. You can then choose which goal you want to transfer your 'Spare Funds' to.
Each Savings Goal includes a graph that shows how much time has passed, your target date and the progress you've made to reach the goal amount. Depending on how close you are to the target date, Savings Goals will tell you how much you need to deposit on a monthly, weekly or daily basis to achieve your goal.
Setting a target date and amount is optional, however you will only be able to track savings progress if you've set a goal amount.
Savings Goals remain open, even once you've achieved the goal or the target date is reached. It's up to you to remove a Savings Goal when it suits you.
Any funds you had in your Savings Goal will automatically move back to your 'Spare Funds' bucket.
Things you should know
Before making a decision about any of our products or services, please read all the terms and conditions. Fees and charges apply and may change.
Savings Goals: Both an account holder and an authorised user can use the Savings Goals feature, including to view, add, edit and delete the savings goals on a Westpac Life account.

Westpac Life account: to open a Westpac Life account you need to be aged 18+ (if you're under 18, check out our Bump savings account)
Westpac everyday account: To open a Westpac Life account, customers must hold a Westpac everyday account in the same name and be registered for Online and Phone Banking. Fees and charges may apply on the everyday account.