Credit cards
Westpac credit cards offer you the freedom and convenience of making everyday transactions you can repay later or purchasing that must-have item.
What type of card are you looking for?
Rewards and frequent flyer credit cards
Earn Altitude or Qantas Points with a Westpac Altitude card.

0% p.a. balance transfer for 20 months with a Low Rate Card
When requested at card application, 1% balance transfer fee applies. After 20 months any remaining balance transfer amount reverts to the variable cash advance rate**
Online only offer for new cards. T&Cs apply. Find out more
Low rate credit cards
Everyday credit with our lowest interest rates on purchases.

Low annual fee credit cards
Everyday credit with no annual card fee in the first year.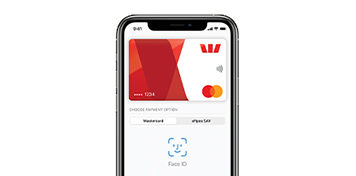 Apple Pay offers a fast and secure way to pay in-store and online, using your favourite Apple device.

Every Westpac personal credit card also comes with these
Frequently asked questions

A credit card works by allowing you to make cashless payments. Unlike a debit card, a credit card uses the bank's (or other issuing institution's) money and not yours, so you need to pay it back. They also charge interest on the money borrowed (though many credit cards offer interest-free days on new purchases when repayment conditions are met). Paying your credit card off sooner can help reduce those interest charges. On a similar note, if you don't repay at least the minimum amount due each month, your credit score could be affected.
To get a credit card you usually apply with a bank, although other institutions offer them too. As you'll be in-effect borrowing someone else's money, applications might ask you to demonstrate that you live here, have a regular income (minimum required depends on card type), and are able to make the repayments. You can apply for a Westpac credit card online, via our call centre or in-branch. Our applications include a credit check and we'll ask for certain documentation – though this might vary if you already have an account with us. Note the act of applying affects your credit rating.
The most common way of using a credit card is to make a cashless payment in person (e.g. by swiping or tapping at a shop), online or by phone. Each month, you'll be sent a statement listing all your transactions, total amount owing and minimum repayment required. The slower you repay a credit card the more interest you'll pay, so always aim to pay off as much as possible. Westpac credit cards can help keep you on top of your repayments with options like Card Autopay, SmartPlan1 and SMS payment reminders.
Things you should know
##Eligible purchases do not include interest, fees and charges, cash or ATM cash advances, cash equivalent transactions, gambling transactions, payments to the Australian Tax Office, government charges, BPAY or similar transactions (such as Post Billpay), refunds and balance transfers debited from the card account
3 Complimentary lounge passes disclaimers: