Westpac Lite Credit card
Keep it lite with our lowest card purchase rate, up to 45 days interest-free and no fees on foreign transactions.
At a glance
| | |
| --- | --- |
| $9 | Monthly card fee ($108 per annum) |
| 9.90% p.a. | Variable purchase rate |
| $500 | Minimum credit limit |
| $4,000 | Maximum credit limit |
| $30,000 p.a. | Minimum income required |
| 0% | Foreign transaction fee |
See below for standard rates and fees.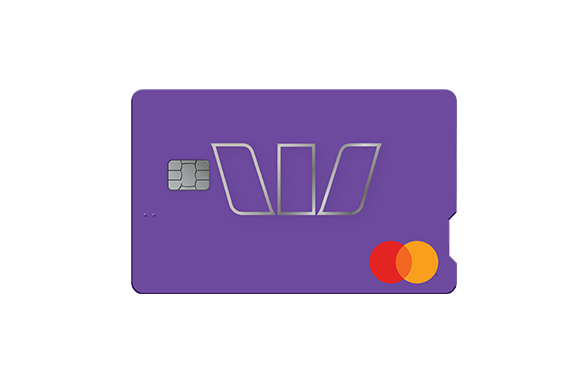 Why choose the Westpac Lite card?
To give you more opportunity to avoid interest charges on your purchases2. Note cash advances aren't covered by this interest-free period.
Could this credit card be suitable for you?

It could be if:
You don't repay your purchases in full each month (taking advantage of our lowest card purchase interest rate)
You want credit card convenience and features
There may be better options if:
| | |
| --- | --- |
| Variable interest rate on purchases | 9.90% p.a. |
| Cash advance fee | Cash advances not available |
| Monthly card fee | $9 |
| Foreign transaction fee | 0% |
| Missed payment fee | $0 |
| Non-Westpac Group ATM fee | Although not a Westpac fee, using your card in a non-Westpac Group ATM may result in a charge to you. Avoid this fee by using one of Westpac's extensive network of 2,900 ATMs across Australia (including any St.George, BankSA and Bank of Melbourne ATMs). Find a Westpac Group ATM. |
| Credit card surcharge | In some instances, businesses may administer a 'surcharge' for credit card payments. Usually, these are a percentage fee of your purchase amount. Ask the merchant if a surcharge applies and how much it is before paying if you're unsure. |
Westpac Low Rate card
One of our lowest interest rates on purchases, up to 55 days interest-free and a $59 annual card fee.
Frequently asked questions
You can add one additional cardholder (16 years or older) at no extra cost. The primary cardholder is liable for all transactions made with either card.
Things you should know
Credit criteria, fees and charges apply. Switches, upgrades or Westpac group staff are ineligible.This promotion may be varied or withdrawn at any time and is not available in conjunction with any other promotion.

Be credit savvy: Before applying, consider a realistic credit limit and check all conditions, interest rates, fees and charges on your selected card.
Balance transfers into the Westpac Lite Card are not available.
1 SmartPlan: SmartPlan is currently available for eligible Westpac consumer credit cards. Fees may apply. You need to register for Online Banking before you can set up a SmartPlan. Read the Online Banking terms and conditions (PDF 236KB) available at westpac.com.au. The establishment fee is charged upfront but is payable in monthly instalments over the term of your Large Purchase SmartPlan. This means that if you cancel your SmartPlan (or don't make the required SmartPlan repayments) you must still pay the whole establishment fee, including any interest on the establishment fee. Note: To ensure that your credit card balance does not exceed the credit limit, please consider the amount of the establishment fee indicated when you set up a plan. SmartPlan requires cardholders to make regular monthly payments for the full term and at the interest rate that applies when the SmartPlan is created. All payments made to your credit card account will be applied first to any SmartPlan instalments. Therefore, debts accruing a higher interest rate may be left unpaid during the SmartPlan term. Any balance transfer amounts on a SmartPlan must have a remaining term of between 3 and 36 months to be eligible for a SmartPlan. See Credit Card Terms and Conditions (PDF 200KB) for more details. SmartPlan cancellation takes up to 2 business days. When a SmartPlan ends, any remaining balance will revert to the variable annual interest rate for your balance type or special offer rate as applicable. Cardholders keep interest-free days (if applicable) after a balance transfer when you pay your monthly payment (being your SmartPlan repayments plus the minimum monthly repayment on your credit card account) SmartPlan repayment.
2. Interest free period is available on purchases when you pay the Closing Balance (or the Monthly Payment Balance with a balance transfer) in full by the payment due date.
Read the Apple Pay Terms and Conditions (PDF 79KB) before making a decision and consider if it is right for you. To use Apple Pay you will need an eligible card and a compatible device with a supported operating system. See our Apple Pay FAQs for more information. Apple, the Apple logo, Apple Pay, Apple Watch and iPhone are trademarks of Apple Inc., registered in the U.S. and other countries. App Store is a service mark of Apple Inc.
Mastercard® is a registered trademark, and the circles design is a trademark of Mastercard International Incorporated.