Stay on top with our Westpac App Budget Tools
Take control of your finances with a range of super-useful tools to help you budget and track your money, all in the Westpac App.
Be the master of your money
Follow your ins and outs
Track spending month to month
Set your own categories
Spot savings possibilities
Keep your monthly expenses in check with the Westpac App. Get a big-picture view on your home screen using our simple-to-use budgeting tools: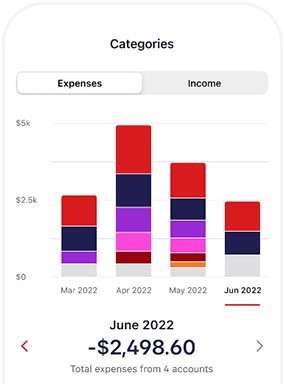 Compare spending across categories
Better understand your spending on essentials and those little luxuries to see where you've got money to splash out or where to cut back to save:
Over 20 category types, ranked by spending
Change or customise a transaction's subcategory if it's not quite right
Tag transactions with unique labels, which you can then filter by
Get the big picture with monthly/yearly spending overviews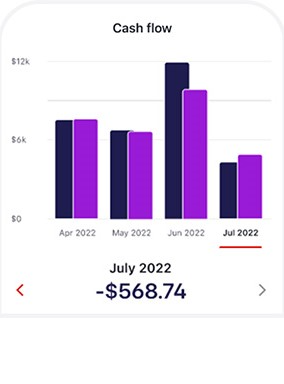 Track trends in your cash flow
Surprised by your bank balance? Tracking your income vs expenses can help you plan for costlier months or those with extra cash ripe for saving:
Cash flow updates show how you're tracking each month
See instantly if you're ahead or if you need to curb spending
12-month interactive summary highlights trends by month
See which subcategories/categories have the highest percentage spend
Get better visibility in just a few taps

See exactly where you're at, what you're spending and how you could potentially tighten the belt to save. Here's how to get started:
In the Westpac App
Sign into the Westpac App
Scroll down to Cash flow and Top categories on the home screen
Before taking these steps, you'll need app version 10.9.0 and above.

How to check your Westpac App version?
Sign into the Westpac App
Tap Profile, then Settings. The version number is displayed at the bottom of the screen.
Download the latest version of the app if you haven't already.
Take the hassle out of shared costs by managing who owes you what, all within the Westpac App. Payment requests can be sent via SMS and amount owing will update in real time.
Frequently asked questions
You can change a transaction subcategory by selecting Edit from the transaction details screen. If known, we'll provide suggested subcategories based on the transaction description, or you can create a custom subcategory. To do this, tap Create a subcategory, enter the Custom name you'd like, and then tap Save. Confirm if you'd like similar transactions to be recategorised. The system will continue to learn as you update your subcategories.
Transactions with a pending category can't be updated and won't appear in your Cash flow and Top Categories insights.

Things you should know
Westpac's Online Banking Security Guarantee - If your Westpac account is compromised due to Online fraud, we guarantee to repay any missing funds, provided you complied with our Online Banking Terms and Conditions. This includes keeping your sign-in details (including passwords, Westpac Protect™ Security codes) private, not participating in the unauthorised transaction, and immediately notifying us when you suspect an unauthorised transaction or potential fraud on your accounts.
Westpac Fraud Money Back Guarantee - Our Westpac Fraud Money Back Guarantee ensures that you will be reimbursed for any unauthorised card transactions provided that you have not contributed to the loss and contacted Westpac promptly. Refer to your card's conditions of use for full details, including when you will be liable.
The Digital Card is only available in the Westpac App and supported with the latest version of the Westpac App. The terms and conditions applicable to your product also apply to the use of your digital card. Online Banking Terms & Conditions also apply. You may not always be able to access your digital card.

Apple, the Apple logo and iPhone are trademarks of Apple Inc., registered in the U.S. and other countries. App Store is a service mark of Apple Inc.
Android, Google Play and the Google Play logo are trademarks of Google LLC.
© Westpac Banking Corporation ABN 33 007 457 141 AFSL and Australian Credit Licence 233714.