Accessing money overseas
We offer a variety of ways you can pay for things and access cash while you're overseas.
Want to save on overseas ATM withdrawal fees?
You won't pay any ATM withdrawal fee at overseas ATMs that are part of our Global ATM Alliance network.
No matter where in the world you are, it's easy to find the nearest Global ATM Alliance with the ATM locator in the Westpac App.
Travelling soon?
With our travel money card, there are no load or reload fees and you can lock in exchange rates on up to 10 major currencies. 
A Worldwide Wallet can make managing your travel money a breeze
Lock in your foreign exchange rate before you travel or shop online
No ATM withdrawal fees at over 50,000 Global ATM Alliance ATMs1
Travel and shop worry-fee from fraudulent transactions with the security of Mastercard® Zero Liability protection2
You and a companion can get access to over 1,000 lounges if your flight is delayed for 2 hours or more. Pre-register at flightdelaypass.mastercard.com/worldwidewallet. T&Cs apply.3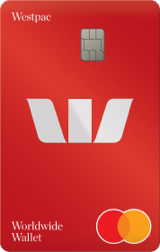 Different ways to access your money

Travel money card
The Worldwide Wallet is a reloadable card you can use to make payments and access cash in multiple foreign currencies


Global ATM Alliance
Pay no ATM withdrawal fee at over 50,000 ATMs around the world via the Global ATM Alliance and partner ATMs1

Debit card
Access your own money in more places to pay for things or get out cash with added security
A Westpac Debit Mastercard® lets you access your own money to make purchases, wherever Mastercard is accepted. You can also use your Debit Mastercard to withdraw local currency from ATMs.
You can use your Handycard to withdraw local currency from selected ATMS where Cirrus is accepted.
For Credit Cardholders who currently withdraw money in Australia from linked Savings or Cheque account, it is important to know that this functionality may not be available when using overseas ATMs, including Global ATM Alliance ATMs. To ensure access to a Savings and/or Cheque account when overseas please speak to us about obtaining a Debit Mastercard for these accounts.
A 3% Foreign Transaction Fee applies to overseas debit or credit card withdrawals. A 2% cash advance fee applies to credit card withdrawals where the "Credit" option is selected.
Some overseas banks may charge a fee for withdrawals. This will be brought to your attention before you proceed with the transaction and can be avoided by using one of our Global ATM Alliance network ATMs.
The daily withdrawal limit for a Debit Mastercard and Handycard is A$1000. This limit can be increased to a maximum of $2,000 by visiting a Westpac branch or calling Telephone Banking on 132 032 8am – 8pm Sydney time.
Access to Westpac online services is blocked in certain locations.

Don't leave home without ...
Things you should know
Westpac Worldwide Wallet Product Disclosure Statement (PDF 195KB)
Online Banking Terms and Conditions (PDF 236KB)
You should read the Westpac Worldwide Wallet Product Disclosure Statement and Online Banking Terms and Conditions before making a decision and consider whether these products are appropriate for you. This information does not take into account your personal objectives, financial situation or needs and you should consider its appropriateness having regard to these factors before deciding to acquire these products.
A target market determination has been made for this product. Please visit
westpac.com.au/tmd
for the target market determination.
Debit Mastercard: You need to be at least 14 years of age, and have an Australian residential address to be eligible for the card. If you're not eligible for a Debit Mastercard, apply for a Handycard to access your account.
Mastercard is a registered trademark, and the circles design is a trademark of Mastercard International Incorporated.
1.No ATM withdrawal fee at Westpac Group ATMs in Australia and over 50,000 ATMs globally via
Global ATM Alliance partners
. Other fees and charges may be payable.
2.You will be reimbursed for any unauthorised transactions, provided that you have not contributed to the loss, exercised reasonable care in protecting your card and account, and immediately notified Westpac upon becoming aware of loss, theft, or misuse.
3.You must register each flight at least 6 hours before your flight. A flight is defined as a single scheduled airline flight under a single flight number. Delay must be officially announced by the airline and reported to our flight status data service provider. Flight Delay Pass is only available at selected airport terminals. If you are under 18 years old, you must be accompanied by an adult (18 years of age and older) to enter participating lounges. Access to and use of the Flight Delay Pass is subject to T&Cs which may change from time to time. Visit
flightdelaypass.mastercard.com/worldwidewallet
for the T&Cs and the list of participating lounges.