Everyday banking
Here or overseas, Westpac everyday bank accounts can help you keep your banking rolling your way.
Westpac Choice
Under 25? Get $50 when you open a new Westpac Choice account online. Deposit $500 and make 5 eligible purchases within 30 days. Conditions apply#

Westpac Choice* account comes with the following services and features:
Westpac Debit Mastercard® 1
Westpac Online Banking + Mobile Banking
Westpac PayWear - a wearable that lets you pay on the go using the same contactless technology as your Debit Mastercard
No monthly account fee if you deposit at least $2,000 each month (other fees may apply)
Option to open online as a joint account.
Open in less than 3 minutes
Need to save?
Get an account that pays interest, along with your everyday account. Open both accounts in one go.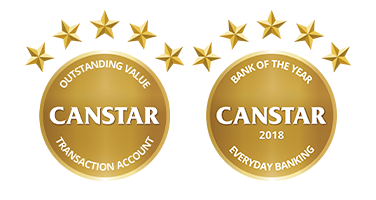 Join the Bank of the Year - Everyday Banking
Awarded 2018 Canstar Bank of the Year - Everyday Banking
Recognised for offering both a strong online banking platform as well as comprehensive ATM and branch coverage throughout Australia
Things you should know
Deposit Accounts for Personal & SMSF customers Terms and Conditions (PDF 12MB)
Westpac Debit Mastercard® Terms and Conditions (PDF 157KB)
Westpac Emergency Cash and Westpac Get Cash Terms and Conditions (PDF 133KB)
Online Banking Terms and Conditions (PDF 1MB)
Find out what information you need to provide to become a customer (PDF 768KB)
Who can apply for a Debit Mastercard?
1. Debit Mastercard holders need to be at least 16 years of age, and have an Australian residential address to be eligible for the card. If you're not eligible for a Debit Mastercard, apply for a Handycard to access your account.
Information valid as at 31/10/2018 and subject to change. Fees and charges, terms and conditions apply.
*You will be required to complete an identity check prior to being able to make withdrawals from your account.
# $50 Offer: Excludes customers who hold or have held a Westpac Choice account at any time. You must be under 25 to be eligible for the offer. To receive $50 credited to an everyday account, customers need to open a Choice account online between 28/02/19 and 03/04/19 (inclusive); deposit a minimum of $500 into their everyday account; AND make at least 5 eligible purchases with a Westpac debit card within 30 days of account opening. Eligible purchases include in-store purchases, online purchases, regular card payments, PayPass, and Google Pay transactions. Offer excludes ATM withdrawals as these are not eligible purchases. Customers will receive $50 deposited into their account within 45 days of account opening following identification verification. Offer limited to one $50 deposit per customer. Where a joint account is opened, if one of the joint account holders has already received their $50 deposit in respect of another account, then none of the remaining joint account holders will be eligible for the offer in respect of the joint account.

© Westpac Banking Corporation ABN 33 007 457 141 AFSL and Australian credit licence 233714.
View the most recent published Westpac financial statement, annual report, capital adequacy and risk disclosures.
World Mastercard®, Mastercard® and the Mastercard brand mark are registered trademarks, and PayPass is a trademark of Mastercard International Incorporated.