Everyday banking + up to 2% P.A. on savings
18-29? Earn bonus interest when you Spend&Save with this handy combination of bank accounts.
Simplify your banking with linked accounts
Combine your Westpac Choice account with a Westpac Life savings account and meet the eligibility criteria each month to earn up to 2% p.a. variable interest.
Westpac Choice
An account + debit card for your day-to-day spending
Westpac Life
An account that helps you save and rewards you for it
Earn up to 2% p.a. on your savings
How your interest adds up
| | |
| --- | --- |
| Earn interest on your savings: | 0.15% p.a. |
| Get a bonus each month you grow your savings:1 | 0.35% p.a. |
| Get a bonus for 5+ debit card uses a month:2 | 1.50% p.a. |
| Total interest including bonuses: | 2.00% p.a.* |
All interest rates are variable and subject to change. Spend&Save applies to eligible card purchases only and to balances held in Life accounts up to $30,000. The 1.50% bonus does not apply to amounts above that balance.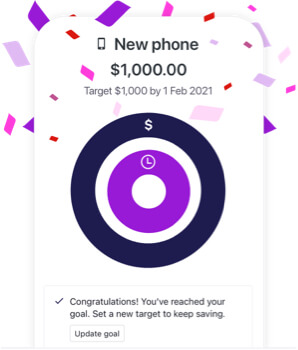 Get help hitting your savings goals
Use the Savings Goals feature of the Westpac App to manage all your goals through your Life account.
Set up to six savings goals
Great if you're saving for a few different things.
Put your savings on autopilot
Make saving easier by setting up recurring transfers from your Choice account after every payday.
Keep track of your progress
Check how your goals are going whenever you need to, all in one place in the Westpac App.

If you are between the ages of 18-29, Spend&Save variable bonus interest is available for you.

You will need:
A Westpac Choice transaction account (individual) and;
A Westpac Life savings account (individual) in the same name.

Or, if you have a joint account, at least one account holder needs to be between 18 to 29 and you will need:
A Westpac Choice transaction account (joint) and;
A Westpac Life savings account (joint) in the same names.


Once you have your accounts open, you can get started by growing your savings in Westpac Life and making 5 or more eligible purchases with your Westpac Choice debit card each month to get you closer to 2% p.a. interest.
You may find these useful

Things you should know
Before making a decision about any of our products or services, please read all the terms and conditions and consider whether the product or service is right for you. Fees and charges apply and may change.

* 2% p.a. variable interest: earn up to 2% p.a. variable interest when you meet the criteria for both Westpac Life variable interest and Spend&Save Bonus variable interest. For bonus interest qualification, a month is the period from close of business on the last business day of the prior month to close of business on the last business day of the current month.

1. Westpac Life variable interest: includes a standard variable base rate plus a variable bonus rate. To earn the variable bonus interest you must make a deposit to your Westpac Life account, ensure the account balance is higher at the end than the beginning of the month and keep the account balance above $0. Interest is calculated on the daily balance of your Westpac Life account and paid on the last business day of the month.

2.
Spend&Save bonus variable interest
: to earn the bonus variable interest, you must make 5 eligible purchases with the debit card linked to your Choice account and have these settled (not pending) within a calendar month. The following transactions are ineligible: ATM transactions, BPAY, EFTPOS cash out only transactions and purchases settled to a credit card account. Interest is calculated on the daily balance of your Westpac Life account(s) up to $30,000 and paid to your Westpac Life by the 20th day of the next month. If the account is closed, the interest payable will be paid into an alternate open Westpac transaction or savings account in your name by the end of the next month.
Available to individuals aged 18-29 on new and existing sets of Westpac Life and Choice accounts from 1st July 2020 and may be varied or withdrawn at any time in accordance with the deposit account terms and conditions. Westpac Choice and Westpac Life sole or joint accounts must be opened in the same customer name(s). Eligible on a maximum of 3 sets of Choice and Westpac Life sole and/or joint accounts.
Westpac Deposit Accounts for personal and self-managed superannuation fund customers
Terms and Conditions apply. (PDF 805KB)

3. Westpac everyday account: To open a Westpac Life account, customers must hold a Westpac everyday account in the same name and be registered for Online and Phone Banking. Fees and charges may apply on the everyday account.

4.
Safe Online Banking guarantee
: ensures that customers will be reimbursed for any unauthorised transactions provided that the customer has not contributed to the loss and contacted Westpac promptly. Refer to the Westpac
Online Banking Terms and Conditions (PDF 236KB)
for full details, including when a customer will be liable.
5. Savings Goals: Both an account holder and an authorised user can use the Savings Goals feature, including to view, add, edit and delete the savings goals on a Westpac Life account.


6. Partner offers are subject to Terms and Conditions and may be varied or change at any time. Images are shown for illustrative purposes only.

7. Apple, the Apple logo, iPhone and Apple watch are trademarks of Apple Inc., registered in the U.S. and other countries. App Store is a service of Apple Inc.

Samsung and Samsung Pay are trademarks or registered trademarks of Samsung Electronics Co.
Google Pay and Google Play are trademarks of Google Inc.


Global ATM:
A 3% Westpac Foreign Transaction Fee applies to overseas debit card withdrawals. A list of
Global Alliance members
is available. To ensure access to savings and/or cheque account funds when overseas obtain a Debit Mastercard®.
The "RFI Group Australian Banking Innovation Awards – Most Innovative Savings Product" was awarded in November 2020 for the Spend&Save bonus interest available for customers aged 18-29, with Westpac Life and Choice accounts.