Everyday bank account for new arrivals
A Westpac Choice everyday bank account and debit card for people who have arrived in Australia in the last 12 months
Instant Digital Card®
Get instant access to a digital version of your card¹ via the Westpac App before your Debit Mastercard®² arrives in the mail
Pay $0 monthly fee
Pay no account-keeping fee for your first year if you've arrived in Australia within the last 12 months. After this, we will continue to waive the fee if you meet certain criteria outlined in the 'fees' section below
$0 international transfer fees6
When you send foreign currency overseas via Online Banking or the Westpac App
Get exclusive offers
Get access to discounts and cashbacks just for being a customer, including exclusive ShopBack offers

Once you arrive in Australia, you can apply online in just a few minutes
We may then need to verify your ID in person before opening your account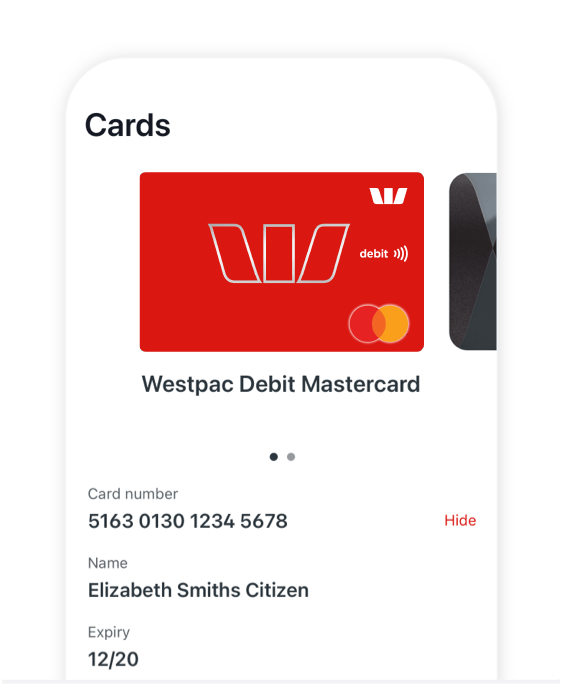 Account Features
Access cash via the app
Get cash out of Westpac, St.George, Bank of Melbourne and BankSA ATMs without a card using the Westpac App.3
Apple and Google Pay
Link your card to Apple Pay, Google Pay, Samsung Pay, Fitbit Pay and Garmin Pay to make fast contactless payments with your mobile or wearable.4
Simple and Secure
Now you can sign into the Westpac App, safely and securely using facial recognition, your fingerprint or 4-digit passcode.5
ATM network at home and overseas
Pay no ATM withdrawal fee at Westpac Group ATMs in Australia, and overseas through our Global ATM Alliance. Other fees may apply.9
Pay and get paid in seconds
Use PayID to get paid instantly by your friends and family with just your mobile number. You can also tap and go using your mobile or your Debit Mastercard.
Link your Choice account with a Westpac eSaver savings account
Enjoy a sweet, total introductory interest rate of up to 5.20% p.a on your savings for the first 5 months, giving you the breathing space to explore your new life in Australia.
Setting up life in Australia?
We've partnered with ShopBack to bring you Cashback offers on a wide variety of online stores across homewares, technology, food services, travel and more to make it easier for you to settle in.
Standard fees (fees may change)
Amount

Pay no Account-Keeping Fee for the first 12 months (usually $5). After this, the fee will continue to be waived for:

Customers that deposit at least $2,000 each month
Customers under the age of 30
Customers who are full-time tertiary students

$0
Card on hold
Can't find your card? Don't panic, you can temporarily lock it in seconds with Card on Hold while you search⁷.
Fraud Money Back Guarantee
Shop securely with your debit card. We've got your back with 24/7 fraud monitoring and our Fraud Money Back Guarantee⁸.
Westpac Protect™ SMS Code
Increase your security when banking online by using your mobile phone to confirm certain transactions via text messages.
Safe Online Banking guarantee
If your Westpac account is compromised as a result of Internet fraud, we guarantee to repay any missing funds, providing you comply with our Online Banking Terms and Conditions.
Things you should know

2. Debit Mastercard®: holders need to be at least 14 years of age, and have an Australian residential address to be eligible for the card. If you're not eligible for a Debit Mastercard, apply for a Handycard to access your account.
Once you arrive in Australia you can request a Debit Mastercard®. Read the Terms and Conditions (PDF 355KB) (PDF 232KB) and decide whether the product is right for you.

3. Cardless cash: is available on eligible Westpac transaction accounts with a linked debit card. Get Cash limit of 3 withdrawals per day applies, subject to $500 daily withdrawal limit and $1,000 weekly withdrawal limit. Only available at Westpac Group ATMs in Australia. To access cardless cash on your mobile you must be registered to use Westpac Online Banking and download the Westpac Mobile Banking App. To use Westpac Mobile Banking on Apple Watch you'll need to pair your Apple Watch with an iPhone 5 or above with iOS 8.2 or above. You'll also need the Westpac Mobile Banking app (version 6.1 or above) installed on your iPhone.

4. Google Pay: Read the Terms and Conditions (PDF 125KB) (PDF 125KB) before making a decision and consider if it is right for you. Available for eligible cards. To use Google Pay you will need to use a compatible device with a supported operating system.

5. Finger print login: Fingerprint sign in is available on compatible devices only. Customers must be registered for Westpac online banking and have set up fingerprint ID to use the service.
6. Westpac transfer fees still apply for funds sent in Australian dollars. Receiving bank fees may also apply, check the currency converter for indicative rates and fees
7. Card on hold: Available on personal credit and Mastercard® debit cards only. Cards to which a temporary lock can be applied will be listed when you sign in to Mobile Banking or Online Banking and visit Lock a card temporarily under Cards services.
8. Westpac Fraud Money Back Guarantee: Customers will be reimbursed for any unauthorised transactions provided that the customer has not contributed to the loss and contacted Westpac promptly.

9.
Global ATM:
A 3% Westpac Foreign Transaction Fee applies to overseas debit card withdrawals. A list of
Global Alliance members
is available. To ensure access to savings and/or cheque account funds when overseas obtain a Debit Mastercard®.
* For your account to be fully functional, you need to visit a Westpac Branch to complete your verification checks once you have arrived in Australia. You can only withdraw or transfer funds from your account after your identity has been verified by our Branch staff in Australia. We recommend you apply for your accounts and deposit funds to these accounts after you've received a valid Australian visa.
Read the
Apple Pay Terms and Conditions (PDF 42KB)
before making a decision and consider if it is right for you. To use Apple Pay you will need an eligible card and a compatible device with a supported operating system. See our
Apple Pay FAQs
for more information. Apple, the Apple logo, Apple Pay, Apple Watch and iPhone are trademarks of Apple Inc., registered in the U.S. and other countries. App Store is a service mark of Apple Inc.
Mastercard® is a registered trademark of Mastercard International Incorporated.