Discover Wonder
A new online experience set to revolutionise the way you view home loans
We're all full of wonder and what ifs. Big questions and small, such as 'How much is my property worth?* Can I put in a new kitchen? Should I upgrade or invest?' Westpac Wonder is a property dashboard that can help you explore all these scenarios and more. It uses everything we know about you plus all the extra info you provide to help plan your next move.
Already a Westpac customer? Start exploring via online banking or register online.
Approval in Principle
Eligible customers can apply for Approval in Principle online in minutes taking you one step closer to your property goals before even stepping in branch.
Discover
Got plans to renovate, travel or consolidate your finances? Eligible Westpac home loan customers can apply for extra funds via Wonder in minutes. Wonder will calculate your estimated available equity, income and more to see what's possible.
Reduce your paperwork
Thanks to Wonder, we've streamlined our application process. Which means no paperwork for Approval in Principle, plus reduced paperwork for final settlement on new loans.
24/7 Wonder dashboard
Access Wonder anytime and anywhere, simply by logging into online banking. Your Wonder profile is saved so Lenders can guide you through your home ownership journey over the phone or in-branch during business hours.
Want to receive property insights and work out what's next in your home ownership journey?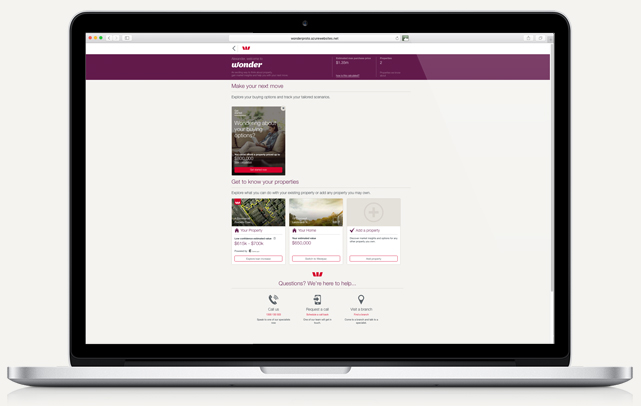 Things you should know
Only for Westpac online banking customers, credit criteria, fees and charges apply.
Approvals in Principle (AIP) and Home Loan increases are subject to Westpac's standard lending criteria. The amount of the AIP or Home Loan increase will depend on your financial circumstances and objectives. Your application will only be approved once we have obtained a satisfactory valuation and / or title search for any security properties, completed a satisfactory credit check and verified your financial details. Conditions, fees and charges may apply. These may change or we may introduce new ones in the future. Terms and conditions available on request. For new lending, allocating available equity in an existing property as security for a new property purchase may reduce the amount of cash you must contribute, but means you'll need to borrow more. You should obtain your own tax advice and consider your personal circumstances when deciding whether a new home loan (or home loan increase) is right for you. We recommend you seek independent advice before making a decision based on this information.
*While such material is published with permission, Westpac is not responsible for its accuracy or completeness.
This information has been prepared without taking your objectives, needs and overall financial situation into account. For this reason, you should consider the appropriateness of the information and, if necessary, seek appropriate professional advice.
©2016 Westpac Banking Corporation ABN 33 007 457 141 AFSL and Australian credit licence 233714.