Investing in property
Whether it's your first time, or you're a seasoned property investor, we can provide insights and information that could help you make your decision.
Featured Investor interest rates
2.59% p.a. 2 Year Fixed Rate Investment Property Loan, Principal and Interest repayments with the Premier Advantage Package# (4.02% p.a. Comparison rate*).
2.79% p.a. 2 Year Fixed Rate Investment Property Loan, Interest Only repayments with the Premier Advantage Package# (4.26% p.a. Comparison rate*).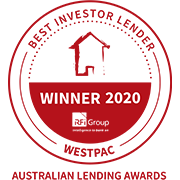 Best Investor Lender of the year
Awarded at RFi Group's Australian Lending Awards 2020 for Best Investor Lender
Property investor tools and resources
What's my next move?
Whatever you're planning, our investor property guide can help you navigate the steps ahead so you're ready when you find the right property.

Articles for Property Investors
Why Westpac?
Investing in property is complex - we're here to make it simpler for you.
A product for every strategy
Whether you're an experienced investor or a first-timer, we have a range of products and loan features to help you get what you need out of your investment.
Discounts for diligent investors
Get additional interest rate discounts by paying 12 months interest in advance on Fixed Rate Investment Property Loans with Interest Only in Advance.
Access to your equity
Apply to draw on the equity in your property and use it to renovate, make new investments, cover unexpected expenses or fund just about any project you have in mind (Credit criteria apply).
Package and save
Home loan package
Save on fees and get an ongoing interest rate discount by packaging your home loan for an annual package fee of $395.

Get started online
Things you should know
*Comparison rate: The comparison rate is based on a loan of $150,000 over the term of 25 years. WARNING: This comparison rate is true only for the examples given and may not include all fees and charges. Different terms, fees or other loan amounts might result in a different comparison rate.
#Premier Advantage Package: Conditions of Use and $395 annual package fee applies. You must either hold or be approved for a Westpac Choice account in order to qualify and continue to receive the benefits of the Premier Advantage Package. Applicants must have a Westpac Choice transaction account linked to the home loan at the time of settlement and must keep this account open for 60 days after settlement. The cashback will be automatically deposited into this account within 60 days after settlement. Before deciding to acquire a Westpac Choice account, read the terms and conditions, and consider whether the product is right for you. Applications for additional individual products must meet our approval guidelines to qualify for relevant package discounts.
Premier Advantage Package Conditions of Use (PDF 56KB)
Interest Only in Advance: Subject to Bank's approval and normal lending criteria apply. Interest Only in Advance interest rates and discounts apply to new Fixed Rate Investment Property Loans and loans which have been switched into Interest Only in Advance products. Existing fixed loans are not eligible unless the loan is re-fixed. Discounts are subject to change.