How to order a bank cheque
If you need a bank cheque, order it online through Westpac Online Banking.
Bank cheques submitted before 6pm AEST will be posted by 4.30pm the following business day.

Note:
You can order a bank cheque from a desktop only
Bank cheques are sent to the address entered via Australia Post

You can have bank cheques sent to yourself

A fee of $5 applies – this is less than in branch
Your payment may need to be approved by an authorised user. If you are not an Approver, the payee will need to be approved before it can be used. Payee will appear as - 'Changes Pending' – until Approved by Approver

Step by step guide
Select the Bank Cheque tab then payee or type to search to choose an existing payee or select pay new payee to create a new payee.

Note: If Bank Cheque tab doesn't appear, check with your administrator of the business network to see if you have permissions as a user to make a bank cheque payment. Here is a how to guide for How to manage, edit or remove existing users.
Desktop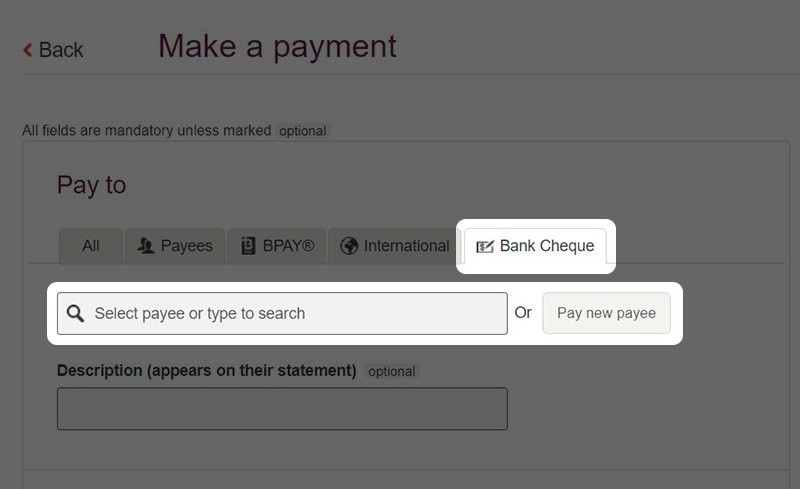 Select the From account and enter a description (optional).
In Payment details section, enter the Cheque amount and Date.
Enter a payment description, invoice date (optional), invoice number (optional), and remarks (optional).
Then select Continue.
Desktop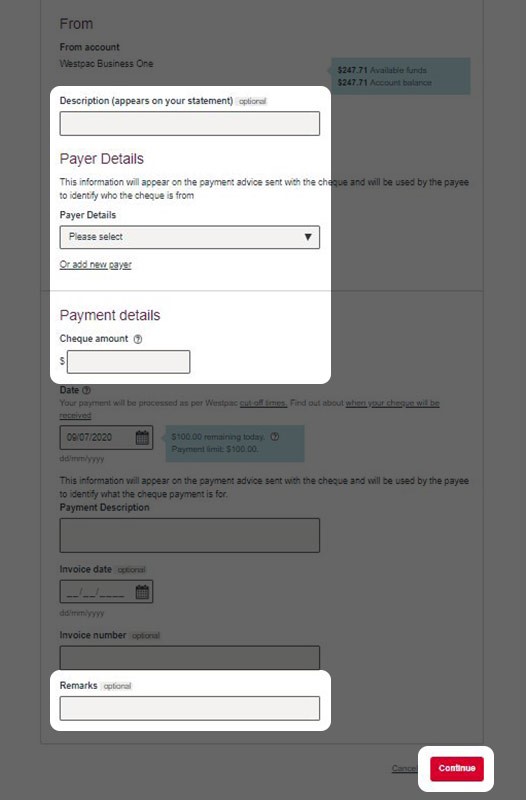 Review payment and select Pay if details are correct.
To authorise the payment, enter SMS or Token code and select Authorise.
Desktop