Step 1
Using Microsoft Excel, set up CSV file of payee details. No headings are required.
Details should be set out depending on whether your payees are BPAY or Pay Anyone. For BPAY payees, see step 1a, for Pay Anyone payees see step 1b.
BPAY Payees & Pay Anyone Payees have to be imported separately.
a. For BPAY Payees, include Payee nickname, Biller Code and Customer reference number.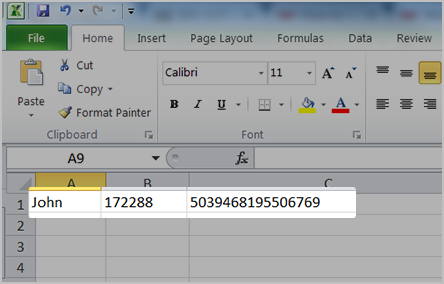 b. For Pay Anyone Payees include Payee account name, Payee nickname, Payee BSB and Payee Account number.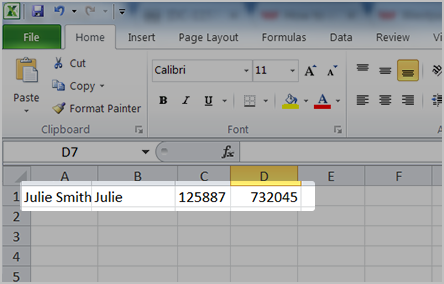 Step 2
Ensure that you have formatted the Biller Code and Customer reference number for BPAY payees or BSB and Account number (for Pay Anyone payees) as Text.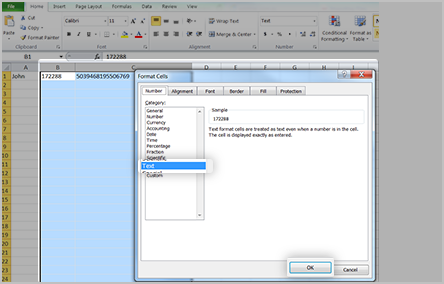 Step 3
Save your payee details as a CSV file (common delimited) in your folders.
Step 4
Navigate to Payments menu and select File Imports.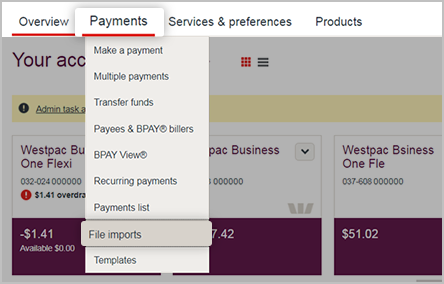 Step 5
In the Imports section, select Import new file.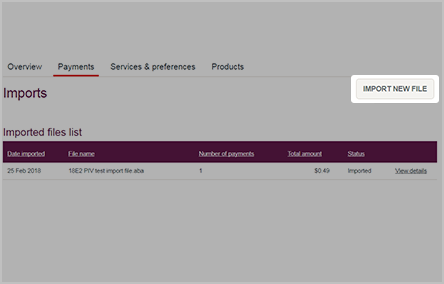 Step 6
In the Import new file section, select CSV as the file type, select the File contains payees only checkbox.
Select the payee group (if applicable) and payee payment method - BPAY or Pay Anyone. Select Choose File, browse and select the csv file.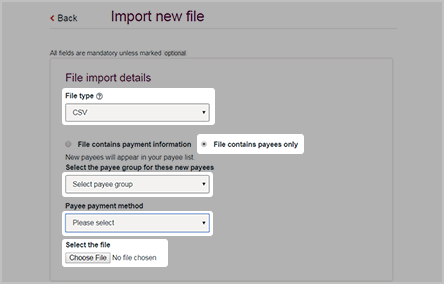 Step 7
Match each column of your CSV file to the fields required and then select Upload. For BPAY Payees refer to step 7a and for Pay Anyone payees refer to step 7b.
a. For BPAY, map the Biller Code, Customer Reference Number and Payee nickname. Then select Upload.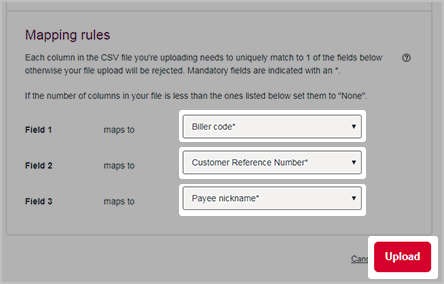 b. For Pay Anyone, map the Payee BSB, Payee account number, Payee nickname and Payee account name. Then select Upload.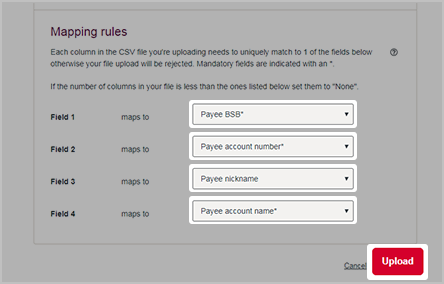 Step 8
A File Imported message will confirm your file has been uploaded. Select View details to check that your payees are there.
Note:
The maximum number of payees that can be imported is 500
Make sure you save the CSV file in CSV format
BPAY and Pay Anyone payees can be imported. However, these must be imported in separate files – BPAY payees should be in a separate CSV file to Pay Anyone payees.