Switch to Business eStatements
Enjoy the convenience and security of eStatements for your eligible business bank accounts.
What are the benefits of eStatements?
Securely store your eligible business bank statements
Access eStatements anytime, anywhere in Online Banking and the Westpac App
View, save and print up to seven years of bank account statement history
Email eStatements to your accountant and other third parties
Protect yourself and lower the risk of ID theft by receiving statements securely in Online Banking and the Westpac App.
Am I eligible for eStatements?
How to switch to eStatements
If you are an Administrator of a business or a Sole Trader, you can manage your business statements online.
Sign in to Westpac Online Banking from a desktop
Hover over Service and select Preferences
Under Statements, select the account and choose eStatement or Paper statement.

From the Westpac App:

Check which app you have: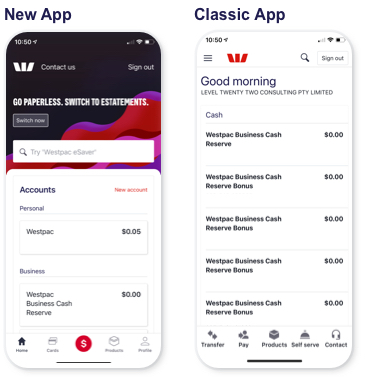 New Westpac App
Tap Profile then Settings
Under Communication, tap Statements
Tap an account and choose either eStatement or Paper statement.


Classic Westpac App
In the menu bar, tap Self serve
Tap eStatement settings
Select an account, then select eStatement or paper statement and tap Update.
If an account is not eligible for eStatements, only the paper statement option will be shown.

You can view eStatements for any eligible account that you have access to (including as an authorised third party) in Westpac Online Banking.
Do you have more than one approver for your administration tasks?
If your Online Banking is set up to have more than one Approver to perform administration tasks, any changes to your statement settings will need to be approved by all Administrators on the account(s).

If you need to approve an administration task:
Sign in to Westpac Online Banking from a desktop
Select the Approval button (near the Sign out button)
Select the Administration tab. You will see the statement settings waiting approval.

Are your details up to date?
What accounts are eligible for eStatements?
If you are registered for Westpac Online Banking and have a valid email address, you can switch to eStatements for these eligible accounts:
Altitude Business Platinum and Altitude Business Gold credit cards
Agribusiness Account
Business Account
Business One – Low Plan, High Plan and Flexi
Business Cheque Account, Agribusiness Cheque Account and Business Cheque Plus account
Statutory Trust Account – Conveyancers, Motor Dealer, Real Estate Agents and Solicitors
Business Cash Reserve, Cash Reserve Bonus and Premium Cash Reserve
Cash Management Account
Community Solutions Cash Reserve, Cash Reserve Bonus and Community Solutions One
Self Super Online
Strata account.

Please note:

Business loans, closed Business accounts and joint Business accounts are not eligible for eStatements.

You can find a list of consumer accounts that are eligible for eStatements here.
Manage administration tasks
Things you should know
This information does not take your personal objectives, circumstances or needs into account. Consider its appropriateness to these factors before acting on it. Read the terms and conditions at westpac.com.au before making a decision and consider whether the product is appropriate for you. Transaction fees may apply. Westpac Banking Corporation ABN 33 007 457 141 AFSL and Australian credit licence 233714.