THE FAST, EASY WAY TO GET PAID
With PayID®, people can pay you using just your mobile number.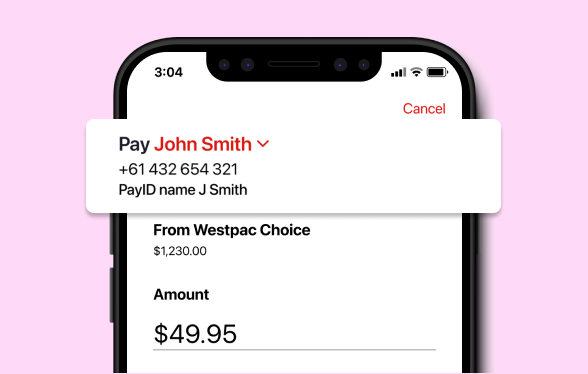 What is PayID?
A fast, easy and secure way to pay and get paid
Your mobile number is as unique as your BSB and account number, and now you can use it to receive money.
Register your mobile number as a PayID for an eligible bank account, and that's all people need to know to transfer you funds.
What's great about PayID?


Fast payments
PayID payments between participating banks are made in real time, so you pay and get paid fast.1

Easy to remember
All the payer needs to know is your mobile number rather than your BSB and account number.

Know you're paying the right person

The payer sees your name on their screen, reassuring them that they're paying the right person.

Costs you nothing
PayID is free to set up and there are no fees to use it.

Safe and secure
Transactions made using PayID have the same level of security that protects your existing bank account payments.2

Simple to set up

Register your mobile number as your PayID in Online Banking or the Westpac App.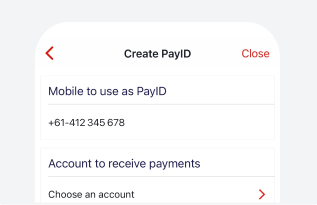 How do I receive money by PayID?
Someone's paying you:
Once you've set up your PayID, ask to be paid by PayID using your mobile number
The payer selects to pay you using PayID in their online or app banking and enters your number and the amount
They can see it's you they're paying before confirming
You'll receive a payment notification if you have these notifications enabled.
You're paying someone:
Sign into Online Banking or the Westpac App and go to the payment section
Add a new PayID/mobile number or choose an existing PayID payee, and enter the amount
If the payee is registered for PayID, their name will be displayed on your screen to reassure you that the correct person is being paid
Once you confirm, the payment should be delivered in under a minute.
PayID is super handy when…

You're splitting a restaurant bill

You're collecting money for a shared present

You're contributing to a shared expense

You're selling something online

You're giving money as a gift

You're sending money to a loved one
No, people can still pay into your account using your BSB and account number. But with PayID, they have the reassurance of seeing that it's you they're paying (because your account name appears on screen) before they confirm the payment.
Things you should know
1. Fast or real-time payments are sent and received using Osko by BPAY® and can be addressed to either a PayID or a BSB and account number. You can also receive fast payments via Single Credit Transfers. Real-time payments require both the payer and payee to have Osko enabled accounts. Payments may take longer in some instances, such as where there is a technical interruption to the service, there is a payment to a first time payee or when the payment is caught for additional security screening.
Personal customers can send and receive fast Osko payments to and from participating financial institutions with an eligible account (i.e. a personal transaction account).

The PayID types available to you may vary depending on your customer profile. If you register your mobile as a PayID, it needs to be the same as your Westpac Protect™ SMS Code.

When your PayID is registered, your details (including your name) will be available to people who use the service and enter your mobile phone PayID.

Westpac Mobile Banking applications are only available for use by Westpac Australia customers. Internet connection is needed to access Westpac Online Banking and the Westpac App. Normal mobile data charges apply. ​
2. Online Banking Security Guarantee. If your Westpac account is compromised as a result of internet fraud, we will repay any missing funds providing you comply with our
Online Banking Terms and Conditions (PDF 409KB)
.
This includes keeping your sign-in details (including passwords, Westpac Protect™ Security Code and SecurID® Token codes) private. You must inform us immediately if you suspect the security of your access details has been compromised or you suspect an unauthorised transaction or potentially fraud on your accounts. Always adhere to manufacturers' software and support to ensure your mobile devices are covered by the latest software and security updates.

PayID® is a registered trademark of NPP Australia Limited and any use of its marks by Westpac is under license.
BPAY® and Osko® are registered trademarks of BPAY Pty Ltd ABN 69 079 137 518.