Never Miss A Celebration With A Digital Gift
Completely forgot or couldn't get a gift organised in time? Bundle a cash gift with a free Digital Card, anytime, anywhere in the Westpac App.
How does it work?
Send a Digital Gift to any person with an Australian bank or financial institution account using PayID or the recipient's BSB and Account Number in the Westpac App:
They'll receive it almost instantly if their financial institution uses Osko®
Send a digital card to accompany the gift using email or SMS
Choose from various designs and animated messages.
A gift with a message for every occasion
How do I send a Digital Gift?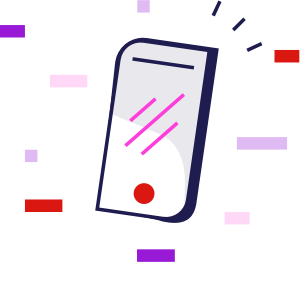 In the Westpac App
Before trying these instructions make sure you update to the latest version of the app.
Tap $ and select More

Select Gift some money
Choose your card or animated image
Enter your payment details
Share your gift message using the options provided.
Tip: If you're sending a Digital Gift for the first time, you'll be able to add a new payee when you enter your payment details in step 4. You can add a payee using their BSB and Account Number, or you can use their PayID if they have one.
Frequently asked questions
A PayID is a unique, easy-to-remember identifier that is linked to an eligible account. Payments can be made to the following PayID types: mobile number, email address, ABN (which includes ACN, ARBN and ARSN), phone number and Organisation ID.

Payments to PayIDs are fast Osko® payments, which means they're received in near real-time, 24/7, even between customers of different banks1. Payments to PayIDs can also include a longer payment description2. It's also safer paying to a PayID rather than a BSB and Account Number, as the registered PayID name will be displayed onscreen, allowing you to verify the payee is the intended recipient before sending your payment.
Things you should know
Read the Westpac Online Banking Terms and Conditions (PDF 409KB) at westpac.com.au before making a decision and consider whether the product is right for you.
1. Fast or real-time payments are sent and received using Osko by BPAY® and can be addressed to either a PayID or a BSB and account number. Real-time payments require both the payer and payee to have Osko enabled accounts. Payments may take longer in some instances, such as where there is a technical interruption to the service, there is a payment to a first time payee or when the payment is caught for additional security screening.
Personal customers can send and receive fast Osko payments to and from participating financial institutions with an eligible account (i.e. a personal transaction account).
The PayID types available to you may vary depending on your customer profile. If you register your mobile as a PayID, it needs to be the same as your SMS Protect CodeTM.
When your PayID is registered, your details (including your name) will be available to people who use the service and enter your mobile phone PayID.
Westpac Mobile Banking applications are only available for use by Westpac Australia customers. Internet connection is needed to access Westpac Online Banking and the Westpac App. Normal mobile data charges apply.
2. Up to 280 characters. Please note emojis and Chinese characters will result in an error message.
Apple, the Apple logo and iPhone and iPad are trademarks of Apple Inc., registered in the U.S. and other countries. App Store is a service mark of Apple Inc.
Android, Google Play, and the Google Play logo are trademarks of Google LLC.
BPAY® and Osko® are registered trademarks of BPAY Pty Ltd ABN 69 079 137 518.