Help lets you pay friends fast*.
Paying friends will be quick and easy with a PayID.
Soon you'll be able to get paid in real-time, typically less than a minute, using just your mobile number as a PayID.
You'll also be able to make payments to others using their mobile number if they have registered it as a PayID, even if they bank with someone else.
Best of all these payments will be available within Westpac Live Online Banking, which offers 4 digit PIN or Fingerprint sign in, on eligible devices, if you access it through our Mobile Banking apps. Plus, you'll have peace of mind knowing you're covered with our Online Banking Security Guarantee1.
A PayID is like a nickname for your BSB and account number, such as your mobile number or if you have a business, your ABN. The PayID is created by linking your mobile number or ABN to your eligible Westpac account.
Your family and friends probably already have your mobile number in their phone contacts, so you can avoid conversations and texts asking for bank account details, making it easier to pay you.
When you've created a PayID through Westpac, you'll also be able to pay friends and family to their mobile number, if it's registered as a PayID.
Use PayID to receive money - once your mobile number or if you are a business, your ABN, is set up as a PayID, you can start sharing it with people to pay you.
Use PayID to pay money – to pay to a mobile number which has been set up as a PayID, you can simply access your phone contacts from the Westpac Mobile Banking app to easily pay friends and family.


You'll be able to include a useful and fun message with the transaction - type what you like#. Your message will arrive with your payment.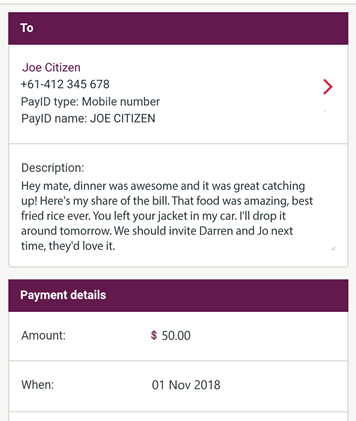 Use your ABN/ACN to create a PayID and when customers need to pay you they can use it instead of your BSB and account number. PayID is an easy way to communicate your account details. If your suppliers are registered, pay them using their ABN/ACN.
How will PayID and faster payments help my business?
Manage your cash flow better
Get access to money faster through the receipt of cleared funds in real time
Hold onto your money longer by paying in real time on the due date.
Reduce payment errors
PayID payments will automatically display the recipient name when their PayID is entered into Westpac Live, reducing the potential for misdirected payments.
Improved reconciliations
Payers will have more room to provide more information helping you to easily identify transaction particulars. Save time on tedious reconciliations and focus on your core business.
Use your Mobile number as a PayID for Business Accounts
You can also create a Pay ID using your mobile if you log on as a personal customer to view your business accounts in Westpac Live. Remember, your mobile number can only be linked as a PayID to one account. This means if you register your mobile number to your personal account, you will have to change the account linked to your PayID from your personal account to your business transaction account before using your mobile for business payments.
What do I need to do?
We'll let you know when it's time to create your PayID.

In the meantime, as there are a number of changes you may need to make to ensure your business is ready, read our Getting Ready for the New Payments Platform guide (PDF 742KB).
It will help you understand the changes, how they may impact your business and what actions you need to take.
Frequently asked questions
Things you should know
*Fast or real time payments are sent and received using Osko by BPAYTM and can be addressed to either a PayID or a BSB and account number. Real time payments require both the payer and payee to have Osko enabled accounts.
Payments may take longer in some instances, such as where there is a technical interruption to the service, there is a payment to a first time payee or when the payment is caught for additional security screening.
The PayID types available to you may vary depending on your customer profile. If you register your mobile as a PayID, it needs to be the same as your SMS Protect CodeTM.

When your PayID is registered, your details (including your name) will be available to people who use the service and enter your mobile phone PayID.
Westpac Live Online Banking is only available for use by Westpac Australia customers. Internet connection is needed to access Westpac Online and Mobile Banking. Normal mobile data charges apply.
# Up to 280 characters.
1 Online Banking Security Guarantee.
If your Westpac account is compromised as a result of internet fraud, we will repay any missing funds providing you comply with our Online Banking Terms and Conditions (PDF 296KB).
This includes keeping your sign-in details (including passwords, Westpac Protect™ SMS codes and SecurID® Token codes) private. The Terms and Conditions explain the features, benefits, risks, fees and charges for Online Banking. You must inform us immediately if you suspect the security of your access details has been compromised or you suspect an unauthorised transaction or potentially fraud on your accounts. Always adhere to manufacturers' software and support to ensure your mobile devices are covered by the latest software and security updates.
BPAY® and Osko® are registered trademarks of BPAY Pty Ltd ABN 69 079 137 518.