Moving to Australia
Westpac Choice is an everyday bank account with features designed for people moving to Australia or who have arrived in the last 12 months.
Get started with a bank account today
Why choose a bank account with us?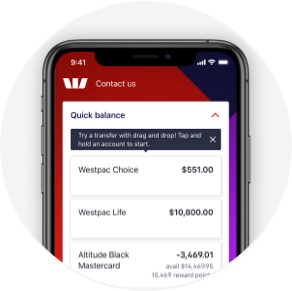 Set up your account now in less than 3 minutes
Open your account up to 12 months before you arrive or once you arrive

Pay no monthly service fee for the first 12 months
And if you're a student you won't pay any monthly service fee while you're a full time student or under 21 in Australia

You'll be with Australia's first bank
We have 200 years' experience helping customers create a new life in Australia
ATM network at home and overseas

Pay no ATM withdrawal fee at over 10,000 Australian ATMs as well as at over 50,000 ATMs globally via the Global ATM Alliance 2. Other fees may apply.
Transferring money

Once your account is open, you can deposit money into your account by using international payments1
Register for online banking and easily transfer money back to friends and family
You can withdraw funds once you've completed an identity check when you arrive in Australia2