Moving to Australia
Westpac Choice is an everyday bank account with features designed for people moving to Australia or who have arrived in the last 12 months.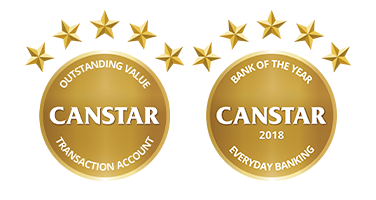 Join the Bank of the Year - Everyday Banking
Awarded 2018 Canstar Bank of the Year - Everyday Banking
Recognised for offering both a strong online banking platform as well as comprehensive ATM and branch coverage throughout Australia
Get started with a bank account today
Why choose a bank account with us?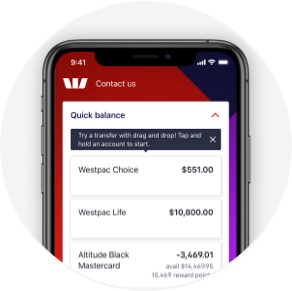 Set up your account now in less than 3 minutes
Open your account up to 12 months before you arrive or once you arrive

Pay no monthly service fee for the first 12 months
And if you're a student you won't pay any monthly service fee while you're a full time student or under 21 in Australia

You'll be with Australia's first bank
We have 200 years' experience helping customers create a new life in Australia
ATM network at home and overseas
Pay no withdrawal fee at any major bank ATM in Australia (including Westpac, Commonwealth Bank, ANZ, NAB, St.George, Bank of Melbourne and BankSA) and at over 50,000 ATMs globally via the Global ATM Alliance and partner ATMs (other fees may apply)3
Once your account is open, you can deposit money into your account by using international payments1
Register for online banking and easily transfer money back to friends and family
You can withdraw funds once you've completed an identity check when you arrive in Australia2


Things you should know
Deposit Accounts for Personal & SMSF customers Terms and Conditions (PDF 1009KB)
Westpac Debit Mastercard® Terms and Conditions (PDF 129KB)
Westpac Emergency Cash and Westpac Get Cash Terms and Conditions (PDF 91KB)
Online Banking Terms and Conditions (PDF 283KB)
Find out what information you need to provide to become a customer (PDF 768KB)
Before making a decision about any of our products or services, please read all the terms and conditions. Fees and charges apply and may change.

Debit Mastercard: You need to be at least 14 years of age, and have an Australian residential address to be eligible for the card. If you're not eligible for a Debit Mastercard, apply for a Handycard to access your account.

1. Conditions, fees, charges and foreign currency exchange rates apply. You will need to check with your bank, financial institution or exchange dealer before your transfer.

2. Visit a Westpac branch when you arrive to complete your ID verification. Withdrawals cannot be made until ID verification is completed.

3. Global ATM: A 3% Westpac Foreign Transaction Fee applies to overseas debit or credit card withdrawals. A 2% cash advance fee applies to credit card withdrawals where the "Credit" option is selected. A list of Global Alliance members is available. Excludes American Express® cards. It is important to know that the functionality to withdraw money from a linked Westpac account via Credit Card is not available when using overseas ATMs, including Global Alliance ATMs. To ensure access to Savings and or Cheque account funds when overseas please speak to us about obtaining a Debit Mastercard®


# $50 Offer: Excludes customers who hold or have held a Westpac Choice account at any time. To receive up to AUD$50 credited to an everyday account, customers must open a Westpac Choice account online (or in an Australian Westpac branch for Youth, Student and Migrant Choice accounts) between 10/7/19 and 09/10/2019 (inclusive) and must deposit $500 or more and make at least five (5) eligible purchases using their debit card within 30 days of account opening ('eligible customer'). Eligible purchases: include in-store purchases, online purchases, regular card payments, PayPass, and Google Pay™ transactions. Offer excludes ATM withdrawals. Eligible customers will receive $50 deposited into their account within 45 days of account opening following successful identification verification. The account must remain open during this period in order to be eligible for the offer. Offer limited to one deposit per customer and is not available in conjunction with any other offer. Where a joint account is opened, if one of the joint account holders has already received their deposit in respect of another account, then none of the remaining joint account holders will be eligible for the offer in respect of the joint account. Read the Terms and Conditions available at westpac.com.au, including for fees and charges that may apply, before making a decision and consider if it is right for you.
World Mastercard®, Mastercard® and the Mastercard Brand Mark are registered trademarks of, and PayPassTM is a trademark of, Mastercard International Incorporated.
© Westpac Banking Corporation ABN 33 007 457 141 AFSL and Australian credit licence 233714.