EFTPOS machines
For reliable card payments, choose a standalone EFTPOS machine or a terminal that integrates with your point of sale (POS) system.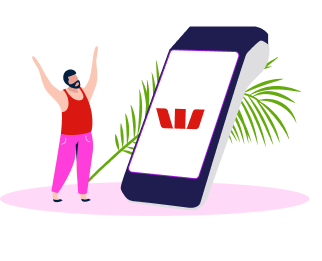 One simple monthly terminal fee plus 1.2% flat rate
No upfront terminal costs
No fixed periods
No cancellation fees
No extra ongoing costs
Why choose Westpac EFTPOS solutions?
Instant settlement
Takings appear instantly in your linked Westpac account following daily settlement¹.
Flat transaction rate
Simple 1.2% flat rate on all eftpos, Mastercard®, Visa and UnionPay transactions⁷.
24/7 technical support
Support's just a call away. Get a replacement terminal within 4 hours in metro areas.
Never miss a sale
No internet? Switch automatically to backup connectivity when your Wi-Fi is down.
What's the right EFTPOS machine for my business?
The smart terminal that grows with your business
Need added functionality? Take all the best features of EFTPOS Now and boost it with the Presto app, integrating your point of sale (POS) system for flexible, portable and convenient payments.
Trusted by 100,000+ Australian businesses
Our EFTPOS machines are relied on every day by shops, cafes, restaurants, food trucks, hairdressers, tradespeople, and many more.
Request a callback
Leave your details and one of our EFTPOS specialists will get back to you at a time that suits you.
8am-8pm (Sydney time), Mon-Fri to speak to an EFTPOS specialist.
Still don't know which one to choose?
Use our handy tools to compare EFTPOS machines to find the solution for your business.
Discover a new, easier way to take payments
Get paid anywhere, using our EFTPOS Air app on your compatible device. T&Cs apply.
Frequently asked questions
EFTPOS stands for Electronic Funds Transfer at the Point Of Sale. It's the term used to describe an electronic payment system (also known as a machine or terminal) that enables the taking of payments by digital wallets, debit, credit and charge cards. EFTPOS machines – which can be standalone or connected to a point of sale (POS) system – facilitate the movement of funds from a customer's credit, charge and debit card account to a nominated business bank account.

Then there is eftpos, which is the debit card payment system that takes funds directly from a customer's cheque or savings transaction account to pay for purchases in store.
Things you should know
1. Westpac instant settlement functionality is not available between 9:30 pm and 11:59 pm (Presto Smart terminals) and between 9:30 pm and 11:00 pm (EFTPOS Now, EFTPOS Now with Presto, EFTPOS Flex and EFTPOS Connect terminals) - Sydney time. You can only perform a settlement once a day, before 9:30 pm (Sydney time). A settlement done after 11:00 pm for EFTPOS Now, EFTPOS Now with Presto, EFTPOS Flex and EFTPOS Connect terminals and after 11:59 pm for Presto Smart terminals, will be processed as a settlement for the next day. Subject to system availability, settlement can take place 7 days a week. Settlement must be to an eligible Westpac transaction account. Instant Settlement functionality is not available on Corporate Online. Instant Settlement is only available for Mastercard®, Visa® and eftpos transactions (plus UnionPay if using EFTPOS Connect).


2. Subject to system availability
3. The point of sale systems are supplied by POS providers, not Westpac. Westpac does not guarantee or endorse those products and any related services.
4. Value added services such as ZipPay and others are subject to availability by Linkly Solution. Visit Linkly.com.au for details about POS compatibility
6. This functionality is POS dependent.
7. Our 1.2% flat transaction rate applies to eftpos, Mastercard ®, Visa and UnionPay but not to American Express, Diners Club or JCB cards. A 1.4% EFTPOS Air flat rate applies to eftpos, Mastercard® and Visa payments only, by card, mobile wallet or wearable.
# If you want to accept American Express payments, you'll need to call 1300 363 614 to enter into a separate merchant agreement with American Express.
Mastercard® is a registered trademark, and the circles design is a trademark of Mastercard International Incorporated.
Visa® is a registered trademark of Visa International Service Association.
UnionPay is a trademark of UnionPay International Co. Ltd.

American Express® is a registered trademark of American Express.
Bluetooth® is a registered trademark owned by Bluetooth SIG, Inc. and use of the mark by Westpac is under license.
Google Pay™ is a trademark of Google LLC.
Apple Pay is a trademark of Apple Inc., registered in the U.S. and other countries.
Samsung and Samsung Pay are trademarks or registered trademarks of Samsung Electronics Co.