EFTPOS
Whether you want standalone EFTPOS machines, or EFTPOS that integrates with your POS system, our EFTPOS terminals offer fast and secure payment processing.
Our EFTPOS machines
Accepting EFTPOS payments at the counter or on the move.
Instant Settlement1
Receive your daily business takings instantly, which helps keep your cash flowing.
24/7 technical support
We're on call 24/7 to ensure your business keeps receiving fast and secure payments night and day.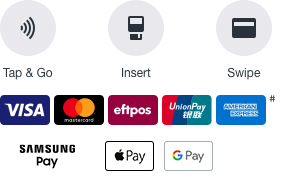 With Westpac EFTPOS terminals, you have the option of choosing a standalone EFTPOS machine or EFTPOS that integrates seamlessly with your existing Point of Sale (POS) system. Either way, you'll have a solution that allows you to receive fast and secure payments both at the counter and on the move.
Need help?
Compare EFTPOS machines or choose a payment solution for your business using our handy tool.
Help me choose a payment solution for my business
Compare our EFTPOS terminals

Get a terminal, get an account
Business One High Plan or Low Plan monthly account fee waived for the first 12 months while on a Merchant Pricing Plan (saving you up to $240).
Terms and conditions, fees and charges apply. Find out more
Things you should know
Applications for merchant services are subject to approval. Terms and Conditions and other fees and charges (PDF 1MB) apply. Full details are available on request.
1. Westpac instant settlement functionality is not available between 9:30pm and 11:59pm (Sydney time) for all EFTPOS 1, EFTPOS 1i and Presto Smart terminals. You can only settle a Westpac issued EFTPOS terminal once within a 24 hour period. Subject to system availability, settlement can take place 7 days a week. Settlement must be to a Westpac business transaction account. Instant settlement functionality is not available on Corporate Online and is only available for Visa, Mastercard and eftpos transactions (excludes UnionPay transactions).
2. Cancellation fee applies. Changes to merchant pricing plans are effective from the following month.
3. Standalone mode allows you to process card payments even when the POS is not connected to your EFTPOS terminal.
# If you want to accept American Express, you'll need to call 1300 363 614 to enter into a separate merchant agreement with American Express.
Mastercard® is a registered trademark of Mastercard International Incorporated.
American Express® is a registered trademark of American Express.