EFTPOS Connect for Linkly POS
Take fast, seamless payments with an EFTPOS terminal that integrates with 100s of POS systems using Linkly software.
Why choose EFTPOS Connect?
Integrates with a range of Linkly point of sale systems
Take contactless payments anywhere in-store
Instant settlement 1
4G and Bluetooth to base connectivity
Supports TruRating and Zip
Personalise with your business logo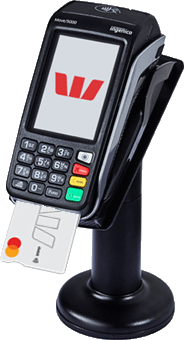 How do I get EFTPOS Connect?
1. Request a callback and apply over the phone
Short on time? No need to visit a branch. Request a callback and one of our merchant specialists will complete your application over the phone.
2. Receive your terminal
Once your application is approved, you will receive your new device within 5 business days.
If your business is in a metro area, a technician will deliver your machine. If you are in a regional area, you will receive your machine via post.
3. Set up your machine
Our technician will provide training for you and your staff on delivery (Metro only) or you can call us any time on 1800 029 749 and we can walk you through the steps over the phone.
4. Start taking payments
Once your machine is set up, you can start taking payments straight away.
What are the fees and charges?
Every business is unique, so we tailor our quotations to suit your specific needs.

For a detailed quote, request a callback.
Our EFTPOS Connect features
Fast payments
Integrates directly with your Linkly point of sale (POS) system to help speed up payments and reduce errors – no need to manually key-in the amount.

Instant settlement1
Receive your daily business takings instantly to help keep your cash flowing. Learn more about Westpac Instant Settlement.
Reliable connectivity
Enjoy the reassurance of backup connectivity, which automatically switches to 4G if your Internet goes down, so you'll never miss a sale.
Value-added services
Your terminal supports value-added payment services such as TruRating and Zip. You can even personalise your terminal with a business logo.
Things you should know
Applications for merchant services are subject to approval. Terms and Conditions and other fees and charges (PDF 1MB) (PDF 69KB) apply. Full details are available on request.
1.Westpac instant settlement functionality is not available between 9:30pm and 11:59pm (EFTPOS 1 and Presto Smart terminals) and between 9:30pm and 11:00pm (EFTPOS Connect terminals) - Sydney time. You can only settle a Westpac issued EFTPOS terminal once each day. Subject to system availability, settlement can take place 7 days a week. Settlement must be to a Westpac business transaction account. Instant Settlement functionality is not available on Corporate Online. Instant Settlement is only available for Mastercard, Visa and eftpos transactions (plus UnionPay if using EFTPOS Connect).
Mastercard® is a registered trademark, and the circles design is a trademark of Mastercard International Incorporated.
# If you want to accept American Express, you'll need to call 1300 363 614 to enter into a separate merchant agreement with American Express.
American Express®is a registered trademark of American Express.