EFTPOS Connect for Linkly POS
Take fast payments with an EFTPOS terminal that integrates seamlessly with hundreds of point of sale (POS) systems using Linkly software.
Why choose EFTPOS Connect?
Integrates with a wide range of Linkly On-Premises and Cloud POS systems
You can take contactless payments anywhere in-store
Enjoy Instant Settlement¹
It offers 4G 2 , Wi-Fi and Ethernet connectivity
It can be personalised with your business logo
You can activate Merchant Choice Routing to help reduce the cost of accepting tap and go card payments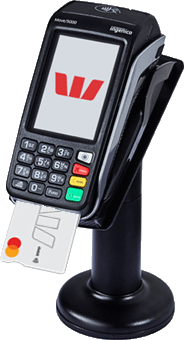 How to get started
2. Receive your device
Once your request is approved, you'll receive your EFTPOS terminal within 5 business days – installed by a technician (metro only) or delivered by courier.

3. Set up your terminal

Our technician will train you and your staff on delivery. Or if you're outside a metro area, call us on 1800 029 749 and we'll walk you through the steps.

1.2% flat rate + $27.50 monthly terminal fee
Rate applies eftpos, Mastercard®, Visa® and UnionPay transactions3.
No setup fee
No charge for paper receipt rolls
No fee for investigating transaction disputes (unless they are excessive⁴).

Additional EFTPOS Connect features
Fast payments
Integrates directly with your Linkly POS system to help speed up payments and reduce errors – no need to manually key-in the amount.

Instant settlement1
Receive your daily business takings instantly to help keep your cash flowing. Learn more about Westpac Instant Settlement.
Reliable connectivity
Enjoy the reassurance of backup connectivity, which automatically switches to 4G2 if your Internet connection goes down, so you'll never miss a sale.
Value-added services
Your terminal supports value-added payment services. You can even personalise your terminal with a business logo.5
Need a different solution?
Check out our other integrated and standalone EFTPOS options.
Merchant support & stationery
Things you should know
1. Westpac instant settlement functionality is not available between 9:30 pm and 11:59 pm (Presto Smart terminals) and between 9:30 pm and 11:00 pm (EFTPOS Now, EFTPOS Now with Presto, EFTPOS Flex and EFTPOS Connect terminals) - Sydney time. You can only perform a settlement once a day, before 9:30 pm (Sydney time). A settlement done after 11:00 pm for EFTPOS Now, EFTPOS Now with Presto, EFTPOS Flex and EFTPOS Connect terminals and after 11:59 pm for Presto Smart terminals, will be processed as a settlement for the next day. Subject to system availability, settlement can take place 7 days a week. Settlement must be to an eligible Westpac transaction account. Instant Settlement functionality is not available on Corporate Online. Instant Settlement is only available for Mastercard®, Visa® and eftpos transactions (plus UnionPay if using EFTPOS Connect and EFTPOS Flex).


3. Our 1.2% flat transaction rate applies to eftpos, Mastercard ®, Visa and UnionPay but not to American Express, Diners Club or JCB cards. A 1.4% EFTPOS Air flat rate applies to eftpos, Mastercard® and Visa payments only, by card, mobile wallet or wearable.
4. Fees may be charged for chargebacks that are deemed to be excessive by us. You will be notified in writing one month prior to the fee being charged.
5. This functionality is POS dependent
# If you want to accept American Express® or JCB payments, you'll need to call 1300 363 614 to enter into a separate merchant agreement with American Express® or JCB.
American Express® is a registered trademark of American Express.
Mastercard® is a registered trademark, and the circles design is a trademark of Mastercard International Incorporated.
Visa® is a registered trademark of Visa International Service Association.
UnionPay is a trademark of UnionPay International Co. Ltd.

Bluetooth® is a registered trademark owned by Bluetooth SIG, Inc. and use of the mark by Westpac is under license.
Google Pay™ is a trademark of Google LLC.
Samsung and Samsung Pay are trademarks or registered trademarks of Samsung Electronics Co.
Apple Pay is a trademark of Apple Inc., registered in the U.S. and other countries.