More ways to pay on the go
Choose a payment method that's best for you.
Unlock your Amazon Prime benefits today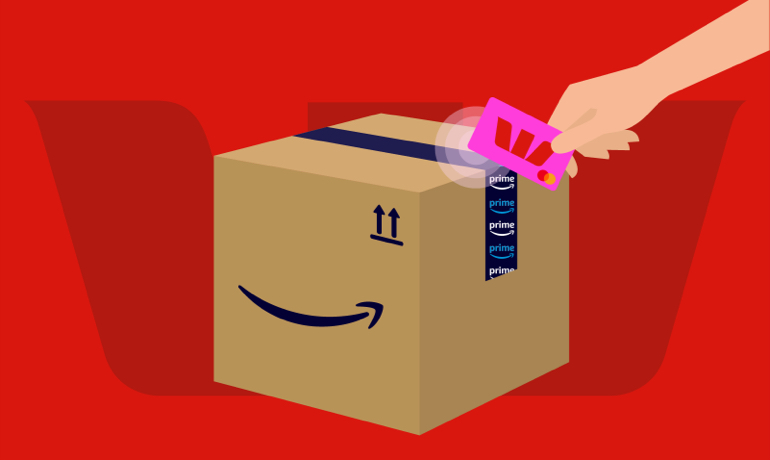 Your eligible Westpac credit Mastercard® brings you a three-month membership to Amazon Prime (valued at $6.99/mth), or a $15 amazon.com.au Gift Card (for existing Amazon Prime customers).1
Pay with your phone
With your choice of wallets you can now carry your eligible Westpac cards with your smartphone. You can make purchases at millions of store worldwide, at any terminal where contactless payments are accepted.
Wearables
Our range of payment wearables gives you the freedom to leave your wallet or card at home. Whether going for a run or grabbing a quick coffee, you can pay on the go.

Digital Card
Always have your money within reach with the Digital Card. Use it just like your physical card to shop online, pay bills, make in-app purchases and set up your recurring card payments, or even add it to your mobile or wearable wallet to shop in-store.
Pay friends
Paying friends money you owe them, splitting bills when out to dinner or even just paying a tradesman in real time, effortlessly and securely.
Things you should know
1. Offer subject to change. Terms and conditions apply. Offer is available to eligible Westpac World Mastercard, Platinum Mastercard, Titanium Mastercard, Mastercard Standard cardholders ("Eligible Cards") signing up to Amazon Prime Australia or existing Amazon Prime Australia customers only, and is valid for redemption until 30.3.22. Eligible Customers who nominate their Eligible Card as the relevant payment method will receive 3 months (90 day) Amazon Prime membership courtesy of Mastercard when they sign up for a new Amazon Prime account or existing Amazon Prime customers will receive an AU15 amazon.com.au Gift Card. After the 90-day promotional period, you authorise Amazon to charge $6.99 AUD/month for Amazon Prime service. Cancel anytime by visiting 'Manage Prime Membership' in 'Your Account' on Amazon.com.au and adjust your membership settings. Amazon.com and its affiliates are not sponsors of this promotion. Amazon, Amazon Prime and all related logos are trademarks of Amazon.com, Inc. or its affiliates. Mastercard and the circles designs are registered trademarks of Mastercard International Incorporated.
Read the terms and conditions before making a decision and consider if it is right for you. To use these methods of payment you will need an eligible card and compatible device with a supported operating system.
PayWear Terms and Conditions (PDF 46KB)
Fitbit Pay Terms and Conditions (PDF 43KB)
Garmin Pay Terms and Conditions (PDF 43KB)
Google Pay Terms and Conditions (PDF 680KB)
Samsung Pay Terms and Conditions (PDF 389KB)
Apple Pay Terms and Conditions (PDF 79KB)
Internet connection may be needed to make purchases using Google Pay or Samsung Pay and normal mobile data charges apply.
Apple, the Apple logo, Apple Pay and iPhone are trademarks of Apple Inc., registered in the U.S. and other countries. App Store is a service mark of Apple Inc.
Samsung and Samsung Pay are trademarks or registered trademarks of Samsung Electronics Co.
Android, Google Pay and Google Play are trademarks of Google Inc.
Westpac PayWear is a registered trademark and PayWear is a trademark of Westpac Banking Corporation.
Fitbit and the Fitbit logo are trademarks or registered trademarks of Fitbit, Inc. in the U.S. and other countries.
Garmin, the Garmin logo, and the Garmin delta are trademarks of Garmin Ltd. or its subsidiaries and are registered in one or more countries, including the U.S. Garmin Pay is a trademark of Garmin Ltd. or its subsidiaries.
A Visa or Mastercard debit card attached to an Australian bank account is required to use the Beem It app. Beem It is a facility provided by Commonwealth Bank of Australia ABN 48 123 123 124 AFSL 234945 and made available through its authorised representative, Digital Wallet Pty Ltd ABN 93 624 272 475. Before downloading the app please consider the Product Disclosure Statement and Terms and Conditions, available at beemit.com.au. As this advice has been prepared without considering your objectives, financial situation or needs, you should, before acting on it, consider the facility's appropriateness to your circumstances.
Mastercard, PayPass and the Mastercard Brand Mark are registered trademarks of Mastercard International Incorporated. World Mastercard®, Mastercard® and the Mastercard brand mark are registered trademarks.
Fast or real-time payments are sent and received using Osko by BPAY® and can be addressed to either a PayID or a BSB and account number. Real-time payments require both the payer and payee to have Osko enabled accounts. BPAY® and Osko® are registered trademarks of BPAY Pty Ltd ABN 69 079 137 518.
© 2018 Westpac Banking Corporation ABN 33 007 457 141 AFSL and Australian credit licence 233714