Life Insurance Code of Practice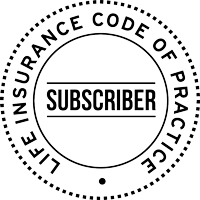 Our promises to you
When you take out life insurance with Westpac, it's important to us that you get the highest standards of service as you prepare for your best financial future.

That's why we've adopted the Life Insurance Code of Practice (Code). It reinforces our commitment to mandatory customer service standards and to protecting you, our customer, when you need us most.
What is the Code?
The Code sets out our commitments and obligations to our customers on standards of fair practice and principles of conduct for our services, such as being open, fair and honest. It also sets out timeframes for us to respond to claims, complaints and requests for information.

The Code is monitored by an independent committee within the Financial Ombudsman Service to ensure effective compliance, and we can be sanctioned if we do not correct breaches of the Code.
Minimum Standard Medical Definitions
The Code also sets out minimum standards that will apply to claims for cancer, heart attacks and strokes for policies issued from 1 July 2017. However, we've gone beyond our commitments under the Code by applying the Minimum Standard Medical Definitions to all of our policies that cover these defined medical events, no matter when the policy commenced. This applies to claims where the sickness first became apparent on or after 1 March 2018 for the first $2 million of cover.

These minimum standards will be regularly reviewed in consultation with medical specialists to ensure they keep pace with medical advancements.

So if you have a Living Benefit or Crisis Benefit with Westpac and need to make a claim for one of these conditions, you can be confident that for your first $2 million of cover your claim will be assessed against the most favourable definition between that defined under your policy and the Minimum Standard Medical Definition in the Code as at 1 March 2018.

Furthermore, our Medical Improvements Statement1 ensures that, if you ever need to make a claim on any policy, your claim will be assessed against the latest method for diagnosing medical conditions both now and into the future.
Your copy of the Code
You can obtain a copy of the Code from the Financial Services Council website.
Need to make a claim?
Making an insurance claim can be daunting, that's why our claims team do everything they can to support you every step of the way.
Call us on 1300 551 431 Monday to Friday 8.00am to 6.30pm (Sydney time). It's important to contact us as soon as you can and let us know what has happened to prompt your claim.
If you're not satisfied
If you're not satisfied with any aspect of your experience with us, we want to know about it so we can set it right. You have the right to make a complaint if you feel you haven't received the right outcome.


1 Medical Improvements Statement: If the method for diagnosing one of the defined medical events covered by your policy has been superseded due to medical improvements, we will consider other appropriate and medically recognised methods or tests that conclusively diagnose the event to at least the same severity.
Things you should know
A target market determination has been made for Protection Plans products. Please visit westpac.com.au/tmd for any of our target market determinations.
The Insurer and Issuer is Westpac Life Insurance Services Limited ABN 31 003 149 157 AFSL 233728, except for Term Life as Superannuation, Income Protection as Superannuation and Income Protection Assured as Superannuation, issued by BT Funds Management Limited ABN 63 002 916 458 AFSL 233724 as Trustee of Retirement Wrap ABN 39 827 542 991. They are subsidiaries of Westpac Banking Corporation ABN 33 007 457 141 AFSL 233714, who does not guarantee the insurance.

This information does not take into account your personal circumstances. Terms and conditions, and limitations and exclusions apply. Read the BT Protection Plans Disclosure Statement (PDS) to see if this insurance is right for you.