Life Insurance Code of Practice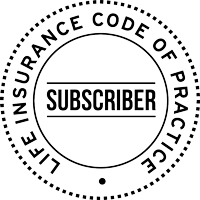 Our promises to you
When you take out life insurance with Westpac, it's important to us that you get the highest standards of service as you prepare for your best financial future.

That's why we've adopted the Life Insurance Code of Practice (Code). It reinforces our commitment to mandatory customer service standards and to protecting you, our customer, when you need us most.
What is the Code?
The Code sets out our commitments and obligations to our customers on standards of fair practice and principles of conduct for our services, such as being open, fair and honest. It also sets out timeframes for us to respond to claims, complaints and requests for information.

The Code is monitored by an independent committee within the Financial Ombudsman Service to ensure effective compliance, and we can be sanctioned if we do not correct breaches of the Code.
Minimum Standard Medical Definitions
The Code also sets out minimum standards that will apply to claims for cancer, heart attacks and strokes for policies issued from 1 July 2017. However, we've gone beyond our commitments under the Code by applying the Minimum Standard Medical Definitions to all of our policies that cover these defined medical events, no matter when the policy commenced. This applies to claims where the sickness first became apparent on or after 1 March 2018 for the first $2 million of cover.

These minimum standards will be regularly reviewed in consultation with medical specialists to ensure they keep pace with medical advancements.

So if you have a Living Benefit or Crisis Benefit with Westpac and need to make a claim for one of these conditions, you can be confident that for your first $2 million of cover your claim will be assessed against the most favourable definition between that defined under your policy and the Minimum Standard Medical Definition in the Code as at 1 March 2018.

Furthermore, our Medical Improvements Statement1 ensures that, if you ever need to make a claim on any policy, your claim will be assessed against the latest method for diagnosing medical conditions both now and into the future.
Your copy of the Code
You can obtain a copy of the Code from the Financial Services Council website.
Need to make a claim?
If you ever need to make a claim, you can be sure that you will be treated fairly and your claim will be assessed without delay. Contact us if you need to make a claim.
If you're not satisfied
If you're not satisfied with any aspect of your experience with us, we want to know about it so we can set it right. You have the right to make a complaint if you feel you haven't received the right outcome.


When we receive your complaint, it will be recorded, investigated and acted upon. Many complaints can be resolved within five business days. Under the Code, where possible we will provide a response to your complaint within no more than 45 days. If we are unable to do so, we will let you know why.
If you are unhappy with our response to your complaint, or you feel we are taking too long to resolve it, you have the right to take it further.

You also have a right to know the reasons for our decision and to have copies of any information we relied on.
For unresolved complaints about your life insurance, you may be able to lodge a complaint with the Australian Financial Complaints Authority:

Online: www.afca.org.au
Email: info@afca.org.au
Phone: 1800 931 678 (free call)
Mail: Australian Financial Complaints Authority GPO Box 3 Melbourne VIC 3001
1 Medical Improvements Statement: If the method for diagnosing one of the defined medical events covered by your policy has been superseded due to medical improvements, we will consider other appropriate and medically recognised methods or tests that conclusively diagnose the event to at least the same severity.