Home Insurance
Help is insurance you can count on when the unexpected catches you out. Save up to 25% when you quote and buy online.
Westpac Home Insurance
We'll help protect the things you value most, with cover for storms, cyclones, floods, fires and more. We've been helping Australians for over 200 years and will continue to help protect the things that matter most to you, no matter how big or small.
2018 Canstar Award Winner
Westpac Contents Insurance has been awarded Canstar's 5-Star Rating for Outstanding Value Contents Insurance.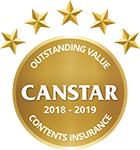 Need to make a claim?
You can submit a claim online or by calling us:
Call us on 1300 369 989 8am-7pm Monday to Friday or 9am-2pm Saturday (Sydney time).
Things you should know
Cover is subject to your application for insurance being accepted.

1 Quote and buy online and save 15% off your annual premium for the first year with promotional code COVER. Plus, save 10% when you combine home and contents at the same address under the one policy.
2 Safety net of between 5% and 30% of your sum insured, depending on your type of cover.

Westpac Banking Corporation ABN 33 007 457 141 (the Bank) can arrange the following insurance, but does not guarantee the insurance:
Home and Contents Insurance and Landlord Insurance, which are issued by Westpac General Insurance Limited ABN 99 003 719 319 (except workers compensation cover where applicable). View the Home and Contents Insurance Key Fact Sheets.
This information does not take into account your personal circumstances. Read the relevant Product Disclosure Statement to see if the insurance is right for you.
View the Westpac Retail and Business Banking Financial Services Guide, Credit Guide and Privacy Statement (PDF 1MB) (PDF 85KB).