Westpac Choice 移民账户
是一个为即将移居或刚抵达澳大利亚的人群而设计的日常银行账户
万事达借记卡

使用您的万事达借记卡 Debit Mastercard®1 安全地在线消费,在ATM存取款,并在消费金额低于100澳元时使用paypass即刷即走。

境内外ATM网络

在澳大利亚逾10,000部ATM,或使用我们的全球自动柜员机联盟网络 Global ATM Alliance2,在全世界逾5万部ATM上取款,无需支付取款费;但可能会产生其他费用。

随时随地通过手机银行理财

Westpac手机银行容易操作,安全,便捷。如您随身携带的银行,我们提供超过100种移动服务供您打理财务。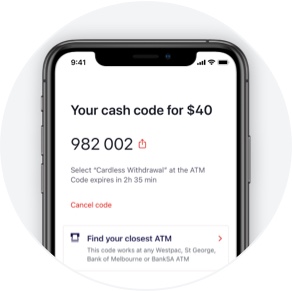 无卡取现
使用手机在澳大利亚逾10,000部ATM取款

谷歌支付

轻轻将手机靠近收款机上,使用谷歌支付购买产品

向手机转账
分开结账或使用朋友澳大利亚手机号码向他们转账

| 标准费用(费用可能变化) | 金额 |
| --- | --- |
| 网上银行取款 | $0 |
| 电话银行取款(自助或员工服务) | $0 |
| POS机 | $0 |
| Westpac, St.George, BankSA, Bank of Melbourne ATM取款 | $0 |
| 在澳大利亚境内的非Westpac, St.George, BankSA, Bank of Melbourne ATM取现金或查询余额-然而ATM拥有者或收取ATM运营费 | $0 |
| 支票 | $0 |
| 直接扣款 | $0 |
| 定期付款(银行支票产生的定期付款和国际定期付款会产生额外费用 | $0 |
| 支行员工辅助取款 | $0 |
| 电子帐单 | $0 |
| 拒付支票或直接扣款 | $5 |
| 定期付款失败费用 | $5 |
| 账户超额取款费 | $15 |
| 标准费用(费用可能变化) | 金额 |
| --- | --- |
| 海外ATM非全球联盟伙伴ATM上余额查询 | $0 |
| 海外ATM全球联盟伙伴ATM上余额查询 | $0 |
| 海外ATM非全球联盟伙伴ATM上取款 | $5 |
| 海外ATM全球联盟伙伴ATM上取款 | $0 |
| Westpac国外交易费用 | 取决于交易类型-查看以下信息 |
Westpac国外交易费用
Westpac国外交易费用是应付账款并将会换算成澳大利亚元交易金额显示在您的账单上。此费用将会:
a)3%的澳大利亚元交易金额,此交易为外币交易且商户和金融机构接受位于澳大利亚境外的银行卡。3% 包括2% Westpac手续费和1% Westpac on-charged费
b)2.2%的澳大利亚元交易金额,此交易为外币交易且商户和金融机构接受位于澳大利亚境内的银行卡。2.2% 包括2% Westpac手续费和0.2% Westpac on-charged费
全球联盟伙伴
查看更多关于指定国家全球联盟伙伴的信息,请查看于海外访问您的账号。
目前通过信用卡从绑定的Westpac账户取款的信用卡持卡人请悉知,此功能在使用海外ATM(包括全球联盟ATM)时或不可使用。为确保在海外能使用存款和/或支票账户资金,请联系我们获得一张Mastercard借记卡®。前往我们的Mastercard借记卡网页或Westpac支行。条款与条件、费用与收费可能适用。
暂停银行卡
找不到您的银行卡?别着急,您可以在寻找它的同时立即用"暂停银行卡"暂时冻结它。
诈骗退款保障
使用您的借记卡安全地购物。我们有24/7诈骗监控和诈骗退款保障。
Westpac Protect™ SMS短信安全口令
进行网络银行操作时使用移动电话短信确认特定交易,来提高您的资金安全。
安全的在线银行保障
如果您的西太平洋银行账号因为网络诈骗受损,我们保证返还所有遗失的资金,以您遵循我们的在线银行条款和条件为前提。
Things you should know
Deposit Accounts for Personal & SMSF customers Terms and Conditions (PDF 1MB)
Westpac Debit Mastercard® Terms and Conditions (PDF 206KB)
Online Banking Terms and Conditions (PDF 277KB)

Find out what information you need to provide to become a customer (PDF 768KB)

Before making a decision about any of our products or services, please read all the terms and conditions. Fees and charges apply and may change.

1. Debit Mastercard: You need to be at least 14 years of age, and have an Australian residential address to be eligible for the card. If you're not eligible for a Debit Mastercard, apply for a Handycard to access your account.
Once you arrive in Australia you can request a Debit Mastercard®. Read the Terms and Conditions (PDF 206KB) and decide whether the product is right for you.
2. Global ATM: A 3% Westpac Foreign Transaction Fee applies to overseas debit or credit card withdrawals. A 2% cash advance fee applies to credit card withdrawals where the "Credit" option is selected. A list of Global Alliance members is available. It is important to know that the functionality to withdraw money from a linked Westpac account via Credit Card is not available when using overseas ATMs, including Global Alliance ATMs. To ensure access to Savings and or Cheque account funds when overseas please speak to us about obtaining a Debit Mastercard®.
3. Cardless cash: Get Cash is available on eligible Westpac transaction accounts with a linked debit card. Get Cash limit of 3 withdrawals per day applies, subject to $500 daily withdrawal limit and $1,000 weekly withdrawal limit. Only available at Westpac Group ATMs in Australia. To access Get Cash on your mobile you must be registered to use Westpac Online Banking and download the Westpac Mobile Banking App. You'll also need the Westpac Mobile Banking app (version 6.1 or above) installed on your iPhone.
4. Google Pay: Read the Terms and Conditions before making a decision and consider if it is right for you. Available for eligible cards. To use Google Pay you will need to use a compatible device with a supported operating system.
5. Pay to Mobile: Australian bank accounts only. Terms, Conditions and Limits apply.
6. Finger print login: Fingerprint sign in is available on compatible devices only. Customers must be registered for Westpac online banking and have set up fingerprint ID to use the service.
7. Westpac Fraud Money Back Guarantee: Customers will be reimbursed for any unauthorised transactions provided that the customer has not contributed to the loss and contacted Westpac promptly.
8. Card on hold: Available on personal credit and Mastercard® debit cards only. Cards to which a temporary lock can be applied will be listed when you sign in to Mobile Banking or Online Banking and visit Lock a card temporarily under Cards services.
Mastercard is a registered trademark of Mastercard International Incorporated.