How to rename an account in Online Banking for Business
Personalise your accounts by giving them a nickname, using Online Banking or the Westpac App.
How do I give an account a new name?
Check which app you have: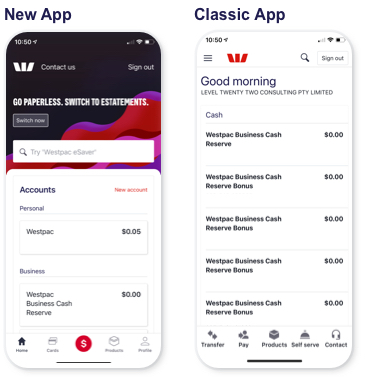 New Westpac App

Tap the account
Tap on the information (i) icon in the top right-hand corner
Under Nickname, tap Edit
Type the new account name and tap return on your keyboard. You will see your new account name.
Classic Westpac App
Tap the account
Tap on the Details tab
Under General, tap Edit name
Type the new account nickname and tap Apply change. When you return to the account screen, you will see your new account name.
What are the key features of renaming an account?
Choose a name to help you distinguish one account from the other

You can update the name online, anywhere, any time
You'll be the only person who can see your nickname for an account. Any other Users will see the account name or nickname they have chosen – or the default name.
Will my nickname need to be approved by an Administrator?
No. The new nickname is only visible in your own Online Banking and the Westpac App. Approvals are only needed when making changes to the Business Network and for payments to be processed.

Are there character restrictions?
You can use up to 20 characters, including spaces between words. Only numbers and standard letters can be used – no special characters.
Manage administration tasks