Westpac Live for business
An award winning banking platform¹ that can be set-up to suit your business structure and grow as your business grows.
What are the best features of Westpac Online Banking?
Sign in from any device to manage your business banking when and where it suits you
Get real-time visibility of your finances plus the choice to delegate tasks while maintaining control
Access state-of-the-art tools designed to make your banking quicker, easier and more integrated.

Step 1:
Make an appointment
With a business banker at a branch. Allow for at least 30 minutes on the day so that Westpac Live can be set up for your business structure.


Step 2:
Nominate an Administrator

To be able to manage the set-up of business banking in Westpac Live, you need to nominate at least one person to act as an Administrator.  Read the Online Banking Terms and Conditions.


Step 3:
Attend appointment with the administrator(s)
Make sure you have your business details (customer number, business name and registered business address).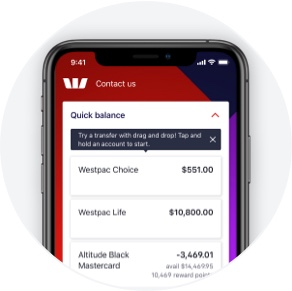 Step 4:
Download the mobile app
At the appointment, download the app and start using Westpac Live. Ensure you are initially set up for Westpac Protect SMS – to start making payments straight away. 
Once you're set up you can:
Things you should know

#To be eligible for Biz Invoice you must hold a Westpac Business One Low Plan or Business One High Plan account.

1 Westpac Live was named Best Digital Platform at the Australian Business Banking Awards 2018.