How to Import a payment file (.aba/Pay anyone file type)
Export your .aba payment file from your accounting software to import into Westpac Live Online banking.
Step by step guide
In the Imports section, select Import new file.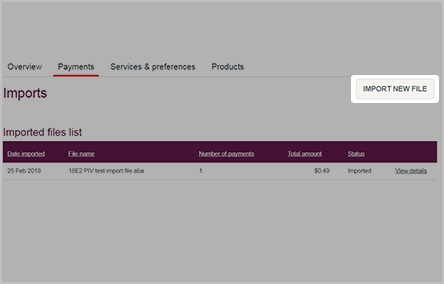 Under file type, select Direct Entry/Pay Anyone (.aba).
Browse and choose the .aba file, enter a Description (optional) for the new file and select Upload.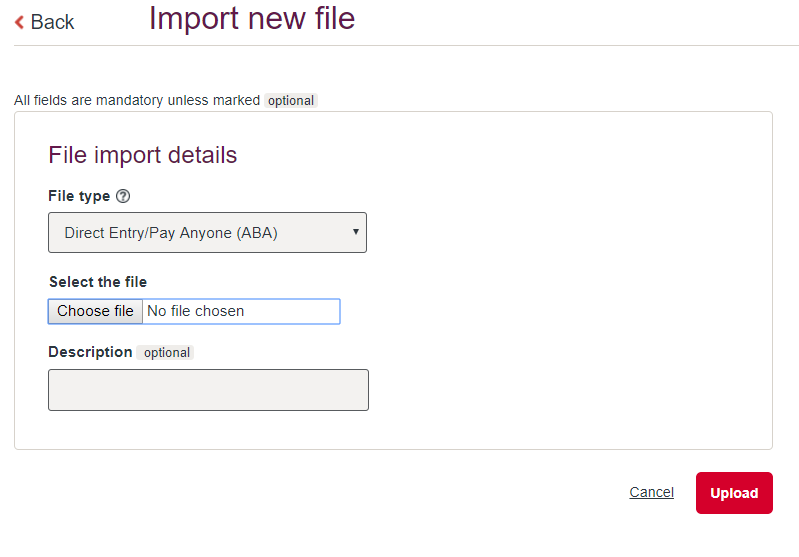 After the file has been uploaded it will be viewable in the imported files list and will display a status of 'Imported'. Note: If there is an error with the file import, a caution triangle will appear. Select View details to see the issue.
To make a payment using the file, select View details to review the payment and select Confirm.
Authorise the payment by entering the SMS or Token code and selecting Authorise.

Useful tip
Some accounting software packages will not allow you to edit the file description prior to importing the payment file into Westpac Live. File descriptions cannot be amended once the payment file is uploaded into Westpac Live. For more information on how to import payment details, please log in to Westpac Live and navigate to the Help Centre.
The maximum number of payees or payments that can be imported is 500
Payments can be future-dated to up to 24 months in advance
The new description you have entered will appear on confirmation and receipt pages of your import
Changing the file description is only available when importing files that contain credit transactions only
If you import a file using your Westpac Direct Entry facility, you can only view the new description in the payment details summary and approvals section, not in the transaction history
Westpac Live won't process after the 20th error has been found. The payment summary screen will display the error message of 'Import failed'
Fees apply for direct entry transactions.
Read more