How to set up (or disconnect) bank feeds
Save time with a data feed linking your business bank accounts to your accounting software.
Stay up to date with your finances by linking your bank feeds with your accounting software.

When logged in to Westpac Live Online Banking on your desktop or laptop, you can authorise Westpac to share the details of your transactions with a registered Third Party Service Provider (TPSP).

Note: If you need to change your TPSP or user/network access levels, you will have to disconnect your bank feed(s) as any access changes will not impact bank feeds being available for that account.


Step by step guide
Bank feeds must be set up with your Third Party Service Provider before a connection can be made with Westpac Live. This can only be done from a desktop or laptop.

The following TPSPs can be linked to Westpac business bank feeds1:
QuickBooks Online, XERO, BGLDESKTOP, CAPIFY, Eagle Shared Services, MYOB, CLASS, Desktop Super, RECKON, SAASU, Sage, SISS Data Services & SuperConcepts.
In the Service section navigate to Account services and select Bank Feeds.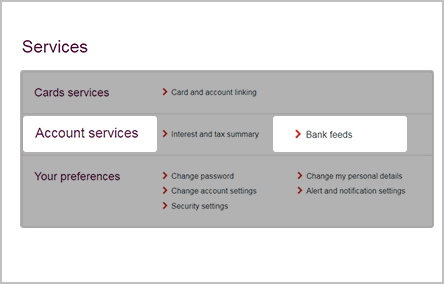 The connect feed tab is displayed by default. Select an account or multiple accounts and then select To third party service provider option. Once completed, select Connect feed.
Note: Eligible accounts include Westpac business saving and transaction accounts that are single to sign. For accounts not available in this list for example credit cards, a transaction list can be exported from online banking.
If your Third Party Service Provider does not appear in the drop down menu in Westpac Live, you may need to check that your provider is registered with Westpac.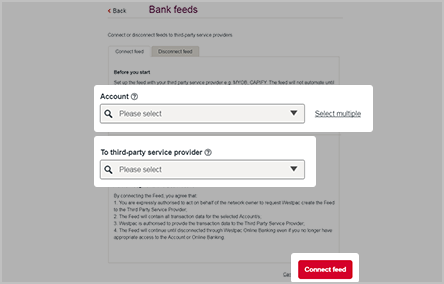 Useful tips
When changing access levels or TPSP you will need to disconnect the previous bank feed. To disconnect, select the Disconnect feed tab from Services and preferences menu, select an account or multiple and then select the To third party service provider. Once completed, select Disconnect feed.
Credit card transactions can be exported through your online banking. Find more information on exporting transactions here.
Things you should know
1. The products and services offered by these Third Party Service Providers may be subject to terms and conditions and fees and charges. Westpac does not guarantee or endorse the services or products offered by these Third Party Service Providers.