How to export a history of your bank transactions
Simplify your accounting. Export your business transactions to your accounting software.
How do I export my transactions in Online Banking?
Check which app you have: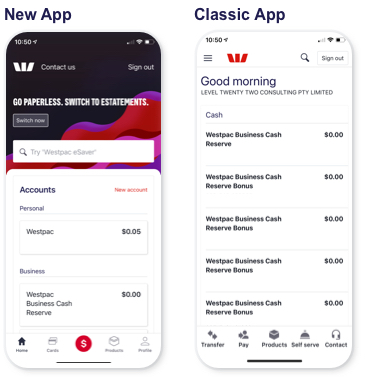 New Westpac App
Tap on the Smart Search bar and type 'Recent transactions'
Select an account and Transaction period, then tap Download
Use the share button on your phone to save, send or print.
Classic Westpac App
Tap Self serve
Under Statements and reports, tap Recent transactions
Select an account and Transaction period, then tap Download.
What are the key features of exporting transaction records?

Take more control of your cash flow by having better visibility of your finances
Choose from 4 different file types in Online Banking available from a desktop – CSV, QBO, QIF or OFX
The file type you choose will depend on the accounting software you are using
Upload files into your accounting software.
Did you know you can automatically send your transaction details to your accounting software using bank feeds? Learn more on how to connect bank feeds.
What is my transaction limit?

Your transaction limit (also known as your daily payment limit) is the total funds you can spend in a day.
You can enable this feature to restrict your spending, helping you focus on saving.
Find out How to change your daily payment limits online.
Please note, a transaction limit is different to a business daily limit.
What are 'pending transactions'?
Pending transactions are funds that are yet to be received by the other account but are no longer available in your own account.
How can I cancel or stop a transaction?
To cancel or stop a transaction, you will need to phone a Westpac banker on 132 142. Please note, some transactions that have already been processed will not be eligible.