Mobile Banking
With Westpac Mobile Banking you can take your bank with you wherever you go. It's a secure and convenient way to bank.
Popular features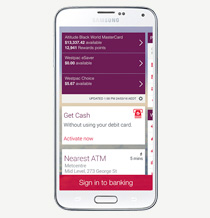 View the available balance of up to 3 accounts without signing in to Mobile Banking. On iPhone and Android.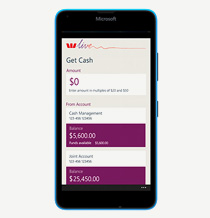 Use cardless cash to withdraw cash from any Westpac ATM without a Debit Card. On iPhone, Android and Windows Phone.
Swipe left to:
See your Quick Balance3, recent transactions and Altitude reward points in Snapshot
Use cardless cash, and find your nearest ATM in On the Go
Quickly access our most popular Services including reporting your card lost or stolen
Manage card PIN4 - now you can set your card PIN online when activating your new credit or debit card. You will also be able to change your PIN online anytime for eligible cards. See FAQs for more details.
Things you should know
1. Interest & tax summary: available for eligible accounts issued by Westpac, provided the amounts and totals are accessible or available in Westpac Live. The summary may not reflect all accounts held by you with the Westpac Group.
2. Term Deposits: Westpac Live will be available to update Term Deposits from 8:00 am to 9.30 pm on a Business Day and 8:00am to 4:00pm Saturdays (Sydney time).
3. Quick Balance: Only eligible accounts can be displayed. Available on compatible devices with supported operating systems. View the full list of compatible devices and supported operating systems at westpac.com.au/devices.
4. Manage your card PIN: managing your PIN feature is available for credit cards issued with a valid date from 1st April 2016. For Debit MasterCards, the feature is available for cards issued with a valid date from 1st March 2015. You can check the issue date on the front of the card. See FAQs for more details. For Westpac Handycards, you can set or change your PIN regardless of when your card was issued.
5. Card Lock: Locking your card will temporarily stop new transactions on your card for 15 days or until you unlock it. The card will automatically unlock after 15 days if you do not cancel the card. Not available for Handycards.
6. Pay to Mobile: Australian bank accounts only. Terms, Conditions and Limits apply.
7. Apple Watch: You'll need to pair your Apple Watch with an iPhone 5 or above with iOS 8.2 or above to use Westpac Mobile Banking. You'll also need the Westpac Mobile Banking app (version 6.1 or above) installed on your iPhone. View the full list of compatible devices and supported operating systems at westpac.com.au/devices.
* July 2016 Global Mobile Banking Functionality Benchmark from Forrester Research.
Westpac Mobile Banking applications are only available for use by Westpac Australia customers.
Internet connection is needed to access Westpac Mobile Banking app. Normal mobile data charges apply. Westpac branch and banker locations are available within Australia only. Westpac, St.George, Bank of Melbourne and BankSA ATM locations are available within Australia, and Global Alliance ATMs are available worldwide.
Westpac's security guarantee
To enjoy the benefit of our security guarantee, you need to comply with Westpac's Online Banking Terms and Conditions. Read the detail about your access codes, passwords and SecurID tokens. Always adhere to manufacturers' software and support to ensure your mobile devices are covered by the latest software and security updates.
Apple, the Apple logo and iPhone are trademarks of Apple Inc., registered in the U.S. and other countries. Apple Watch is a trademark of Apple Inc. App Store is a service mark of Apple Inc. Android is a trademark of Google Inc. Windows is a registered trademark of Microsoft Corporation in the United States and other countries.
MasterCard® is a registered trademark of MasterCard International Incorporated