Australian painter and decorator invoice template tips

A decorating job isn't finished until the invoicing is done – and the quicker you send your invoices, the faster you are likely to get paid. That's just one reason to use an invoice template that's quick and easy for you to manage.
Key take-outs
Some elements of your invoice template may help speed up payments
Your invoices must be compliant with Australian Tax Office (ATO) requirements
Invoice templates can be downloaded from various websites
An online invoicing solution could save you time and money
How can an invoice template help get me paid faster?

Fast payments are great for cash flow. Whether you're creating your own invoice template or sourcing one from elsewhere (which we cover below), there are a few things worth incorporating that may help speed up payments:

Address invoices to the name of the person most likely to sign them off
Feature your name and mobile number and words such as 'Please call me straight away if you have any queries'
Include the 'pay by' date in a prominent position
Make it as easy as possible for customers to pay you by offering a choice of payment methods.
What else should be included on my painter and decorator invoice template?

The government has formal guidelines for invoices issued by small businesses. To comply with Australian Tax Office (ATO) requirements the following information should be featured on your invoices:

The heading 'Tax invoice' (if you charge GST)
The date of the invoice
Your business name and/or trading name
Your ABN (Australian business number)
Descriptions of the services and materials provided, including quantities
The GST amount(s) either for each line item or as a whole.
For invoices totalling less than $1,000: if all items listed are subject to 10% GST you can include the tax as a single amount using words such as 'Total price includes GST'.
For invoices totalling more than $1,000: the GST amount must be featured beside each item.
If you're just getting started and are not sure about the need to register for and charge GST, check out our Business basics for sole traders article.
Where can I get an invoice template for my decorating business?
A search online will reveal a variety of sources for invoice templates in Word and Excel format. Just make sure they are specific to Australian businesses.

Or save yourself the trouble if you have a Westpac Business One Low or High Plan business account – as our Biz Invoice online invoicing tool is included with these transaction accounts when you bank online. The tool incorporates an easy-to-use invoice template with all the fields required by the Australian Tax Office, plus your logo if you have one and your bank account details for payment.
Using Biz Invoice, you'll be able to quickly write and send invoices from your phone or laptop as soon as you finish each job. It could save you time in other ways too, as standard charges (such as your call out fee, hourly rate and frequently used materials) can be stored to avoid you having to type out the same information over and over. Biz Invoice can even send out automatic payment reminders – which could put time back in your day too.
Better still, it costs nothing to use with your eligible bank account, though adding BPAY as a payment option (allowing you to accept credit cards) will incur standard fees.
Here's how professional a Biz Invoice for a decorating business looks: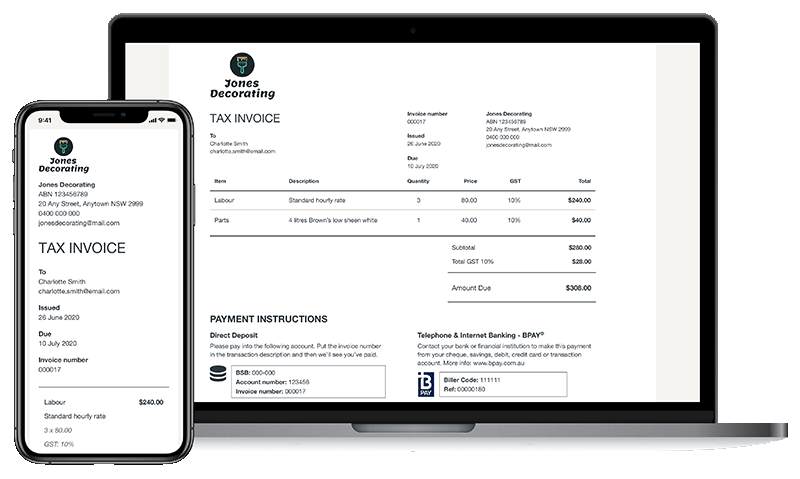 Some elements of your invoice template are compulsory while others are simply a good idea to incorporate. Once you've got that covered, make sure your invoices are well designed to reflect the quality of your painter and decorator workmanship.
Things you should know
Westpac's products are subject to terms, conditions and fees; and eligibility criteria may apply. Before making a decision, read the disclosure documents for your selected product or service, including the Product Disclosure Statement and T&Cs for Westpac business bank accounts and online banking and consider if the product is right for you.
The information in this article is general in nature; does not take your objectives, financial situation or needs into account. Consider its appropriateness to these factors; and we recommend you seek independent professional legal and/or financial advice about your specific circumstances before making any decisions. Westpac does not endorse or guarantee the accuracy of any third-party templates. You should make your own enquiries and seek professional legal advice where required.

BPAY® and Osko® are registered trademarks of BPAY Pty Ltd ABN 69 079 137 518.