Help gives you 200 big ones
Get $200 cash back when you spend $400 on a new Low Rate Card within 90 days of card approval 1.
Special offer for a limited time.
Get $200 cash back to your account, when you spend $400 or more within 90 days of card approval1. And to reward Westpac customers like you, there will be no annual card fee in the first year – currently saving you $59 2.
Offer available until 27 November 2018. New cards only.
The important numbers.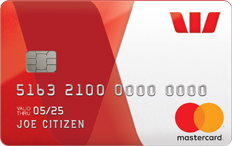 Variable purchase rate: 13.49% p.a.

Variable cash advance rate: 19.49% p.a.

Annual card fee: $0 for the first year, currently saving you $59 2
Fees
(these may change)
Amount
Annual card fee
$59 2
Foreign transaction fee
A Foreign Transaction Fee is payable as a percentage of the Australian dollar value of any Foreign Transaction. The percentage will vary depending on the applicable credit card scheme:

Transactions in foreign currency
Transactions in Australian dollars and the merchant or financial institution accepting the card is located overseas:

Note: It may not always be clear to you that the Merchant or entity processing the transaction is located outside Australia. More about this fee.
Cash advances/withdrawals fee

An administrative charge of 2% of the value of the transaction will apply to each cash advance made on your card account, where your account has a negative (debit) balance after the transaction has been posted to it. A minimum charge of $2.50 and a maximum charge of $150 will apply in these circumstances.

Where your account has a positive (credit) balance after the transaction has been posted to it, a charge of $2.50 will apply to the transaction.

These charges will appear on your credit card statement directly below the relevant cash advance.

Missed payment charge
A charge of $15 may be payable each statement cycle that the whole of the minimum monthly payment is not paid by the statement due date. If charged, the Missed Payment Charge will be debited to your account.
Over-limit fee
If your card account was opened before 4 June 2012, a fee of $15 may be debited from your credit card account every time you exceed your credit limit during a statement cycle. It is debited from your account in that statement cycle, on or after the day(s) your credit limit is exceeded. This fee may also be charged whenever your account is over limit at the commencement of a statement cycle.
Duplicate statement fee
$7.50 may be debited from your credit card account if you, or an additional cardholder, orders a copy of a statement that has already been issued for your account. This fee is debited from your account on or after the day you order the duplicate statement.
Non-Westpac Group ATM fee
Although not a Westpac fee, using your card in a non-Westpac Group ATM may result in a charge to you. Avoid this fee by using one of Westpac's extensive network of 2,900 ATMS across Australia (including any St.George, BankSA and Bank of Melbourne ATMs). Find a Westpac Group ATM.
Credit card surcharge
In some instances, businesses may administer a 'surcharge' for credit card payments. Usually, these are a percentage fee of your purchase amount. Ask the merchant if a surcharge applies and how much it is before paying if you're unsure.
| Transaction | Interest rates |
| --- | --- |
| Purchases | 13.49% p.a. (variable) |
| Cash advances | 19.49% p.a. (variable) |
Here's why you'd choose our Low Rate card.

Auto Pay and SMS reminders
Stay on top of your spend by setting up monthly repayments and SMS reminders in Online Banking.

Misplaced your card? Lock it.
Can't find your card? Lock it temporarily while you search with Card on Hold 3.
Find out more

SmartPlan4 repayments
Break down the cost of purchases over $500 into monthly instalments within Online Banking., visit SmartPlan.
Things you should know
Consumer Credit Cards - Conditions of Use (PDF 345KB)
Be credit savvy: Before applying, consider a realistic credit limit and check all conditions, interest rates, fees and charges on your selected card.
1. Cash back promotion: The cash back offer is available when you apply and are approved for a new Low Rate credit card between 12th June 2018 and 27th November 2018 and spend $400 on eligible purchases within 90 days from card approval. Eligible purchases do not include fees, cash, cash equivalent transactions, BPAY, refunds and balance transfers debited from the card account. Only one cash back will be paid per customer. The $200 cashback will be paid as a statement credit to your respective Low Rate credit card account within 60 days of meeting minimum spend criteria. Existing Westpac customers who currently hold a Low Rate credit card, or who have held one in the last 12 months and packaged cards are not eligible for this offer. Cannot be used in conjunction with the balance transfer promotion.
2. No annual card fee in the first year: The first year annual card fee waiver is available when you apply for a new Westpac Low Rate credit card between 12th June 2018 and 27th November 2018. The first annual card fee will be debited to your card account on the 12 month anniversary of the first transaction (including balance transfers) on your account and annually thereafter.
3. Card on Hold: Available on personal credit cards and Mastercard® debit cards only. Cards to which a temporary lock can be applied will be listed when you sign in to Mobile Banking or Online Banking and visit Lock a card temporarily under Cards services.
4. SmartPlan requires monthly payments to be made for the term calculated and at the applicable interest rate when the SmartPlan is entered into. All payments made to your account will be applied first to any SmartPlan instalments, so debts accruing a higher interest rate may be left unpaid during the SmartPlan term. Your balance transfer must have a maximum of 36 months and a remaining term of at least 3 months to be eligible for a SmartPlan. See the Westpac SmartPlan available for download above for more details. SmartPlan cancellation takes up to 2 Business Days. Any SmartPlan Remaining Balance will revert to the variable interest rate for your balance type or special offer rate as applicable.
Westpac is the credit provider and credit licensee under National Consumer Credit Laws.
Mastercard® is a registered trademark of Mastercard International Incorporated
©2018 Westpac Banking Corporation ABN 33 007 457 141 AFSL and Australian credit licence 233714.