Westpac Reward Saver features
Westpac Reward Saver was a popular savings account that offered a competitive interest rate each month a nominal deposit was made with no withdrawals.
Westpac Reward Saver is no longer available to new customers
We have recently launched Westpac Life – a savings account that's designed to give your savings a boost as well as letting you set up multiple savings goals within the one account. And for younger savers we've also introduced the Bump Savings account – a savings account designed with the needs of kids and under 18's in mind. Compare it to Westpac Reward Saver for Kids or Youth here.

After an account that rewards you for reaching your savings goals?
Although there are similarities between the two accounts, Westpac Life offers a range of additional features, including the ability to work towards different savings goals within the one account.
Key features
Westpac Life
Reward Saver
Standard variable interest rate
0.15% p.a.
0.01% p.a.
Bonus variable rate
0.15% p.a.
0.04% p.a.
Total interest rate

Up to 0.30% p.a.

Up to 0.05% p.a.

Bonus interest requirements

Grow your account balance by making a deposit by the end of the month and you'll earn bonus interest, no matter how many withdrawals you make1

Minimum monthly deposit and no withdrawals
Withdrawals
Unlimited withdrawals into a Westpac everyday bank account2

Note you won't earn any bonus interest that month.

Withdrawal fee: $2.50

Minimum monthly deposit
Any amount
$50
Set up and track multiple savings goals3
Yes
No
Linked Westpac everyday account needed
Yes
No
Open online
Yes - open now
Not for sale
More on bonus interest
To earn interest on a Reward Saver account you would need to deposit at least $50 and make no withdrawals in a month.

With a Westpac Life account, the requirements for earning bonus interest are more flexible – aside from a competitive base rate, you'll also earn bonus interest each month you grow your balance. That means provided your balance has grown by the end of the month by making a deposit, you can make as many withdrawals as you want by transferring to your Westpac everyday bank account.

If you have an existing Reward Saver account you can make direct withdrawals – either to a linked bank account, at a branch or at an ATM (if your Reward Saver account is linked to your debit MastercardTM). However, you won't earn bonus interest for that month.
What are Savings Goals?

Savings Goals is a feature of Westpac Life that lets you set up your personalised savings goals through Online & Mobile Banking. You can use it to keep tabs on your progress and get savings calculations which could help you stay on track.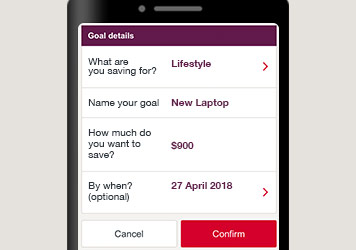 1. Set up your personalised savings goals
You can name your goals, set the amount you'd like to save and when you'd like to reach your goal by.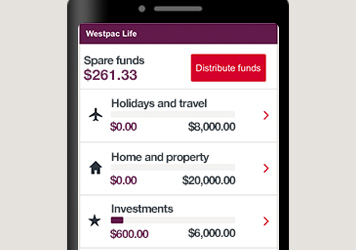 2. Distribute your savings across your goals

When you add to your savings you can distribute the money across your different goals.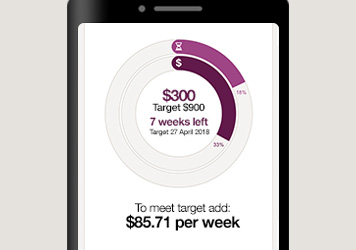 3. Track your progress

Select a Savings Goal to see how you're doing.

Accessing your savings through a Westpac Choice account
You'll need to have a Westpac everyday bank account to open a Westpac Life account – if you don't already have one you can open a Westpac Choice account in the same online form as a Westpac Life account.
Once your Westpac Life and Choice accounts are open, you can transfer money between your accounts whenever you need within Online or Mobile Banking.
Under 18? How about a Bump Savings account?
A Bump Savings account is designed to help children and under 18's kick start their savings. Similar to Westpac Life, every month the account balance grows it could earn bonus interest. You can also set up personalised Savings Goals in Online or Mobile Banking. It also has a Parental Control feature that allows a child's level of access to the account or over the phone to be managed by their parents.
Compare the Bump Savings account to Reward Saver for Kids and Youth
Do you have a Westpac Reward Saver account for Students?
Full time students over 21 years of age were eligible to open a Westpac Reward Saver account with 2 benefits compared to a standard Reward Saver account: they can transfer any amount each month to be eligible for bonus interest and they can make one fee-free transfer each month (but using this withdrawal will mean they are not eligible for bonus interest).
Things you should know
Before making a decision about any of our products or services, please read all the terms and conditions and consider whether the product or service is right for you. Fees and charges apply and may change.
Westpac Life Bonus interest: Payable each month that you; make a deposit to the account, ensure the account balance is higher at the end than the beginning of the month, and keep the account balance above $0. For bonus interest qualification, a month is the period from close of business on the last business day of the prior month to close of business on the last business day of the current month.
Westpac everyday account: To open a Westpac Life account, customers must hold a Westpac everyday account in the same name and be registered for Online and Phone Banking. Fees and charges may apply on the everyday account.
Savings Goals: Both an account holder and an authorised user can use the Savings Goals feature, including to view, add, edit and delete the savings goals on a Westpac Life account.