What to write on your Australian plumber invoice template

The way you write each invoice for your plumbing business is important for a number of reasons. A well-structured invoice reflects well on your business, helps you comply with government regulations, and can even help you to get paid faster.
Key take-outs
Professional looking paperwork gives a good impression
Certain mandatory details must be included in Australian invoices
Invoice templates are available from various sources, including Westpac
There are ways to write invoices that can help speed up payments
How can an invoice template make me look my best?
Imagine this customer experience. You do an excellent job, you double check your work, you clean up after yourself, and you leave. Then sometime later your customer receives a poorly designed and somewhat grubby handwritten invoice.
What does that say about your workmanship?
A job isn't complete until you've been paid, so it's well worth making sure the whole end to end experience is a good one – and that includes providing professional-looking paperwork, from quotes to invoices. These items should be clear and easy to understand, making them more attractive to respond to. And remember, when it comes to invoicing, a fast response means faster payment and that delivers improved cash flow.

So, if you're looking around for an invoice template for your plumbing business, make sure it's well-structured and leaves a good impression.
Are there specific requirements for a tax invoice template?
Yes, the Australian Tax Office (ATO) specifies that the following must feature on your sole trader, partnership or other small business invoices if you are registered for and are charging GST:
The words 'Tax invoice' in a heading at the top
Your business name and/or your trading name
Information about the goods and services provided, including quantities
Your Australian business number (ABN)
The date the invoice is issued
The GST amount(s) either for each line item or as a whole.
If your invoice is for a total of less than $1,000 and everything is subject to 10% GST, you can feature the tax as a single amount using a phrase such as 'Total price includes GST'. If the invoice is for more than $1,000, you should feature the GST amount beside each item.
If you're not charging GST, just use the heading 'Invoice' and a phrase such as 'GST has not been charged'.
You are obliged to register for GST once your turnover reaches a specific threshold. Find out about this and other matters – such as business registrations – in our Business basics for sole traders article.
Where can I get an invoice template for my plumbing business?
A quick online search will reveal plenty of downloadable options in standard formats such as Word and Excel. Just make sure you are using an invoice template that's designed for a business in Australia.

Alternatively, if you bank with Westpac you may already be eligible for free access to our invoice template and online invoicing tool, Biz Invoice. It comes with Business One - Low Plan and Business One - High Plan business bank accounts and is managed in online banking, meaning you can quickly write and send invoices from your mobile, laptop or PC.
Here's how professional a Biz Invoice for a plumbing company can look: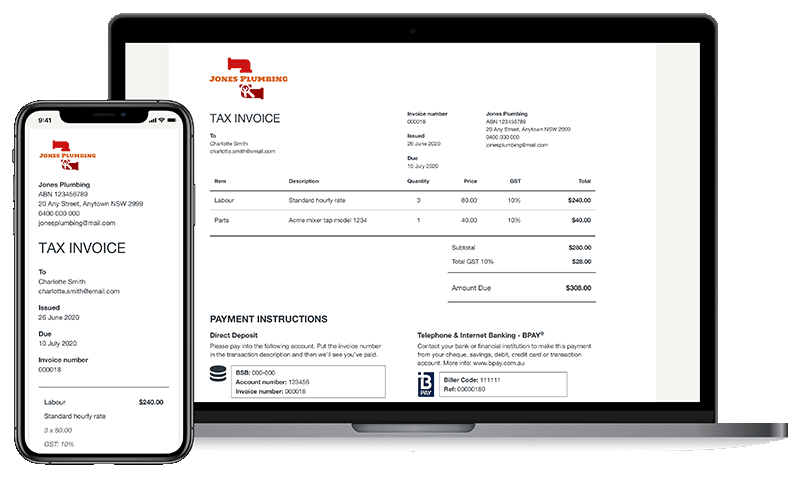 How can a plumbing invoice help get me paid faster?
The way you write your invoices and what you include in them can help encourage prompt payments. Here are some tips:

Feature the name of the person most likely to approve payment
Send the invoice to that person
Ask the recipient to call you with any queries, and provide both your mobile number and your email address plus an appropriate message
Clearly state the date that payment is due
Make it easy for your customer to pay you and consider offering a choice of payment methods.
With Biz Invoice, in addition to requesting a bank transfer straight into your transaction account, sole traders can offer a BPAY® option – which is an easy way to accept credit cards without needing a card scanning terminal.
A good way to support your cash flow is to ensure your invoicing is up to scratch, and a best practice invoice template will help. Take some time choosing a good option – or opt for Westpac's easy-to-use online invoicing solution – and you'll never look back.
Things you should know
Westpac's products are subject to terms, conditions and fees; and eligibility criteria may apply. Before making a decision, read the disclosure documents for your selected product or service, including the Product Disclosure Statement and T&Cs for Westpac business bank accounts and online banking and consider if the product is right for you.
The information in this article is general in nature; does not take your objectives, financial situation or needs into account. Consider its appropriateness to these factors; and we recommend you seek independent professional legal and/or financial advice about your specific circumstances before making any decisions. Westpac does not endorse or guarantee the accuracy of any third-party templates. You should make your own enquiries and seek professional legal advice where required.

BPAY® and Osko® are registered trademarks of BPAY Pty Ltd ABN 69 079 137 518.