What you're applying for
Let's recap on your choice of a Westpac Lite card – before you start your application.
| | |
| --- | --- |
| Ongoing monthly card fee | $9 ($108 annually) |
| Variable purchase rate | 9.90% p.a. |
| Variable cash advance rate | N/A |
| Foreign transaction fee | 0% |
| Minimum credit limit | $1,000 |
| Maximum credit limit | $20,000 |
What you'll get
A lower interest rate on purchases than our Rewards and Low Rate cards
No fees on foreign transactions (including for online purchases)
Up to 45 days interest-free on purchases²
No late payment fees (though interest will still be charged)
Considerations
The ongoing monthly fee will cost more over a year than the annual fees on our Low Rate and Low Fee cards
You can't make cash advances (including cash withdrawals)
You can't transfer balances from other credit cards or store cards
No rewards points or complimentary insurances
No access to PartPay (a feature allowing you to split purchases into 4 payments over 6 weeks)
Check whether you're more likely to be approved
 
What you'll need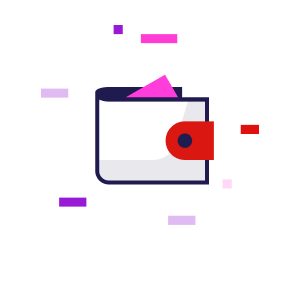 At least two forms of ID
Australian driver licence, Medicare card, Passport, Australian birth certificate (Have your mobile handy as we'll be sending you verification codes).
Current debts

Home loan, personal loans, other credit or store cards as well as instalment purchases like Zip Pay.
Proof of income

Recent payslips, Government statements, rental income proof. For self-employed, recent business bank statements and previous ATO Notice of Assessment.
Still not sure what you need? Check our application documents page for all the details.
Check your credit history

Before applying you may like to confirm that your credit report is up-to-date. Head to CreditSmart.org.au and follow the links to a free credit report (subject to eligibility). More about credit reports.
A final check that this is the right credit option for you. Credit cards are a secure payment method for short-term borrowing needs such as everyday purchases or unplanned expenses, with some cards offering additional features like rewards. However, there are instances where it might be worth considering another form of credit:
You have a longer-term or specific borrowing need, like a car or home renovations. In this case, view our Personal loans
You want a repayment schedule with fixed repayments and a defined loan end-date. In this case, view our Personal loans
You need ongoing help with short-term cashflow (and if applying online, already have a Westpac Home Loan, or paid your income into one of our transaction or savings accounts for over six months). In this case, view our Flexi Loan.
Things you should know
Credit criteria, fees and charges apply. Credit Card Product Switches, upgrades or Westpac group staff are ineligible.
This promotion may be varied or withdrawn at any time and is not available in conjunction with any other promotion.
Be credit savvy: Before applying, consider a realistic credit limit and check all conditions, interest rates, fees and charges on your selected card.
Balance transfers into the Westpac Lite and Flex cards are not available.
2. Interest free period is available when you pay the Closing Balance (or the Monthly Payment Balance if you have a Balance Transfer, a SmartPlan or a PartPay Card) in full by the payment due date.