Everyday banking + savings account
Having your savings and everyday bank account in one place can be an easy way to save while still giving you access to your money when you need it.
Why open a Choice everyday account and Westpac Life savings account together?
Access your money 24/7 via Online Banking and ATMs
Unlimited online transfers between your Westpac Life and Choice accounts 1
Schedule regular fund transfers via Online Banking to really get your savings growing

Shop and get  money out with a Debit Mastercard2
Use your Debit Mastercard2 to shop securely online, access cash at ATMs and use PayPass™ to tap and go on purchases under $100.

Be rewarded with bonus interest
Enjoy a competitive base rate on your savings and earn bonus interest each month you grow your balance3.
Maximise your savings
Got a savings goal in mind? Use the Savings Goals4 feature to set up and track your personalised goals in Online Banking.
Secure banking
We've got your back with 24/7 fraud monitoring and our Fraud Money Back Guarantee5.
Under 30? Get $50 on us!
Get $50 with a new Westpac Choice everyday bank account.
Apply online or in branch by 30th June 2020, and deposit $500 and make 5 eligible purchases within 30 days. #
Savings Goals feature
The Westpac Life account Savings Goals4 make it easy to manage your long and short term goals within a single account.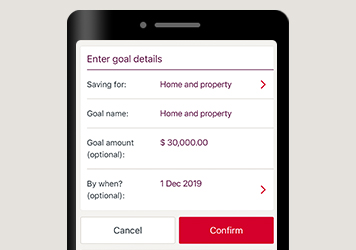 1. Set up your personalised savings goals
You can name your goals, set the amount you'd like to save and when you'd like to reach your goal by.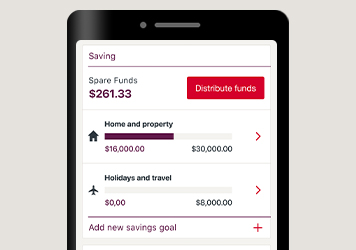 2. Distribute your savings across your goals

When you add to your savings you can distribute the money across your different goals.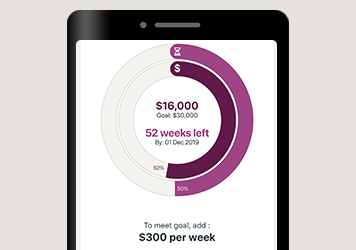 3. Track your progress

Select a savings goal to see how you're doing.

Benefits
Can't find your card?
Don't panic. You can temporarily lock it in seconds with card on hold while you search9.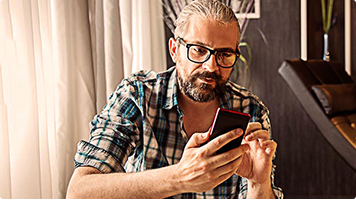 Withdraw cash using your phone
Withdraw cash using your phone from any Westpac, St.George, Bank of Melbourne or BankSA ATM10. We can also help you find your nearest ATM using the app.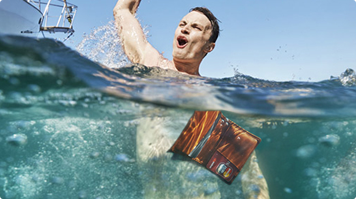 Through Online Banking you can set up personalised savings goals, track your progress, and get savings calculations which could help you stay on track.

How to open
You can open an everyday and a savings account together through one simple form.
Open online in less than 3 minutes
You can get your ID verified instantly with your driver's licence, Medicare Card, passport, NSW Photo Card or birth certificate (no need to visit a branch).

Activate your Online Banking in an instant
Once you're activated you can import BPAY® billers and Payees from selected banks into your Westpac Online Banking.

We'll verify your ID and send out your Debit Mastercard
Your ID is verified online or in branch. Once you have your card you can use it to shop online or in person worldwide using your own money.


Switch to Westpac
Once you've opened an account with us, switching your banking is now easier than ever.
Connect to your existing bank and import your payees and BPAY® billers into Westpac Internet Banking.
Things you should know
Deposit Accounts for Personal & SMSF customers Terms and Conditions (PDF 1MB)
Westpac Debit Mastercard® Terms and Conditions (PDF 298KB)
Westpac Emergency Cash and Westpac Get Cash Terms and Conditions (PDF 91KB)
Online Banking Terms and Conditions (PDF 313KB)
Personal Telephone Banking Terms and Conditions (PDF 504KB)
Find out what information you need to provide to become a customer (PDF 768KB)

Before making a decision about any of our products or services, please read all the terms and conditions and consider whether the product or service is right for you. Fees and charges apply and may change.
1. Westpac everyday account: To open a Westpac Life account, you must hold a Westpac everyday account. Fees and charges apply on a Westpac everyday account.

2. Debit Mastercard: You need to be at least 14 years of age, and have an Australian residential address to be eligible for the card. If you're not eligible for a Debit Mastercard, apply for a Handycard to access your account.

3. Bonus interest: payable each month that you: make a deposit to the account, ensure the account balance is higher at the end than the beginning of the month, and keep the account balance above $0. For bonus interest qualification, a month is the period from close of business on the last business day of the prior month to close of business on the last business day of the current month.


4. Savings Goals: Both an account holder and an authorised user can use the Savings Goals feature in Online Banking, including to view, add, edit and delete the Savings Goals on a Westpac Life account.


5. Westpac Fraud Money Back Guarantee: Customers will be reimbursed for any unauthorised transactions provided that the customer has not contributed to the loss and contacted Westpac promptly.

6. Global ATM: A 3% Westpac Foreign Transaction Fee applies to overseas debit or credit card withdrawals. A 2% cash advance fee applies to credit card withdrawals where the "Credit" option is selected. A list of Global Alliance members is available. Excludes American Express® cards. It is important to know that the functionality to withdraw money from a linked Westpac account via Credit Card is not available when using overseas ATMs, including Global Alliance ATMs. To ensure access to Savings and or Cheque account funds when overseas please speak to us about obtaining a Debit Mastercard®.
7. Google Pay: Read the Terms and Conditions before making a decision and consider if it is right for you. Available for eligible cards. To use Google Pay you will need to use a compatible device with a supported operating system.

8. Samsung Pay: Read the Samsung Pay Terms and Conditions before making a decision and consider if it is right for you. Available for eligible cards. To use Samsung Pay you will need to use a compatible phone with a supported operating system. Internet connection may be needed to make payments using Samsung Pay and normal mobile data charges apply.

9. Card on hold: Available on personal credit and Mastercard® debit cards only. Cards to which a temporary lock can be applied will be listed when you sign in to Mobile Banking or Online Banking and visit Lock a card temporarily under Cards services.

10. Cardless cash: is available on eligible Westpac transaction accounts with a linked debit card. Get Cash limit of 3 withdrawals per day applies, subject to $500 daily withdrawal limit and $1,000 weekly withdrawal limit. Only available at Westpac Group ATMs in Australia. To access cardless cash on your mobile you must be registered to use Westpac Online Banking and download the Westpac Mobile Banking App to use Westpac Mobile Banking on Apple Watch you'll need to pair your Apple Watch with an iPhone 5 or above with iOS 8.2 or above. You'll also need the Westpac Mobile Banking app (version 6.1 or above) installed on your iPhone.
# $50 Offer: Fees and charges apply. Read the terms and conditions available at westpac.com.au before making a decision and consider whether the product is right for you. To be eligible for the $50 offer you must: be under 30 years old, open a new Westpac Choice account between 11/03/2020 and 30/06/2020, and within 30 days of opening deposit $500; AND make 5 eligible card purchases. Eligible card purchases are purchases made using your Westpac debit card linked to your Choice account and excludes ATM transactions and EFTPOS cash out only transactions. If eligible you will receive $50 into your Choice account within 45 days of opening. All account holders on the new Choice account must not hold or have held a Westpac transaction account, or received this offer at any time to be eligible. Offer is limited to one eligible account and is not available in conjunction with any other offer.

Apple, the Apple logo, iPhone and Apple watch are trademarks of Apple Inc., registered in the U.S. and other countries. App Store is a service of Apple Inc.

World Mastercard®, Mastercard® and the Mastercard brand mark are registered trademarks, and PayPass is a trademark of Mastercard International Incorporated.
BPAY® is a registered trademark of BPAY Pty Ltd ABN 69 079 137 518.
Westpac PayWear is a registered trademark and PayWear is a trademark of Westpac Banking Corporation.