On Chinese sales event days "12/12" and "Singles Day" late last year, it took just two hours and 10 minutes for Australian vitamins maker Blackmores to exceed its prior year's e-commerce sales.

And it seems other companies are keen to get a greater slice of China's massive $US1.1 trillion e-commerce market, home to the likes of growing global giants Alibaba and Tencent.

According to the 2018 Westpac Australia-China Business Sentiment Survey released today, the number one trend impacting Australian businesses operating in China in the next three to five years will be innovations in technology, media and communications. Companies with a detailed e-commerce strategy were 12 per cent more profitable than those without, the survey of 160 businesses in November and early December found.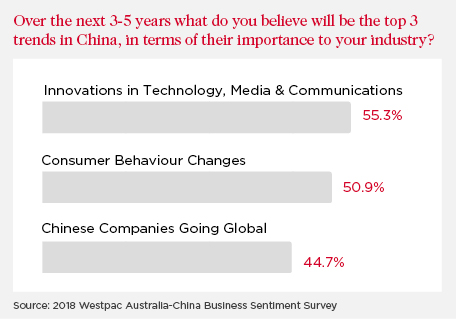 But it's unlikely to be without challenges after a "low" 16 per cent of businesses reported having a detailed strategy for China's e-commerce market, estimated to be worth more than $US1.13 trillion last year, or around half of the world's e-commerce sales and 56 times the size of Australia's online market. The most common channels used were social media and messaging app WeChat at 41.6 per cent, followed by company-owned websites, Alibaba, JD.com and Daigou.

The complexities of the market were laid bare by more than 60 per cent of businesses stating that understanding Chinese consumers was their number one "information gap", and most saw unpredictable government policy as the number one risk. Also, the top three concerns were "retaining top talent", "domestic and foreign competition" and the "Chinese regulatory environment".

"Whilst it is encouraging to see Australian businesses embracing WeChat … the under representation of the other e-commerce channels hints to a relatively primitive online strategy and reluctance to invest across multiple channels," the report said.

In February, Blackmores reported that China sales grew 27 per cent in the first half to December 31. But profit expanded a smaller 4 per cent after higher doubtful debt provisions and investments in "resourcing and operating expenses" as Blackmores expanded its presence in China. Still, chief executive Richard Henfrey noted he was "particularly encouraged" by the progress of the China business.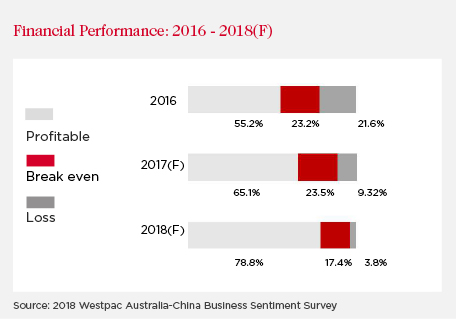 According to the Westpac AustCham Shanghai survey, 78 per cent of businesses are positive about their China operations over the next 12 months. Almost 80 per cent were also forecasting profitability for 2018, compared to 66 per cent last year, despite more businesses planning to up investment. Business size and duration of operating in China was positively correlated with profit and revenue growth. The biggest earners in China, based on last year's revenue, were Australian mining companies, followed by those in trading, retail and sourcing, and health and aged care, the survey found.

It comes amid concerns of an outbreak of a trade war following recent moves by the US and China to float tariffs. In an opinion piece today, Westpac's regaional head and head of corporate and institutional banking Greater China Paul Lai said Australian businesses were "largely unperturbed" by the threat of a trade war, some even seeing it as an opportunity.

More than half of businesses reported benefiting from the 2015 China-Australia Free Trade Agreement, while 43 per cent also saw China's massive "One Belt One Road" initiative to enhance links between 70 countries as a positive driver for their strategy.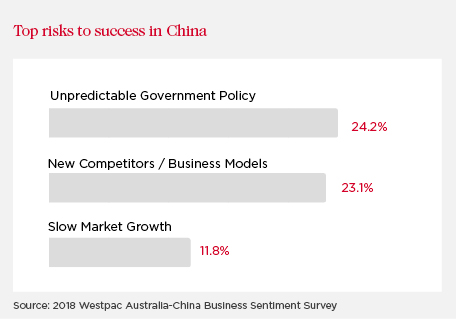 Overall regulatory trends were seen to be improving in the eyes of respondents, 31 per cent believing the regulatory environment had improved over the past 12 months, versus 26 per cent who thought it had deteriorated. But more than half believed Chinese enterprises enjoyed preferential treatment under the regulatory environment compared to foreign counterparts.

"Despite widespread optimism, increasing profits and investment, Australian businesses are being challenged by the regulatory environment, increased competition and underdeveloped digital strategies," the report said.