Almost 150 years since Adelaide architectural firm Woods Bagot opened its doors, it's begun using big data and multidisciplinary teams to create new retail environments for China's tier one and tier two cities through its SUPERSPACE design capability.

In another sector, Australian health supplements company Blackmores is riding a wave of interest in health and wellbeing among Chinese consumers, making the bulk of its sales via online channels. Blackmores, which only entered the Chinese market six years ago, is also partnering with Tsinghua University on a program around preventative health.

These are just two examples which show how Australia's commercial relationship with China continues to gain positive momentum that is independent of geopolitics and defence issues.

While recent headlines have been dominated by reports of tariff threats between the US Trump administration and China, Australian businesses are largely unperturbed. Indeed, some are seeing this as an opportunity.

Boosted by the 2015 China-Australia Free Trade Agreement (ChAFTA), Australian businesses are investing more in China, increasing the profitability of their Chinese operations, and looking optimistically towards the future.

This is particularly the case in agriculture, where the retaliatory Chinese tariffs are expected to hit US exports hard. The reality is that if US agricultural products become more expensive due to tariffs, some Australian alternatives may become more attractive.

This could be a silver lining for Australia's wine industry, for example, which is in a battle with US Napa Valley winemakers for the palates of affluent Chinese consumers.

The 2018 Westpac Australia-China Business Sentiment Survey, released today, found 78 per cent of Australian businesses are positive about their operations in China, an increase of 8 per cent on this key metric since it was first measured in 2013.

Longer term, a higher 83 per cent say their sentiment is even more positive when looking across a five-year horizon.

The ChAFTA agreement may have contributed to this. In the most recent research, 54.7 per cent said they had benefited in some way from the trade deal, under which 95 per cent of Australian exports to China are tariff-free.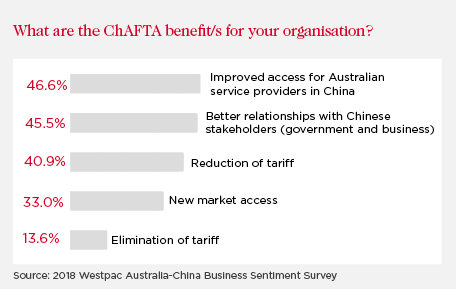 China's rapidly growing middle classes are driving increased demand, impacting most industries. Affluent Chinese consumers are becoming more health conscious and focused on the source of their food and products.

When these Chinese consumers make their buying choices, Australia has a significant brand advantage. Along with New Zealand, Australian food products and health supplements enjoy a reputation as "clean and green".

Australian wine is also thriving, exports to China jumping 63 per cent by value in 2017, helping boost total wine shipments to their highest in a decade.

Australian professional services companies and manufacturers are also well positioned, and after several decades of investment now have the relationships in place which are so crucial for success in this market.

Notably 58.7 per cent of AustCham survey respondents cited their relationships with clients as a "top three" reason for their optimism, second only behind the 88.9 per cent who cited the market's overall growth potential.

Beyond China's domestic economy, China is also investing massively in its "Belt and Road Initiative" (BRI) initiative to link the country with Europe, the Middle East and Africa.

This does not involve Australia directly, but it still presents an opportunity for Australian businesses, particularly those in professional services such as architecture, infrastructure, financial services and corporate law.

Woods Bagot, for example, have said that adding just one successful tender under this policy is worth about five times that of an average project.

The AusCham survey reflects this sentiment with 43 per cent of respondents saying BRI is a positive driver for their China strategy.

The research, however, does show something of a digital divide between Australian businesses in China. Surprisingly, only 16 per cent have a detailed e-commerce strategy in place, in a market where 58 per cent of AusCham respondents agree is a leader in advanced innovation and technology.

China's online population has already reached around 620 million, and any company aspiring to mass penetration of the Chinese market must have a digital marketing strategy. They must also think mobile, as the majority of online users access the internet not through computers, laptops, or even tablet devices, but through their smartphones.

Among those Australian companies who say they do have a digital strategy for China, the comparable results show the extent of the divide. This group is 11.6 per cent more optimistic about the 12-month outlook than those companies without, and 11.7 per cent more likely to be more profitable in the years between 2016 and 2018.

Even more telling is the finding that those Australian companies who do have an e-commerce strategy for China are 18.1 per cent more likely to expect profit growth will outpace that of other markets.

China has two e-commerce giants, Alipay and JD.com, and Australian businesses don't necessarily have to make their own major investments to achieve a digital capability.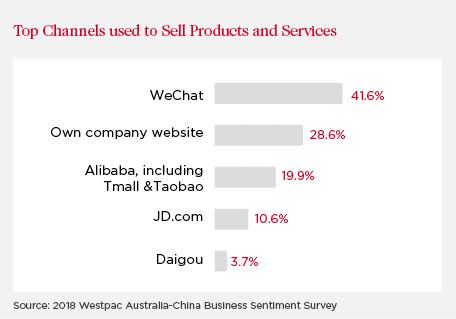 But it's not just e-commerce.

Australian firms should be looking at how they leverage big data to provide businesses with a unique selling proposition to effectively respond to the growing demands of Chinese consumers.

Despite the overall optimism, succeeding in China is not easy and 39 per cent of the AusCham respondents said they believe that doing business in China has become more complex in the last year.

A key reason for this, cited by 57.7 per cent, is the lack of transparency in the regulatory environment. This has been an ongoing issue in China for many years, but it is important to understand that the country's policies are evolving.

Often, the government will roll out a very broad framework for regulation because it wants market feedback as the details evolve, and the implementation is then adjusted. It is almost an exploratory process in which the regulators seek out feedback and test their ideas, and corporate participants can be stakeholders in that process.

As a result, it is also important for Australian businesses to have a presence on the ground, so they can take an accurate pulse of the process – and have some input into its evolution.

As the results from the survey show, taking the plunge into China may be worth the risk.