How I was a Jawun secondee, from home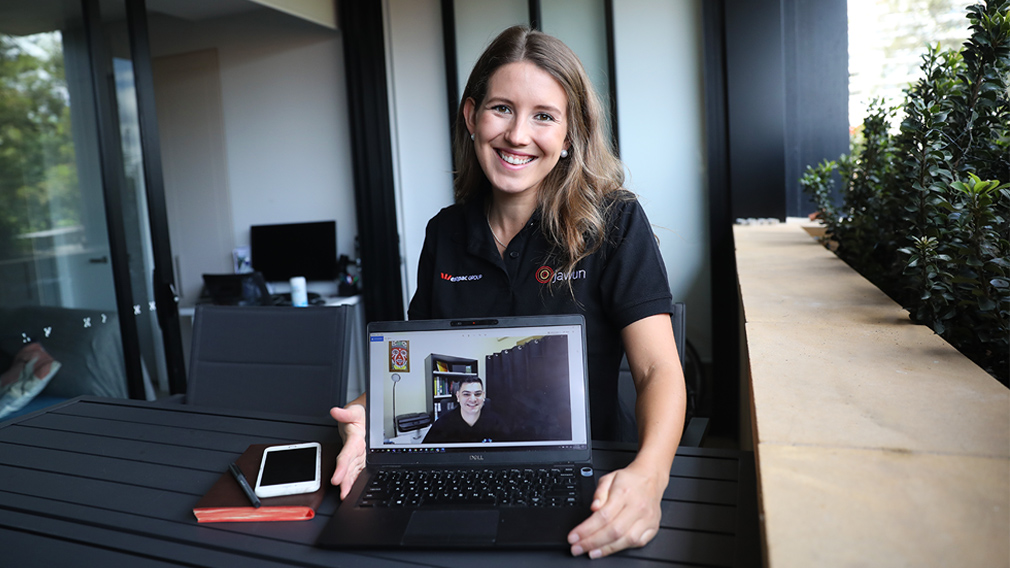 A few months into the pandemic, I heard that just like most organisations around the world, the Jawun Indigenous secondment program had transitioned to a virtual model.

For a program that for 20 years has supported Indigenous communities and leaders by taking almost 3500 corporate and goverment employees out of their day jobs and into community organisations for six-week in-place regional, urban and remote secondments, this change was significant and one that wasn't guaranteed success.

The new virtual model, however, allowed secondees to work part-time and remotely. This meant that rather than leaving my team altogether during such a busy and uncertain period, I was able to split my time between the two roles, and bring forward a dream I've had since I started with Westpac four years ago.

So, with that, I became the bank's 950th Jawun secondee – and the first to do it virtually.

Over nine weeks, I worked from home in Sydney two days a week for Central Coast Aboriginal organisation Barang Regional Alliance, switching back to my day job in the bank's regulatory team on the other days.

It's hard to believe I haven't met Barang's team in person as I really feel like I know Gary, my Barang supervisor. It's remarkable how much I've learnt from him from my loungeroom.

While the Central Coast is somewhere I've enjoyed many beach holidays, admittedly I had no idea that the area is home to one of the largest and fastest growing Aboriginal populations in Australia, living on Darkinjung country, the traditional lands of the Darkinyung people for the last 70,000+ years. There are still more than 7000 registered sites of Aboriginal cultural significance in the region.

I also had no clue about the strides made and challenges ahead for this Central Coast Aboriginal community in reforming how government designs, delivers and funds services, vital to empowering the community to make the decisions required to achieve more effective service delivery outcomes and accountability.

Barang is at the forefront of this reform as the Central Coast's community-led voice, under the NSW State Government's Local Decision Making reform program. Over my 18-day secondment, my job was to support Barang by providing project management arms and legs needed to bring the last two years of the organisation's reform negotiations into a single "source of truth", a tool that will support the Barang team as they finalise their negotiation activities.

While Gary tells me he feels my cultural immersion was probably not as deep compared with an in-place secondment, I certainly didn't feel that way, as the team welcomed me into their community so warmly. Although I was only on Darkinjung country in spirit over video call, Gary's pride in his culture and his passion for change has been contagious.

Quite early on, we struck up an awesome, open and honest relationship – one that I would now after only 18 working days call a friendship. It's incredible how a genuine and shared goal coupled with a deadline can really focus the task and accelerate the relationship!

In fact, that is among many of the key professional development skills I've been able to bring back to my day job at Westpac: the power and benefit of authentic acceleration to enhance project delivery – a vital skill especially in a screen-to-screen "agile" working world.

The ability to make these secondments so effective – particularly in a virtual world – is not just something that's magically happened overnight. It's the product of Jawun building trust with Indigenous community organisations and their corporate partners like Westpac over a 20 year journey. While I've shared my corporate skills to build capacity in Barang, there is no doubt I have gained far more than I've given.

Virtual Jawun secondments are of course still a relatively new concept, but I can certainly see a bright post-pandemic future where online elements could complement in-place secondments, continuing to deliver social impact through what Jawun call's the ripple effect – supporting Indigenous partners organisations, who in turn support and strengthen their communities.

For employees whose situations may mean they're unable to travel away from family or be released from their work teams full time, having an option to participate online may make all the difference.

It goes without saying that I can't wait to meet Gary and the Barang team in the flesh one day. But if it weren't for the virtual model, I'm not sure I could have joined the Jawun family so early in my career at the bank. Now, I can personally attest to what I'd heard from so many past secondees: Jawun secondments really are lifechanging, both professionally and personally.

Most importantly they truly do increase the capacity of Indigenous leaders, organisations and communities to achieve their own goals.

Recruitment has commenced for the next round of Jawun's virtual secondees commencing February 2021. Westpac employees can find out more by searching Jawun on the intranet.