'Life changing': Jawun's purple haze
"No, no, it's 'nya', not 'nya'. Try again," chuckles Irene Nangala once more.

Sipping on tea in the vibrant courtyard of a house in central Alice Springs, the 60-year-old Anangu Elder from Kintore in Central Australia is patiently trying to teach a little of her Pintupi-Luritja language to a very willing but perplexed pupil, Mark Scott.

Far from his day job in Sydney as a senior cyber security program director at Westpac, Scott is on a secondment program run by Jawun, a not-for-profit that places corporate and government employees into short term roles in Indigenous community organisations across the country.

But it's not completely unfamiliar. He was also one of the program's first secondees 18 years ago in Far North Queensland's Cape York when it was still just an experiment and, in 2007, took a two-year career break from the bank to act as Jawun's chief.

As Westpac's 900th secondee, he's now half-way through a six-week stint at Purple House, an Alice Springs-based health service that offers renal dialysis to people from remote communities with end stage kidney failure, an experience he says he's still learning from, both about Aboriginal Australia and himself.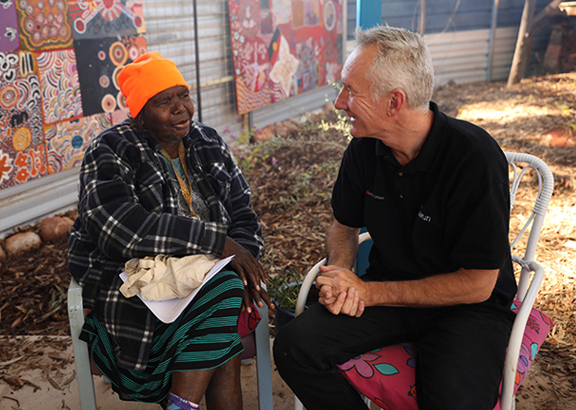 "It's a bit chaotic and you can't predict what's going to happen at any point in time," says Scott, who is helping the rapidly growing organisation to assess its risk capabilities and culture.

"You have chickens running around, guitars being played, kangaroo tails cooking in a firepit in the courtyard, people doing their washing, and all the while patients are in the clinic having dialysis.

"But at the core of what Purple House does is to allow patients to get back to their communities, and that's a great thing to be involved in."

It was during his chats with Nangala – a long-time board member and driving force behind the organisation – that Scott was struck by the significance of providing remote dialysis, a process that cleans the blood, essentially doing the job kidneys no longer can. In between gently teasing him for his pronunciation, she explains the service helps her community to "hold on strong" to culture that had been slipping away.

"Old people from home used to have to come in to Alice Springs and die here, missing their families, away from their country," says Nangala, who six years ago also became a patient of Purple House, having developed kidney disease requiring dialysis for five hours, three times a week, for the rest of her life.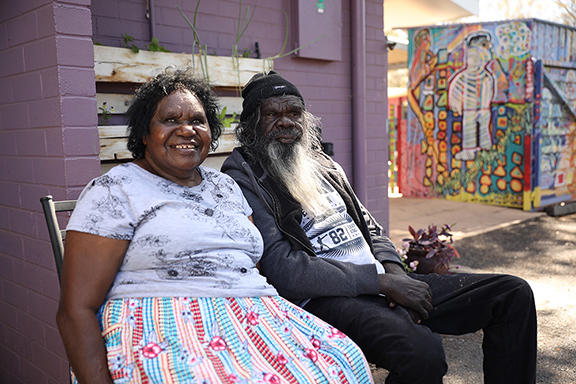 But the Purple House has changed all that, explains its chief executive Sarah Brown.

"We're getting people really well here in Alice, then we're getting them home, and they're contributing to their communities, teaching their cultural heritage to their kids and grand-kids and sucking the juice out of every day they've got," Brown says.

Since starting the organisation alongside Kintore-based community members including Nangala in 2003, the long-time health care nurse has seen Purple House set up permanent dialysis units in 16 remote communities across Northern Territory and Western Australia with plans for more, including in South Australia. In 2011, a mobile dialysis unit – affectionately called the "Purple Truck" – was added to the fleet to travel to other communities, sometimes as far as 2000km away.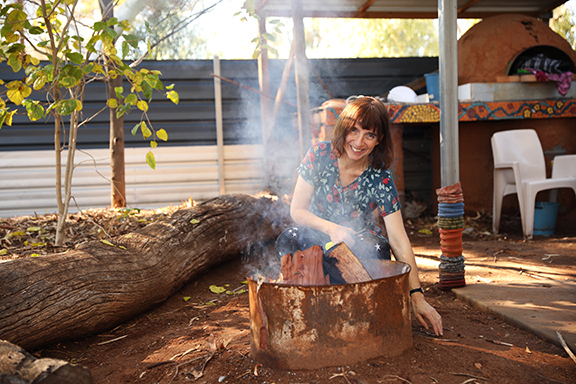 "People talk about Central Australia as having the highest rates of kidney disease in the country and potentially the world, with rates here between 15 and 30 times the national average," Brown says, noting there are many factors contributing to this alarming statistic.

"But the really good news is that since we started, we've gone from the worst survival rates on dialysis in the country to the best. For us, that's about high-quality services, but beyond that it's about giving patients some agency over their lives and giving hope by making it possible for them to make plans to go home.

"You feel the positive energy from when you walk through the door. It doesn't feel like a hospital, where you'd expect to see people being sad. It's the only dialysis centre we know where people come to hang out on their non-dialysis days. It's complete madness, and so much fun," she adds of the house named for the colour of its walls, chosen by its first ever patient Amy Nampijimpa.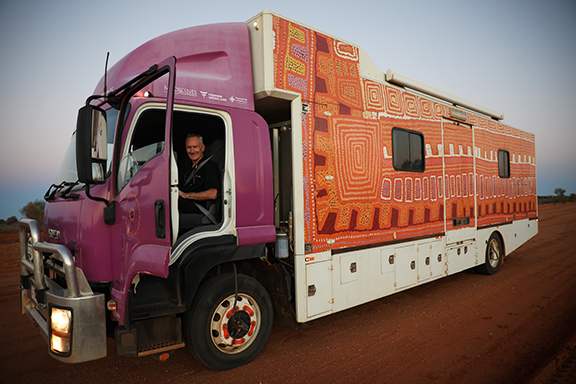 Brown says over the four years that Purple House has partnered with the Jawun secondment program, secondees – like Mark Scott – have been "extraordinary" in bringing energy and fresh eyes to help get through the not-for-profit's "long to-do list", including refining its recruitment strategy, organising conferences and reviewing its growth and funding strategies. She also views it as a "real opportunity for cross cultural understanding and active reconciliation".

Scott is among 12 Jawun secondees currently working across a handful of Aboriginal controlled organisations in Alice Springs, along with dozens more in nine other regional and urban centres across Australia – including Cape York, Shepparton and Inner Sydney – who each have stepped away from their day jobs at 45 different corporate and government organisations. Since the program started in 2001, around 3100 secondments have been facilitated – the equivalent of some 375 years of time – within 120 Indigenous organisations.

"They come in for six weeks and really change the landscape for those organisations," says Catherine Liddle, Jawun's regional director for Central Australia and an Alice Springs local.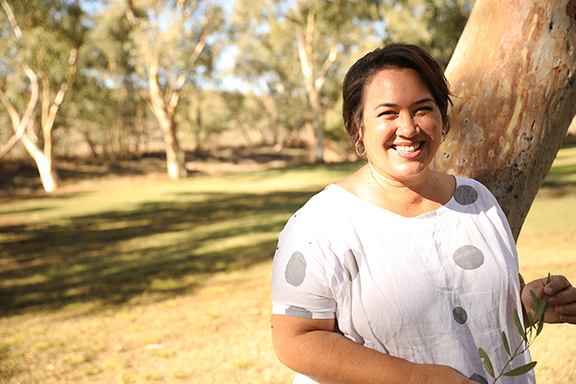 "For me, as an Aboriginal person, it's quite profound. The program is based on a model that, in this part of the country, we would call Napartji Napartji, which means 'I give you something, you bring something and we both grow from it'. It's about a shared learning for both the organisation and the secondee."

Liddle says the most rewarding part for her is watching the secondees' transformation.

"The person who gets off the plane when they come here, is not the same person who gets back on the plane to go home," says Liddle.

"It truly is quite a transformative journey. That's because we're not only stretching what they understand about Aboriginal Australia but also what they understand about themselves, their own resilience and development. I love watching it."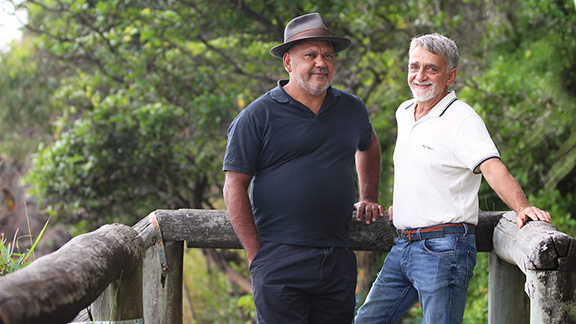 Scott says his initial interest in Jawun was piqued listening to Aboriginal activist and community leader Noel Pearson, who originally conceived the idea behind Jawun and at the time was in Sydney visiting Westpac's then group executive Ann Sherry and Boston Consulting Group's Colin Carter to flesh it out.

"I was impressed with Noel's vision for doing something practical," says Scott, who is fast approaching his quarter century working with Westpac. "He said "We are where we are and we, Aboriginal people, need to be a key part of getting ourselves out of this and what we want is you to help us". That was a vision I wanted to sign up to."

Another "atypical" secondee – Vit Koci – was similarly taken by Pearson's vision. Not only did Koci join Scott on the pilot program, he went on to become Westpac's Jawun program manager, a role he still holds 18 years later, recruiting, inducting and supporting all of the bank's 900 secondees to date, and helping evolve Jawun's model to what it is today. The bank's involvement is a key commitment under its Reconciliation Action Plan.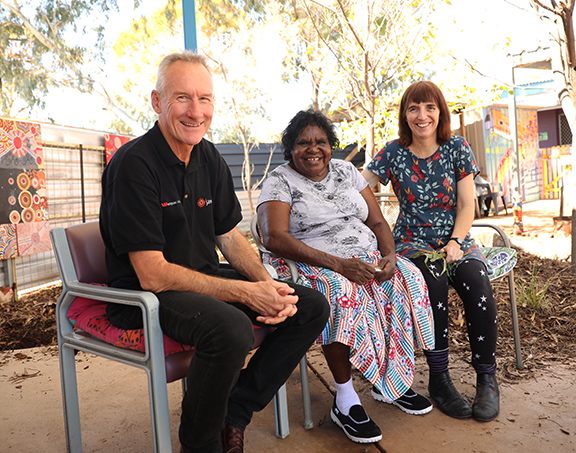 In the early days, Jawun secondees were sent only to Indigenous communities in Cape York, which is Noel Pearson's country having come from the Guugu Yimithirr Aboriginal community at Hope Vale. Scott's remit as acting chief from 2007 was to start expanding the program into other geographic regions and to other corporates beyond initial participants Westpac and BCG.

He forged partnerships in Victoria's Shepparton region and signed up KPMG, IBM and Virgin Blue, before handing the reigns to current chief Karyn Baylis AM in 2009, who has overseen its growth into ten regions with 45 participating corporate and public sector organisations.

Scott says over the years, the work undertaken by secondees has also evolved as Indigenous communities' needs have changed and organisations have matured. He recalls the secondees' very first assignment was to get a Family Income Management program up and running in the remote Indigenous community of Aurukun, a project initiated by the local women to help families take control of their domestic budgets. Fast forward to today, and secondees are more likely to be applying their skills to help Indigenous organisations' efficiency and sustainability, like helping develop business plans or establishing a way to measure social return on investment.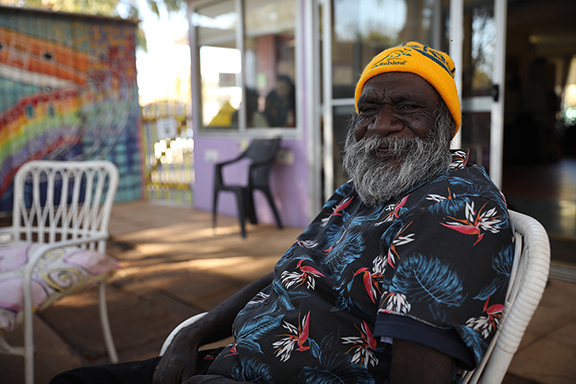 For Scott, in addition to his risk management work for Purple House, he says he's also naturally absorbed the organisation's deep values of "doing whatever it takes" to help patients, often with amusing results.

"One day I heard an old lady calling out "Help, help!". I was worried and thought she might have been in pain or having some difficulty, so I rushed over to see what I could do. When I got to her she said, "I need help hanging out my washing!" It was nice to know at least there was something I could help with!"

A grinning Brown says she often sees Scott "getting roped into making cups of tea and cutting up people's breakfasts".

"He's likely to get people asking for a toenail cut one day! Certainly, no-one here is going to be impressed with what his job in Westpac is. As far as we're concerned, he's fresh blood with a twinkle in his eye and we've got to use him up while we've got him!"
You may also like this bonus Westpac Wire story, captured while in Alice Springs: IN PICTURES: The heart of Alice.

Don't miss
By Ben Young
Head of Fraud and Financial Crime Insights