Business Debit Mastercard
Keep track of business purchases and cash withdrawals, with a debit card linked to your business bank account.
What are the benefits of a Business Debit Mastercard®?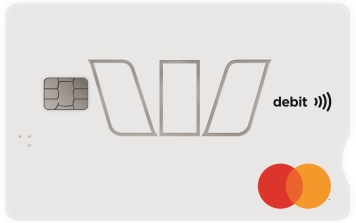 Use a debit card linked to your business bank account to deposit and withdraw funds and make payments and purchases
Pay anywhere worldwide – wherever Mastercard is accepted

Withdraw business cash worldwide – No overseas withdrawal fee around the world via the Global ATM Alliance and partner ATMs (other fees may apply) 1
No annual card fee – other fees and charges may apply

Fraud detection – 24/7 transaction monitoring for irregular or suspicious activity, for your protection and peace of mind
Contactless tap and go – to speed up business purchases under $100
Lock your card - avoid the hassle of immediately cancelling a mislaid card by putting a temporary block on it via Online Banking or the Westpac App. 2
What business bank accounts are eligible for the Business Debit Mastercard?
Your Business Debit Mastercard can be linked to up to two of these Westpac business bank accounts:
What else does the Business Debit Mastercard offer?
Versatility
Provide employees with full or limited access cards to your business account.

Visibility
View individual cardholder transactions (identifiable by card number) on a single bank statement.

Security
The Westpac Fraud Money Back Guarantee ensures that any unauthorised transaction claims will be reimbursed provided the cardholder has not contributed to the loss and has contacted us promptly. See our Terms and Conditions (PDF 145KB) (PDF 304KB) for full details of cardholder liability.
Will I be charged fees for this debit card?
There is no annual fee for using the Business Debit Mastercard. Other fees and charges may apply.

All transactions made using a Business Debit Mastercard (including transactions using the 'credit' button on an EFTPOS terminal) will be counted towards the monthly transaction allowance/limit that may apply to the deposit account(s) linked to the card. See the Terms and Conditions below for more details.
How do I activate my debit card?
18+ years old (applicant plus all signatories)
Account holder, signatory, or nominated by the account holder to receive a card
Operating in Australia with an Australian address
Needs an eligible business account in the name of the account holder, to link the card.