Favourite payments and introducing Siri Shortcuts
Where can I find my favourite payments?
Your favourite payments are no longer available in the new Westpac App. However, you can set them up as a shortcut using Siri.
Siri uses voice command which needs to first be set up on your iPhone before you can make a Shortcut payment (see 'Enable Siri on your iPhone'). Shortcuts are available in the new Westpac App for iPhone (version 9.0.0 and above).
After the payment or transfer is made, you can make it a Shortcut so it can be easily accessed if you wish to make the same payment or transfer in future.
To launch Siri
Speak to your phone saying 'Hey Siri' or if using iPhone X or later, hold on the side lock button for a few seconds. To do this, you first need to make sure Siri is enabled on your iPhone.
Please note, Siri payments are not currently enabled for International payments.
Step 1
Select the $ icon and follow the prompts to complete your payment or transfer. When completed tap 'Add to Siri' on the bottom of the page.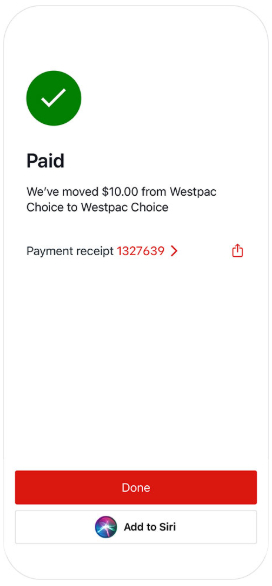 Step 2
Type in 'When I say' field the phrase to identify for this payment or transfer. For example, 'Transfer to Wages Everyday Use'.
Step 3
After tapping 'Add to Siri' it will be added as a shortcut.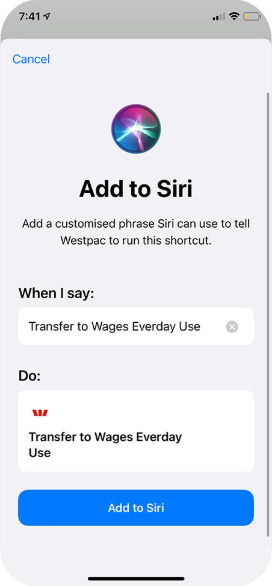 Step 4
Launch Siri by following the steps in 'Enable Siri on your iPhone' (if it hasn't been enabled yet).
Step 5
Say what you want to do, example 'Transfer to Wages Everyday Use', which is the Siri phrase you created.
All accounts are eligible apart from: International payments & Foreign Currency Accounts, Payments from a Flexi Loan, World Wide Wallet/Global Currency Card or multiple payments/transfers.
Yes, you do need to be signed in. You can use voice to be taken to the Westpac App to sign in. Once signed in, you can then use voice to access a transfer shortcut which populates the transfer accounts. After providing the amount, you must confirm the transfer.
Things you should know
Online Banking Terms and Conditions apply.
Mobile and Tablet Banking applications are only available for use by Westpac Australia customers.
Internet connection is needed to access Westpac Mobile Banking app. Normal mobile data charges apply.
iPhone, Apple and Siri are trademarks of Apple Inc, registered in the U.S. and other countries.