Bills Calendar
Don't miss a payment with Bills Calendar reminders. You can also add, track and review your regular expenses all in one place.
Managing your monthly expenses just got easier
With Bills Calendar, a planning tool in the Westpac App, never miss an upcoming bill by managing all your bills and regular expenses in the one place:
Add suggested bills recommended from your transactions data
Confirm the due date and frequency of your bills to add the due dates into future months
Track payment status as bills will be marked as paid, due and overdue
Set up notifications to remind you up to 3 days before the bill is due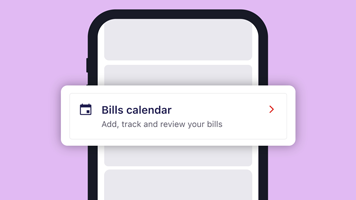 1. Open
Scroll down on your home screen until you find the Bills Calendar tile. Follow the prompts to get started.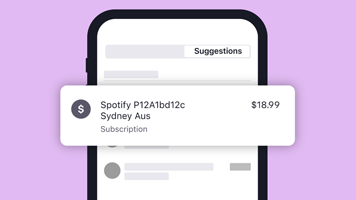 2. Add
Tap on a suggested bill recommended from your transaction data to autofill the details or add a bill manually.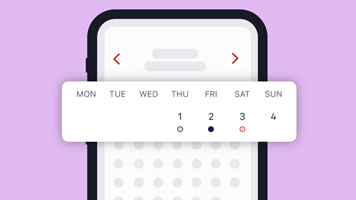 3. Track
See all your bills at a glance, check which bills have been paid, which are upcoming, and which are overdue.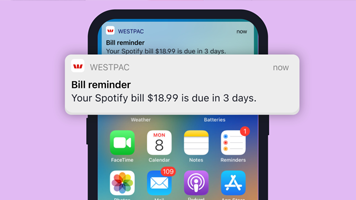 4. Remind
Don't miss paying a bill, turn on reminders and we'll let you know three days before.
Colour coding shows your bill status

Upcoming bills 
An outlined grey circle means a bill is upcoming, so be prepared to make payment on the due date, as adding a bill to your calendar doesn't automatically schedule the payment. 

Paid bills 
A solid navy-blue circle means the bill has been paid. Your bill will change to paid after a transaction's recognised as belonging to that bill, or you can change it manually.  

Overdue bills 
A dotted red circle means the bill is overdue. You'll need to make the payment as soon as possible to avoid the possibility of any late fees or extra interest being charged. 
Explore your potential with our Savings Finder 
Spot savings opportunities on bills and subscriptions with Savings Finder in the Westpac App. Review regular payments you'd consider cancelling or reducing and get an idea of your saving options.  
Let's help you get started 
Frequently asked questions
There are two ways to start setting up your Bills Calendar: 
 
1. Tap on the Bills Calendar tile on your Westpac App home screen
 
Follow the prompts to get started. You'll see bill transactions to check and add to your calendar. Tap a transaction, confirm the details, and tap Save to add the bill to your calendar. 
 
2. Go to a bill payment transaction 
 
At the bottom of the transaction you can add the bill to your calendar. Tap Add then Create a new bill, check the name and amount, fill in the due date, frequency, and end date if applicable and tap Save.  
 
The Manage Bills screen will show you suggestions to add other bills. Complete all the fields in the form and tap Save. 
Things you should know
Westpac's Online Banking Security Guarantee - If your Westpac account is compromised due to Online fraud, we guarantee to repay any missing funds, provided you complied with our Online Banking Terms and Conditions. This includes keeping your sign-in details (including passwords, Westpac Protect™ Security codes) private, not participating in the unauthorised transaction, and immediately notifying us when you suspect an unauthorised transaction or potential fraud on your accounts.
Apple, the Apple logo and iPhone are trademarks of Apple Inc., registered in the U.S. and other countries. App Store is a service mark of Apple Inc.
Android, Google Play and the Google Play logo are trademarks of Google LLC.
© Westpac Banking Corporation ABN 33 007 457 141 AFSL and Australian Credit Licence 233714.