GETTING TO KNOW YOUR FLEX CARD
Everything you need to know, including setting up your card, managing your repayments and more.
Ways to pay with your Digital Card
1. Westpac App
Access your Digital Card anytime, anywhere via the Westpac App and use it to shop in store or online, pay bills, make in-app purchases and set up your recurring card payments.
For online purchases, simply copy across your card number (hold down and copy the number in the App or manually fill it in), expiry and dynamic CVC/CVV.
2. Digital Wallet
You can also add your Flex Card to your mobile wallet or wearable wallet. Find out more on setting up your mobile wallet here.

Changing your Autopay settings
When applying for your card, you would have set up Autopay. However, if you would like to change these settings, here's how.
Note: any changes to your repayment schedule will be applied after your next monthly statement.
Select the Flex Card account hub tile on your dashboard.
Select Autopay.
Select Edit Settings.
Select the account you'd like your payments to be debited from.
Select Monthly or Twice a Month for your repayment frequency, and Minimum amount ($40) or Full Balance for your repayment amounts.
Note: If you owe less than the minimum monthly repayment amount ($40), you'll only be debited what you owe.
Select Confirm and follow the prompts.
Making additional payments to your Flex Card
Select the Flex Card account hub tile on your dashboard.

Select Pay Card.
Select the account you'd like your payments to be debited from.
Choose the amount you'd like to repay from the following options:

Remaining balance
Current balance
Other amount

Follow the prompts to complete your transfer.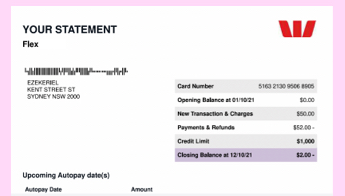 In the top right corner, you'll find a box that highlights the important details related to the statement, including:

Your Card Number.
Opening Balance, which represents the outstanding balance as of the date listed.
New Transactions & Charges that have been made since the last statement.
Payments & Refunds you received during the statement cycle.
Credit limit, which is $1000.
Closing Balance, which we've highlighted as this is the key figure to look at.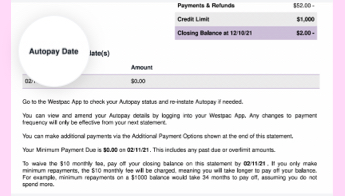 Next, you'll find your Autopay Schedule, which will show one date if you chose to repay Monthly, and two dates if you chose to pay Twice a Month. Next to the date(s) is the amount which will be debited from your linked account.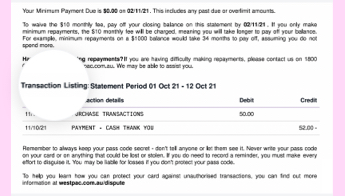 Following this is a list of all the transactions made on your Flex Card during the statement cycle, including:
The date the transaction was made
The transaction details, including the merchant (where you made the purchase)
The debit and credit amounts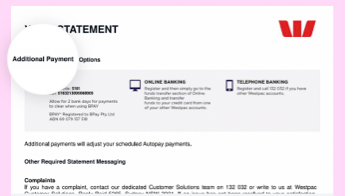 On the next page, you'll find details on how you can make additional payments, on top of your scheduled Autopay payments.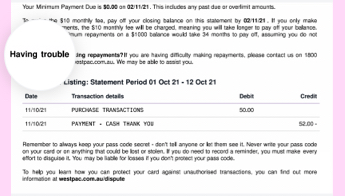 Throughout the statement you'll also find information that is important to read, including what to do if you're having trouble making repayments.
Westpac Extras & Rewards
Why wait for an excuse to reward yourself? With your Flex Card, you have access to an exciting range of rewards and discounts.
Westpac Extras
Enjoy cashback to your Flex Card account when you make eligible transactions on offers across a range of household names, including department stores, supermarkets, petrol stations, travel partners and more.
Rewards and Offers Hub
Brings you deals and offers just for being a cardholder. Sign into Online Banking or the Westpac App to explore your offers.
You can choose to have your autopay payments debited either monthly (on your payment due date) or twice monthly. Twice monthly autopay payments will be taken 14 days before your next payment due date, and then again on your payment due date. This means that the calendar date may change each month. You will be sent a reminder notification that your payment is due one business day prior to each autopay payment due date.
Things you should know
Credit criteria, fees and charges apply. Switches or upgrades are unavailable.
Be credit savvy: Before applying, consider the credit limit and check all conditions, fees and charges on your selected card.
Monthly fee waiver: Flex Card has a flat Monthly Fee. The Monthly Fee is charged to your Flex Card Account each month and once it is charged it forms part of your balance. This Monthly Fee will, subject to the Flex Card Terms and Conditions, be waived if you pay off the Closing Balance shown on your previous statement by the payment due date shown on your statement.
Read the Apple Pay Terms and Conditions (PDF 42KB) before making a decision and consider if it is right for you. To use Apple Pay you will need an eligible card and a compatible device with a supported operating system. See our Apple Pay FAQs for more information. Apple, the Apple logo, Apple Pay, Apple Watch and iPhone are trademarks of Apple Inc., registered in the U.S. and other countries. App Store is a service mark of Apple Inc.
Mastercard® is a registered trademark, and the circles design is a trademark of Mastercard International Incorporated.