Safe and secure banking for young people
Initiatives we've introduced to help our younger customers manage their money safely.
A first step towards good banking habits
For every young person, opening a bank account is an exciting first step towards financial independence. We're making sure that journey is a safe one, while giving parents the opportunity to provide support and guidance along the way.
A good place to start is ensuring that all children under 14 have a parent or guardian as a signatory on their Westpac account.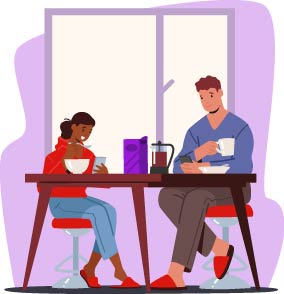 Keeping an eye out for unexpected activity
Set up push notifications
To keep an eye out for unexpected activity or excessive spending, you can set up push notifications on your mobile when money goes into or out of your child's account.
You can do this:
With Choice Youth and Bump Savings accounts
If you have third party access to the account.
How to set up notifications
Protecting your child's money
Deposits to our everyday and savings accounts are guaranteed by the Australian Government up to a total of $250,000 under the Financial Claims Scheme.2
Providing reassurance about your child's online banking
We guarantee to repay any funds missing from your child's account due to fraud, as long as they've complied with our T&Cs.3

Simpler banking to avoid costly mistakes

Restrictions on online payments
Choice account holders under 14 are restricted from making BPAY® and international payments using their Online Banking or Westpac App.

Restrictions on daily payments
When registering for Online Banking, all children under 14 are given a low Daily Payment Limit of $50, which can help prevent over withdrawing their account. It can be adjusted online and in the Westpac App once the child is comfortable with being able to spend more.

Parental control of savings accounts
Your child's Bump Savings account includes a Parental Control feature, which allows you to decide how much account access you'd like your child to have. You can choose to give your child View Only or View and Transact access; and can change access levels at any time.1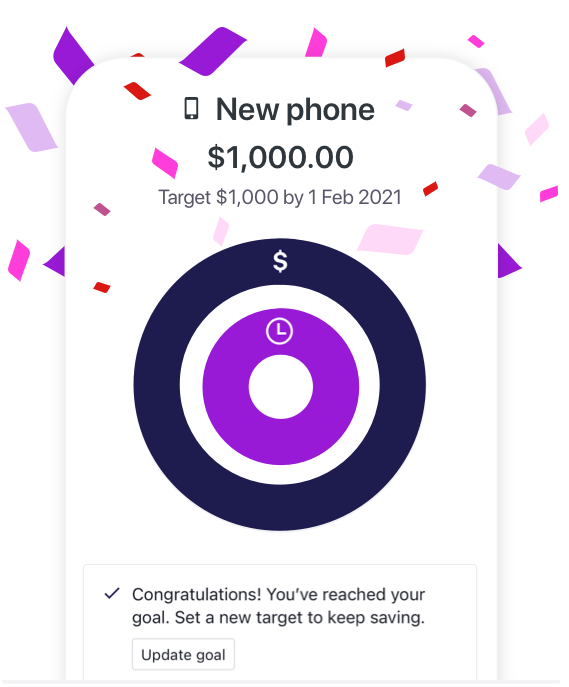 A helping hand with saving
Saving for something they really want helps get kids used to putting money away now to make life more fun in the future.
Set up to 6 Savings Goals in a Bump Savings account4
Name the goals based on what they want to save for
Track progress in the Westpac App.

Financial Literacy for Kids & Teens
We're here to help teach kids and teens how to better manage their money.
Get your child started in minutes online
Help your kids build good money management skills for life with accounts that support safe spending and saving.
Under 18? Get $50 on us
Open a Choice transaction account at the same time as your Bump Savings account then deposit at least $100 into your savings within 30 days - and we'll give you $50. T&Cs apply.
Things you should know
Before making a decision about any of our products or services, please read all the terms and conditions and consider whether the product or service is right for you. Fees and charges apply and may change.
1. Parental Control: Parents, grandparents, or guardians must be an account signatory to have Parental Control. There is a limit of two signatories per Bump Savings account. Child must be registered for Westpac Online Banking and Westpac Telephone Banking to access accounts online or over the phone. For children under 12 years of age: Parental Control is mandatory, and self-service Telephone Banking is not available. For children aged 12 years and over: Parental Control is optional and access levels can be amended by the child at any time. Parental Control does not apply to a child's access to funds in branch, however a signatory must authorise branch withdrawals where a child is under 14 and a debit card is not available.
2.
Financial Claims Scheme:
payments under the FCS are subject to a limit for each depositor. For more information visit
www.fcs.gov.au
.
3.
Westpac's Online Banking Security Guarantee:
If your Westpac account is compromised due to Online Banking fraud, we guarantee to repay any missing funds, provided you complied with our
Online Banking Terms and Conditions
. This includes keeping your sign-in details (including passwords, Westpac Protect
™
Security codes) private, not participating in the unauthorised transaction, and immediately notifying us when you suspect an unauthorised transaction or potential fraud on your accounts.
4. Savings Goals: Both an account holder and an authorised user can use the Savings Goals feature, including to view, add, edit and delete the savings goals on a Westpac Life or Bump account.
5. Bonus interest: You will be eligible for bonus interest if during the month (subject to transaction processing times):
a. your account balance has not fallen below $0; and
b. you (or someone on your behalf) have made a deposit of any amount; and
c. the account balance on the last business day of the month is higher than the account balance on the last business day of the previous month.
Interest paid into your account does not qualify as a deposit in terms of bonus interest eligibility.
6. Debit Mastercard®: holders need to be at least 14 years of age, and have an Australian residential address to be eligible for the card. If you're not eligible for a Debit Mastercard, apply for a Handycard to access your account.
Mastercard® is a registered trademark of Mastercard International Incorporated.