Australia's banks are banding together this week to urge customers to consider setting up a PayID as another step in the fight against scams.

PayID is a facility available to almost any person or business with a bank account in Australia that can help to guard against sophisticated scams which target big one-off payments for transactions such as a house purchase.

"It's a simple way to receive money and it's a safer way to send money," says Ben Young, Westpac's head of fraud and financial crime insights, of the feature that was introduced as part of the new payments platform – known as the NPP – launched in 2018.

A PayID is an identifier that links to your account, easier for you to remember – and for others to validate – than a BSB and account number, like your telephone number, email address or ABN.

"We know there are a few industries deliberately targeted by this type of scam – conveyancing firms, law firms, construction, companies that hold money in trust; the types of organisations involved in property sales," Young says.

"And the reason they're targeted is because there's usually large sums involved, paid by people to businesses they trust but haven't paid before so they don't have a payment history to validate against."

While each case is different, the scam method is similar – and "worryingly, getting more and more difficult for consumers to spot", says Young.

"For example, when you're buying a home, or you're building or renovating, you expect to receive emails from your solicitor or your builder," he says.

"You get that email, and it looks legitimate. It might have copies of the correct documentation attached – even documents signed by you – along with details of where to transfer your deposit or down payment.

"But in a heartbreaking number of cases, those emails are from sophisticated criminal impersonators. The only change they've made to the legitimate email you were expecting, is to the bank account details."

Young says that while banks' robust fraud detection systems prevent thousands of scam-related and fraudulent transactions each year, not all victims of business email compromise or false billing scams are so lucky.

Australians lost $227 million to these types of 'payment redirection' scams in 2021, a 77 per cent increase on the prior year, according to ACCC Scamwatch. Among Westpac's customers, Young says these types of scams are among the top three, alongside investment and romance scams, in terms of volume and value lost.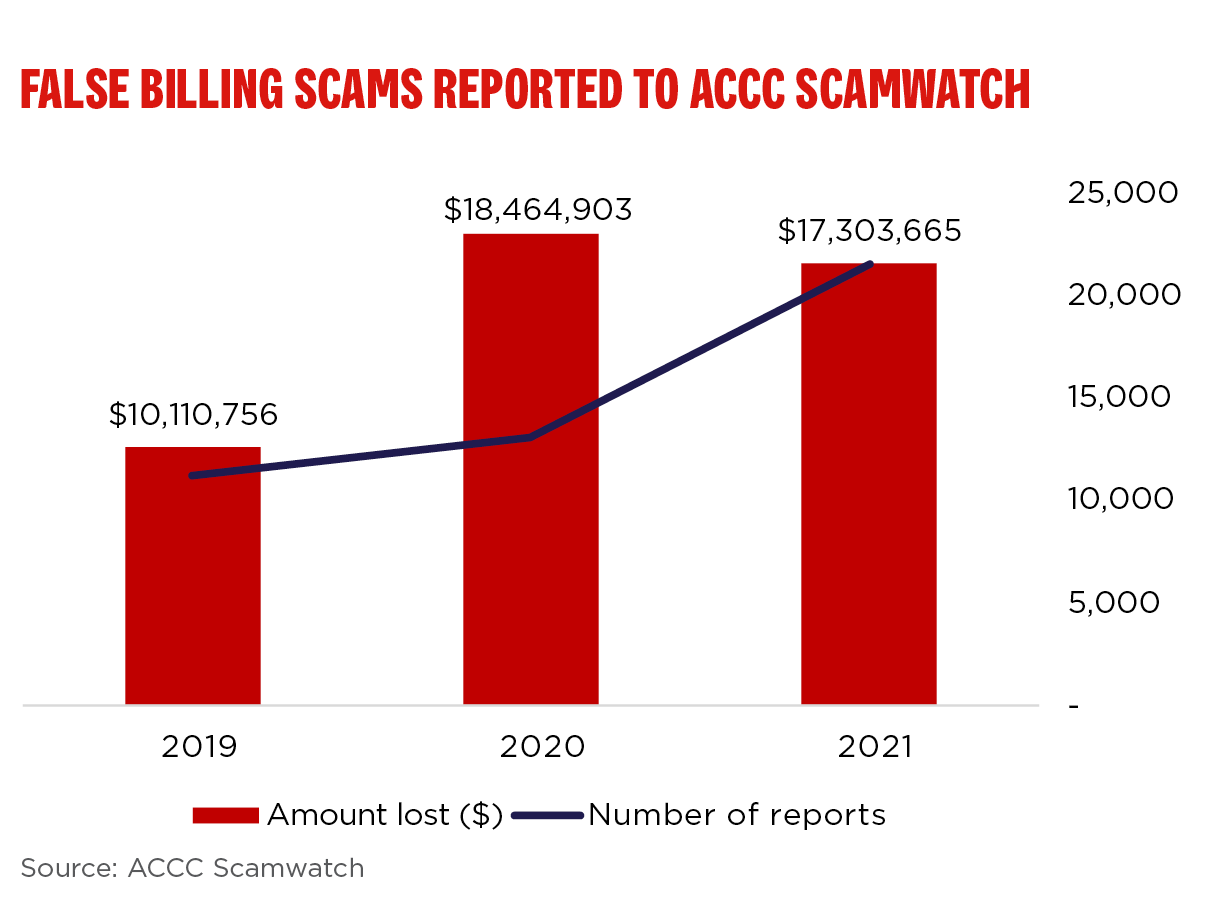 The Australian Banking Association's 2022 scams awareness campaign, which kicks off this week, aims to highlight the work banks are doing to protect their customers, as well as increasing general awareness of scams and how people and businesses can protect themselves.

PayID is a key tool in banks' armoury and will be a major focus in this year's campaign.

There are now more than 11 million PayIDs registered, up 45 per cent since the same time last year, according to NPP Australia's Managing Director Katrina Stuart, who says safety and security are cited by users as among the top reasons for creating a PayID, alongside other benefits such as its real-time speed and ease of transferring money without having to remember bank details.

PayID's confirmation step - the ability to see the name of the person or business you are paying before making the payment – has been effective in detecting fraud, Stuart says. A recent survey of PayID users revealed that one in four had stopped a payment because they noticed it was going to the wrong person or business, or they saw a mistake that they then fixed before letting the payment go through.

"For businesses in particular, PayID's confirmation step makes it harder for scammers to imitate a business, in an attempt to dupe customers into paying funds into a different account," Stuart says.

About 17 per cent of payments made via the NPP use a PayID, representing 30 per cent growth year-on-year. In particular, Stuart says the NPP has observed an increase in the number of businesses choosing to use PayID to accept payments from customers, adding that its ongoing use and adoption among businesses will play an important role in the feature becoming mainstream.

Still, there's some way to go yet. According to Westpac customer data from January, only a small proportion of those registered for a PayID are businesses. Fewer than 1 per cent of business bank accounts with Westpac have registered a PayID. Among consumer bank accounts, the number is higher at almost 18 per cent.

Young would like to see more businesses using PayID, adding that it can also save them time.

"When people only have the option of a BSB and account number, I will always encourage them to call the business to verbally confirm the numbers, rather than relying on an email which may be compromised. But businesses don't want to get phone calls from every second customer.

"If they just register their ABN as a PayID, their customers can easily validate it without having to call – simply by putting it into their internet banking, or if they really want to be careful, by first validating the ABN in the government's online register."

NPP Australia says it is continuing to work with the industry and participating organisations to explore how PayID can be further leveraged as part of broader industry efforts to help prevent scams and reduce mistaken payments, including for business-to-business or system generated payments.


Westpac's Protect Yourself page offers more information to help avoid scams, and customers can access a Security Wellbeing Check on the mobile banking app for additional protection measures.