App's new features put customer in control: de Bruin
New personal finance management tools on Westpac's banking app will give customers greater control over their money, says Chris de Bruin, chief executive of the consumer and business bank, at a time when rising cost of living pressures are squeezing households.

The features, which will be rolled out from this month, include the ability to track and categorise expenses, budgeting tools to monitor monthly income and outgoings, and personalised insights to help customers make better financial decisions.

"Our customers are telling us that they want not only simple, secure and fast transactions, they want information that helps them manage their lives," de Bruin said in an interview with Westpac Wire.

More than three quarters of Australians believe digital banking can help them keep better track of their money, according to Westpac research which surveyed 2,000 people.

And rising prices across a broad range of products and services means households are increasingly looking for ways to earn more and cut back on spending.

"Customers tell us that the most important things for them are the cost of utilities, fuel, electricity, gas, the basic stuff," de Bruin says. "What the app will do is begin a dialogue with the customer that says: here's your information, this is what you're spending on these things, this is what it's doing to your household budget. It puts the customer in control."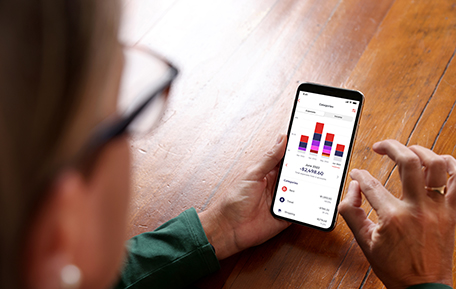 The personal finance features on the app incorporate capabilities from MoneyBrilliant, a business acquired by Westpac earlier this year. They're part of the bank's broader digital strategy unveiled in its July market update, which also include a digital mortgage that offers unconditional approval in as little as 10 minutes.

Westpac had made strong progress on its digital offer to customers, de Bruin said, while adding that the fast pace of technological change meant that the drive to innovate must continue.

"We are starting to build the muscles and the machinery and the habits to move really quickly. There's still some way to go, and there are a few processes we could simplify, but we now put out releases every two weeks when we used to put them out quarterly - that's an indication that we're closer to being a company that moves at digital speed."

Further enhancements to the app will be rolled out soon, including giving customers the ability to see information across all their accounts, even those held with other institutions, inside the app, and a carbon footprint tracker to help people make greener spending choices.

Keeping customers' information secure remained the bank's top priority, de Bruin said. Safety features have been added including dynamic CVC, giving customers the ability to put a temporary block on their card if they notice unusual activity, and scam block functionality to counter suspect online transactions.

De Bruin's next priority is the rollout of the new digital mortgage, and scaling it up to a broader range of customers. Over the longer term, his vision is for a bank which offers a digital journey for every type of service it provides, empowering the customer to transact online on a self-directed basis.