New Westpac NZ CEO mulls COVID recovery, digital opportunities
As Catherine McGrath gets her feet under the desk as Westpac New Zealand's new chief executive, the challenge of managing the business through the COVID recovery is clearly top of mind.

"The only thing that's certain at the moment is that the outlook is very difficult to read," the seasoned banking executive tells Westpac Wire as she takes up the job today.

"It's hard to tell whether in New Zealand, or in any other country, that we've really seen the full impact of the COVID flow-through into the economy. The key thing for the teams here is that we need to have great plans for a range of economic outcomes."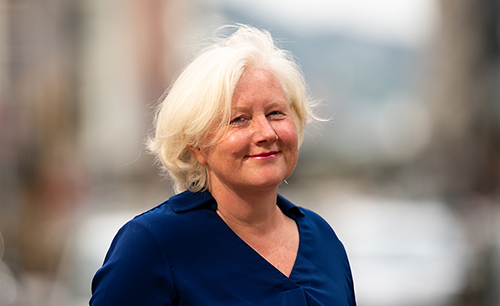 McGrath has returned home to NZ to take up the role following an eight-year stint with Barclays in the UK, most recently heading up the bank's channels and leading its open banking implementation. Prior to that, she alternated between the two countries, holding senior roles with Lloyds TSB Bank, ASB Bank New Zealand and the Prudential Group where she led a start-up health insurance business.

Announcing her appointment last month, Westpac Group CEO Peter King highlighted McGrath's "considerable management expertise" in digital capabilities, an area he earmarked for improvement during a recent review by the group which resulted in the decision to retain 100 per cent ownership of the 160-year-old business.

McGrath indicates she's keeping an eye on trends in digitisation, data and open banking which is further developed in the UK but likely to be increasingly in focus in NZ following the government's recent decision to introduce consumer data right legislation.

"We need to continually lift our game to make sure we're providing great insight as well as products and support for customers as they navigate through what's quite a complicated financial set of circumstances at the moment," she says.

"It's a great thing in that we'll have a chance to learn from both the strengths and the weaknesses of the UK response as we start to deploy that to our own consumers in these markets."

McGrath noted the strength of Westpac NZ's performance as shown in the financial results released earlier this month, which revealed cash earnings of NZ$1013m, a 56 per cent increase from the previous year.

But she's mindful of cost of margin pressures as the business faces into industry-wide challenges in the coming year. This includes the expected cooling of NZ's booming housing market following the central bank's decision to raise rates last month – one of the first in the developed world to reverse rate cuts made to nurse economies through the pandemic.

"The New Zealand regulator has taken a number of steps to try and impact house price growth, but I think it's too early to tell the extent to which that will play through," McGrath says.

"But we all want our friends and family to be in a position where owning a home is within their reach and so I'm very hopeful that a combination of rates and some of the interventions will make home ownership more affordable."

McGrath says the resiliency of NZ's economy throughout COVID pandemic despite closed borders has been positive but looks forward to key sectors like tourism and retail "really start to take off again" when borders reopen.

Above all, McGrath says she's happy to be back on the "same side of the world" as her siblings and mother and looks forward to starting to "do normal things again" with family.

"The Thames is beautiful, but it's less easy to swim and enjoy a bit of board sports in, so it's lovely to be back near the sea," she says.