Corporates eye flood of sustainable financings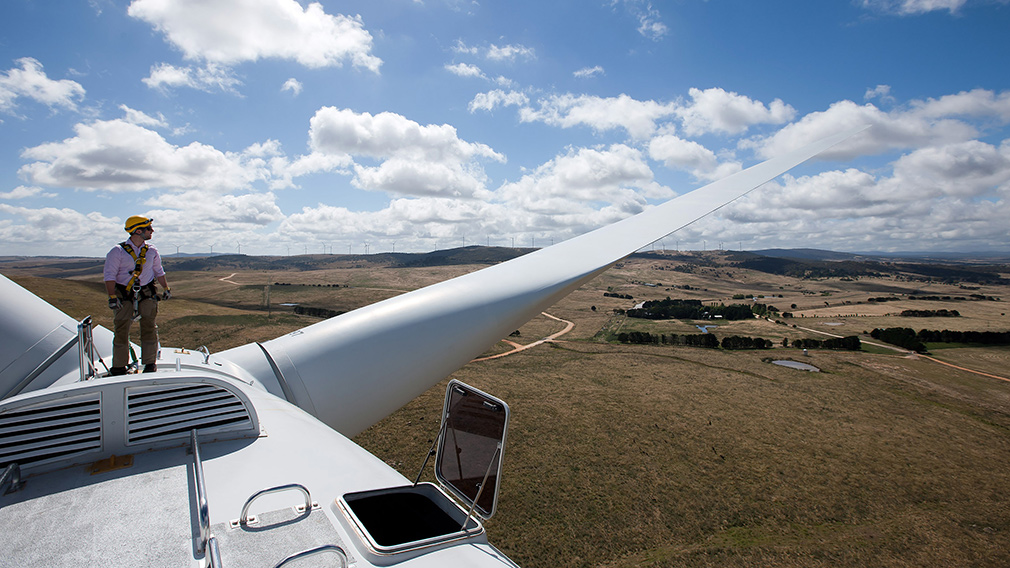 Australia's $1 trillion sustainable finance market is set for a boost with almost 90 per cent of Asia Pacific companies planning to raise capital through sustainability-linked deals in the coming 12 months, more than in the US and Europe, a major new report has found.

As the nation reels from the horrific bushfire season and drought, the Westpac report with The Economist Intelligence Unit claimed sustainable finance would play an increasingly important role in achieving the 2015 Paris Agreement's carbon reduction targets, arguing the Asia Pacific's massive infrastructure developments would need to be "green and resilient to climate change".

The report – which surveyed more than 300 investors and corporate representatives – found strong demand: 68 per cent of investors plan to increase their allocation to sustainable investments in the next twelve months, or an even higher 82 per cent of Australian investors.

However, 26.1 per cent of investors still singled out a lack of financial benefit as the biggest obstacle for the space – where deals or offerings help fund projects or are linked to reducing carbon emissions or a positive social impact. Also, growth in sustainable finance in Asia was mainly being held back by the "limited supply of bankable sustainable projects", crimping issuance and leading to a "clear mismatch between demand and supply". Just 7 per cent of the organisations from that region surveyed had utilised sustainable financing for projects, well below 28 per cent in the US and 18 per cent in Europe.

Richard Brandweiner, the chief executive for Australia of Pendal Group, which manages $101 billion in assets, however said the market had strong tailwinds and his company's approach was to find deals where sustainability also drove strong financial returns, noting water management had been generating particularly strong returns locally.

"Sustainable investments are increasingly attractive as people recognise their capital has real power and the way things are invested can actually make a difference to the world," he said, noting the trend was also visible in consumer behaviour.

"The challenge for the market is really to continue seeking return-driven sustainability and in so doing will be able to unlock significantly more capital to be invested in these ways."

In an oped published on Westpac Wire today, the chief of Westpac Institutional Bank, Lyn Cobley, agreed the region was primed for growth given the issuance to date and labelled the report's findings "undoubtedly positive" as the world responds to the global challenge of climate change. The report cites how Woolworths in April last year issued a green bond at a lower spread, or price, than a "vanilla bond". Meanwhile, fellow listed player Sydney Airport this month flagged plans to consider always issuing bonds linked to environmental goals when refinancing its debt in the future after a successful deal in the US.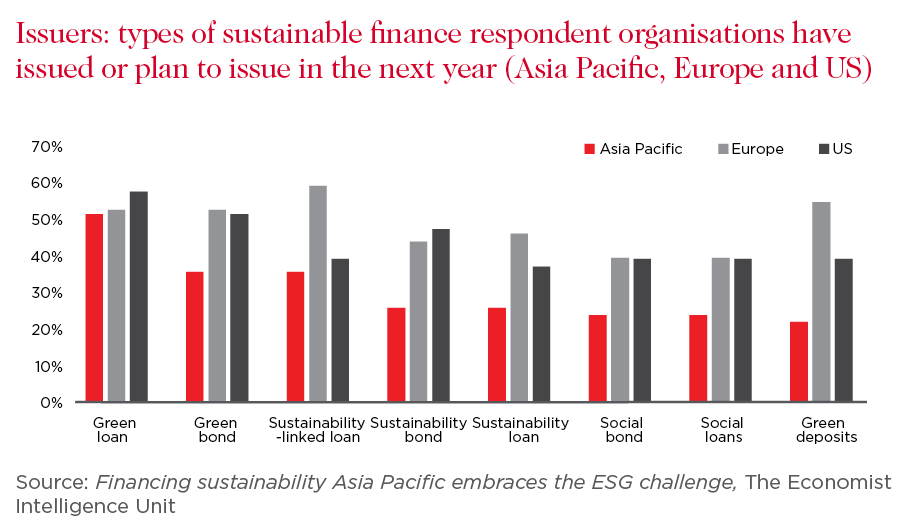 While sustainable finance has grown in prominence in markets like Australia in recent years, a headwind for both investors and issuers in Asia is uncertainty around the qualifying criteria for green or other sustainable assets.

Mr Brandweiner added that issuers faced increased compliance and reporting costs when selling the likes of a green or social bond.

Sophia Cheng, who chairs the Asia Investor Group on Climate Change and is also chief investment officer of Cathay Financial Holdings, said that Asian issuers were also more hesitant towards the rise of "environmental social and governance" (ESG) and climate change, and had low awareness of sustainable finance.

But she said this was changing, boding well for the surveyed 87 per cent of Asia Pacific companies planning to issue sustainable financings in the next year. The report found that in three years, 41 per cent of investors surveyed would allocate more than one-quarter of their regional assets under management to sustainable investments, up from 30 per cent, led by Australia and New Zealand.

Also, 68 per cent of investors and 63 per cent of issuers said their sustainable investments and financings perform better than traditional equivalents.

Looking ahead, the report found projects across energy efficiency, renewable energy, sustainable water and wastewater mismanagement, climate change adaptation and clean transport dominated the top asset categories companies are currently financing or refinancing through sustainable finance. Energy efficiency projects, including green buildings, and renewable energy projects were also highly sought after by investors.

"I would expect very fast improvement in the next three years," Ms Cheng said.